Hughes Health & Rehabilitation in West Hartford has been honored for two consecutive years as one of America's best for providing exceptional care to residents.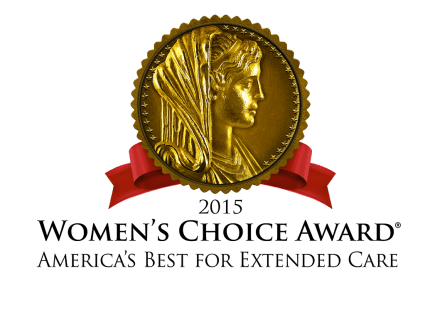 Submitted
Hughes Health & Rehabilitation of West Hartford has been named a Women's Choice Award recipient as one of the America's Best for Extended Care for the second consecutive year, acknowledging Hughes Health & Rehabilitation extraordinary service in meeting the highest healthcare standards. By carrying the Women's Choice Award seal, they are identified as a facility that women would highly recommend for their loved ones' long-term care, rehabilitation, and nursing care needs.
Hughes Health & Rehabilitation qualifies for this highly selective annual list based on an in-depth proprietary screening process.  The process utilizes data reported by the Centers for Medicare and Medicaid Services and identifies those facilities that provide comprehensive extended care services, and that meet criteria for resident safety, satisfaction and excellence based on female needs and preferences.
"To be honored for two consecutive years with a Women's Choice Award for America's Best in Extended Care is a testament to the consistent, unwavering and dedicated care our group of trained nursing, rehabilitation and medical professionals performs every day here at Hughes," said Mark Finkelstein, vice president of Hughes Health & Rehabilitation.  "We are very grateful for the recognition bestowed upon us by the Women's Choice Award and other national organizations in 2015. It inspires us to do and be better continuously," adds Finkelstein.
According to the Center for Disease Control and Prevention, Extended Care facilities include health agencies, nursing homes, hospice and residential care communities. The majority of individuals in need of this care are 65 years of age or older (American Association of Retired Persons).  As America faces an increase in life expectancy with one in every four 65-year-olds living past the age of 90 (Social Security Administration), one-third of all Americans will require long-term care at some time in their lives with more women than men residing in nursing homes (Illinois Council on Long Term Care). Therefore, the number of individuals receiving these services will likely double from 13 million to 27 million by 2050 (U.S. Department of Health and Human Services, and U.S. Department of Labor).
"Among the most difficult and emotional decisions families must make is the selection of an extended care facility.  With more than 15,000 facilities in the US, providing families the ability to select among fewer than 430 best is important to achieving our mission of empowering women and their families to make the best health care choices." Sharyn Lee, President, Healthcare Division, Women's Choice Award.
"One of the hardest decisions a woman will ever have to make is to choose a nursing home or Extended Care facility for a loved one. Reducing the risk of making the wrong healthcare choice is our mission," said Delia Passi, CEO and Founder of the Women's Choice Award.
The Women's Choice Award program provides women with a trusted third party endorsement which is supported by selected objective performance data. By carrying the Women's Choice Award seal, Hughes Health & Rehabilitation  has joined an elite network of institutions committed to a global mission to empower women to make smart healthcare choices.
"Women carry the burden of making the majority of healthcare choices for themselves and their families. The Women's Choice Award seal is like a warm embrace validating that she is choosing the best care for her family," added Passi.