Special needs kids of all ages are invited to the event in West Hartford on Oct. 28.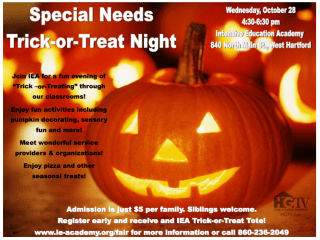 Submitted by Michelle Bonner
Intensive Education Academy (IEA) in West Hartford invites kids with special needs of all ages to join them for a night of trick-or-treating on Wednesday, Oct. 28, from 4:30 to 6:30 p.m.
The evening, which will take place in a safe and nurturing environment, will allow many children to participate in a tradition they otherwise might not be able to because of their limitations. Kids will be treated to a variety of Halloween-themed activities including pumpkin decorating, sensory-fun and more. Pizza as well as seasonal treats will be provided and families will have the opportunity to meet with service providers and organizations.
"Children with special needs may find the traditional Halloween events overwhelming," says Jill O'Donnell, Head of School at IEA.  "Trick-or-treating involves language and social interaction skills that can prove difficult to a child with special needs and typical Halloween celebrations can be scary and overwhelming, especially for a child who struggles with sensory issues. We are thrilled to provide a Halloween experience for these kids and their families that is safe, comfortable and fun."
Admission is $5 per family.  To register and receive a special IEA Trick-or-Treat tote, log on to their website at www.ie-academy.org/fair or call 860.236.2049.  Intensive Education Academy is located at 840 North Main St., West Hartford, CT 06117.
Through assessment and development of individualized education programs, IEA's nurturing environment encourages each child to reach their full potential. IEA provides programs for students diagnosed with: Autism, Developmental Delay, Dyslexia, Mild Emotional Disturbance, Intellectual Disability, Specific Learning Disability, Visual or Hearing Impairment, Orthopedic Impairment, Traumatic Brain Injury, Multiple Disabilities, and/or OHI-ADD/ADHD.
About Intensive Education Academy
Since 1971, the Intensive Education Academy (IEA), a nonprofit, State of Connecticut-approved special education facility, has helped students reach their full potential through a nurturing and individualized learning environment. IEA currently serves students ages 5-21 from 33 school districts in CT and western MA. For more information, visit ie-academy.org, or contact the school at 860.236.2049.