The 'Jazz for a Cause' benefit concert at the historic Trinity-on-Main venue in New Britain will feature jazz bands from Hall High School as well as King Philip and Bristow middle schools.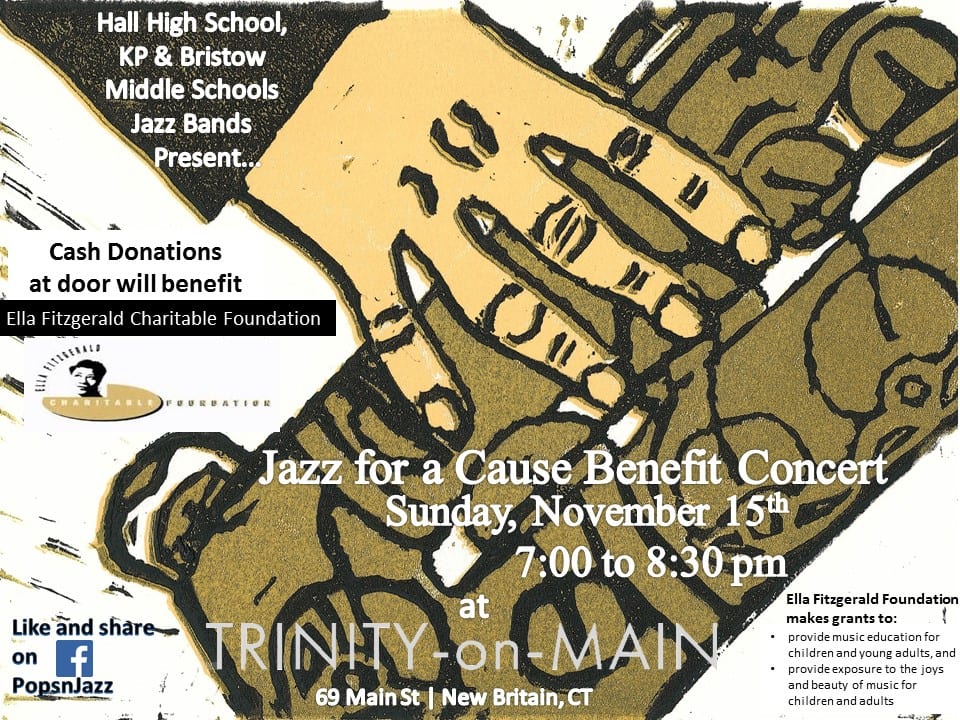 Submitted 
We are excited to announce "Jazz for a Cause" Benefit Concert that will be held on Sunday, Nov. 15, from 7 to 8:30 p.m. at Trinity on Main, 69 Main St., New Britain, CT.
Trinity-on-Main is a beautiful venue for jazz music. It is on the National Register of Historic Places. This is going to be a wonderful event that features both Hall jazz bands – Concert Jazz Band and Jazz Band – and two middle school jazz bands –  Bristow and King Philip.
It will be a great night of music and fun, with a great emphasis on a great cause, the Ella Fitzgerald Charitable Foundation.
Please invite friends and family!
So we can support this great cause, we would appreciate cash contributions at the door to cover venue costs and to donate to Ella Fitzgerald Charitable Foundation. The Hall High kids selected this foundation based on its mission to assist disadvantaged and at-risk children of all backgrounds. The foundation makes grants to promote a love of music, to provide music education for children and young adults, and to provide exposure to the joys and beauty of music for children and adults.
Thank you for your continued support!! See you on Sunday, Nov. 15, at 7 p.m. Please "like" https://www.facebook.com/popsnjazz Facebook page and share with friends and family. Spread the word!
Venue website: http://www.trinityonmain.org/
Hall high jazz band website: http://www.hallhighjazz.com/
Follow Hall High Jazz Bands on Facebook: https://www.facebook.com/popsnjazz
Cause: http://www.ellafitzgeraldfoundation.org/
Other info:
Directions from West Hartford: Approximately 15 minutes. Get on 84W towards Waterbury take exit 39A for CT-9 S toward Newington/New Britain 0.8 mi Continue onto CT-9 S 4.3 mi Take exit 27 on the left for Chestnut Street 0.3 mi Turn right onto Chestnut St 0.4 mi Turn left onto Main St Destination will be on the left 161 ft to 69 Main St, New Britain, CT
Location Parking: Ample metered parking is available in the downtown area on the street or in the city parking garage located on Chestnut St. Please note that parking in both the garage and on the street is free evenings after 5 p.m. and on weekends.
Accessibility: Handicapped seating is available by informing the Box Office. Wheelchair accessible rest rooms are located in the lobby. A handicapped ramp is located on the side of the building, between Trinity-on-Main and C-Town.