The Mandell JCC's community celebration will be held in Elizabeth Park in West Hartford.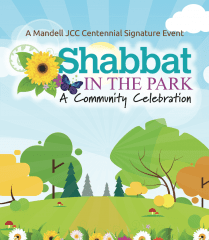 Submitted by Larah Winn, Mandell JCC
The Mandell JCC Centennial year continues with Shabbat in the Park, a community celebration at Elizabeth Park, 1561 Asylum Ave, West Hartford, CT, on Friday May 29, 2015. The event is free and open to the community with a rain date set for Friday, June 5, 2015.
Greater Hartford families are invited to celebrate Shabbat in beautiful Elizabeth Park where they can bring a picnic meal or pre-order dinner. The evening will feature outdoor activities and crafts including: sports with Coach Thai Tran, hula hoop with Eliana Tsukroff, make-your-own Shabbat flower bouquet, PJ Library stories with Susan Lentini, Shabbat song circle with D.J. Fortine and lawn games.
If desired, families can pre-order and pick up kosher picnic dinners from The Crown Market and Yosi Kosher Catering. All orders must be placed by Friday, May 22, 2015. To place an order from The Crown Market, visit www.mandelljcc.org/crown for a printable order form. To order with Yosi Kosher Catering, please visit www.yosigrill.com.
For more information on Shabbat in the Park, contact Elana MacGilpin, 860-231-6327, [email protected]. Shabbat in the Park is the third event in the Mandell JCC's year-long Centennial Celebration. For more information about upcoming Centennial events, visit www.mandelljcc.org.
The Mandell Jewish Community Center is open to everyone and supported by funds raised by the Jewish Federation of Greater Hartford, a recipient of funding from the Jewish Community Foundation of Greater Hartford, and a member of the JCC Association of North America. For updates, follow the Mandell JCC on Facebook and Twitter. All dates and programs subject to change.