Phase 2.1 goes into effect at 12:01 a.m. on Nov. 6.
By Hugh McQuaid, CTNewsJunkie.com and Ronni Newton, We-Ha.com
Gov. Ned Lamont announced new rules Thursday limiting private gatherings to 10 people as more than 60% of Connecticut residents now live in municipalities with "red alert" COVID-19 infection rates.
With an average daily infection rate of 14.5 cases per 100,000 of population over the past two weeks, West Hartford remains in the "orange" zone – but barely. Municipalities with 15 cases per 100,000 are classified as "red."
West Hartford's test positivity rate for the past two weeks was 2.7%.
Phase 2.1
The new restrictions, termed Phase 2.1, were a response to the second wave of the coronavirus which continued to spread through the state. As of Thursday, the number of towns considered to be highly infected rose from 30 to 68. Roughly 60% of the state's population lives in those towns, Lamont said.
The governor conceded that the 10-person gathering limitation ahead of the Thanksgiving holiday was a difficult ask, and one the state will rely on residents to enforce on themselves.
"Look, it's a tough pill to swallow. I get it," he said. "But do it now. Do it this Thanksgiving. Put up with this a little bit longer and we're going to be much better off in the long term."
Lamont and Acting Public Health Commissioner Deidre Gifford acknowledged the restriction may still be in place through the December holidays. Models of the state's infection rates predict that levels will continue climbing through the end of the year.
"We tend to let down our guard a little bit in terms of masks and distancing when we're inside our own homes. We think it will really significantly help our transmission if we limit the gatherings. It's a painful thing to be discussing at the holidays but it's a really important step to consider taking given where we are now with the community transmission," Gifford said.
West Mayor Shari Cantor issued a message Thursday afternoon via Everbridge, alerting the community of the need for the rollback as coronavirus cases, hospitalizations, and deaths continue to increase, and asking residents to limit their exposure to those in their household, while finding "creative ways to share time with extended family members."
"Under the new rules, occupancy rates for many businesses will be reduced, and the town will be increasing enforcement on establishments to ensure we are in compliance," Cantor said in her message.
The restriction will take effect Friday alongside stricter limitations on restaurants, which the governor announced earlier this week. Under the new guidelines, restaurants will be capped at 50% capacity, limited to eight patrons per table, and be required to have last call for food and drink at 9:30 p.m. if they serve alcohol, and to close completely by 10 p.m.
Take-out and delivery is not subject to the earlier closing time.
When Lamont first announced the rollback on Monday, the recommendation was for restaurants that serve alcohol to close completely by 9:30 p.m., but that guideline was since modified.
A change.org petition asking for the restaurant closing time to be later on the weekends had more than 6,000 signatures as of late Thursday evening.
"During the week we close at 9 p.m. already, but for Friday and Saturday that definitely pushes us," said Zach Shuman, executive chef and partner at Union Kitchen in West Hartford.
Shuman said he's planning to beef up the restaurant's take-out menu, and also bring back beverages to-to as well as brunch kits which were popular in the spring.
Tyler Anderson, a West Hartford resident who is owner of Millwright's in Simsbury as well as other Connecticut restaurants, said in a Facebook post that he feared the earlier closing time could be a "death toll for many restaurants" that rely on multiple seatings.
Entertainment and recreation venues, such as movie theaters, will also be required to close by 10 p.m. under Phase 2.1.
An outline of the specific impacts, by business sector resulting from a move to Phase 2.1 can be found on the Department of Economic and Community Development's website and are also provided below.
The Public Health Department also issued an alert Thursday asking residents to stay home between the hours of 10 p.m. and 5 a.m. and asking employees to permit people to work from home to the extent possible.
"It is the responsibility of all of us to do our part to keep our community healthy and safe," Cantor said in her message.  "Please help us keep our infection rate low by wearing face coverings, limiting in-person social interactions, staying physically apart from others, and washing your hands."
Sports impact
During the press briefing, Lamont ordered new restrictions on high school and youth league sports. The restrictions put a halt through the end of the year to any sport considered to be high-risk for COVID-19 transmission. That means wrestling, 11-on-11 football, boxing and competitive cheer cannot be played between Monday and the end of the year.
This includes football being played in private leagues, the governor said.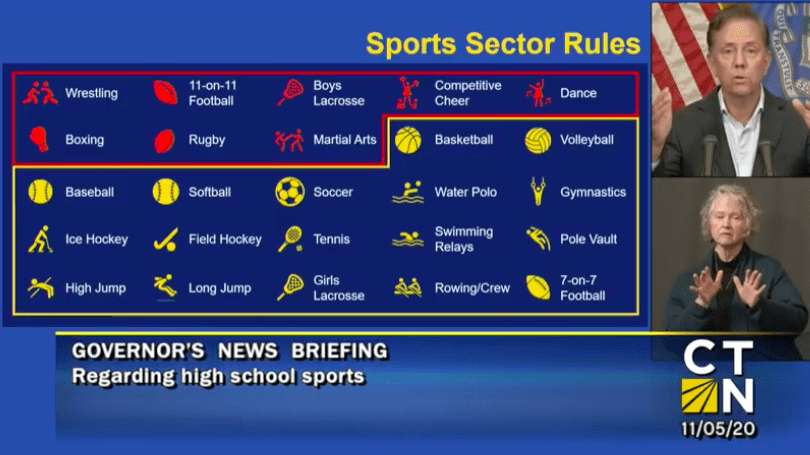 Medium-risk sports like hockey and basketball can still be played, but players will have to wear masks at all times, including while actively playing, the governor said. No sports team should travel out of the state for a tournament or competition, he said.
In a statement issued Thursday afternoon, the Connecticut Interscholastic Athletic Conference said a winter sports plan for high schools will be issued following a Board of Control meeting on Tuesday, Nov. 17. The season, which was sent to begin with practices on Nov. 21, will be delayed.
The CIAC said it continues to work with the Connecticut State Medical Society's Sports Medicine Committee, the Governor's Office, and the Connecticut Department of Public Health on plans for winter sports to be played safely.
"We appreciate the continued consideration DPH is giving to our conversations," said CAS-CIAC Executive Director Glenn Lungarini in a statement.
The restrictions will not impact college and professional sports, which operate with their own safety protocols. However, Paul Mounds, the governor's chief of staff, said the administration had been notified by University of Connecticut Athletics that a member of the UConn men's basketball team tested positive for the virus.
"They are taking all the necessary protocols including shutting down their practice facility for cleaning. As you know, the UConn athletics has a very aggressive testing protocol for their student athletes," Mounds said.
The state's positivity rate Thursday was at 3.7% and the seven-day average was at 3.5%. Although Lamont said the numbers seem to be levelling off, he still expects them to "bounce around" as time goes on.
Another 11 Connecticut residents died as a result of the virus, bringing the state total to 4,656. Meanwhile, six more COVID-19 patients were hospitalized. Currently, 380 people are hospitalized with the virus.
According to data released by the state Thursday, West Hartford had 15 additional positive COVID-19 tests reported.
"We understand that this pandemic has been long and tiresome, but we are all in this together, and we must remain strong to protect ourselves, our family and our community," Cantor said Thursday.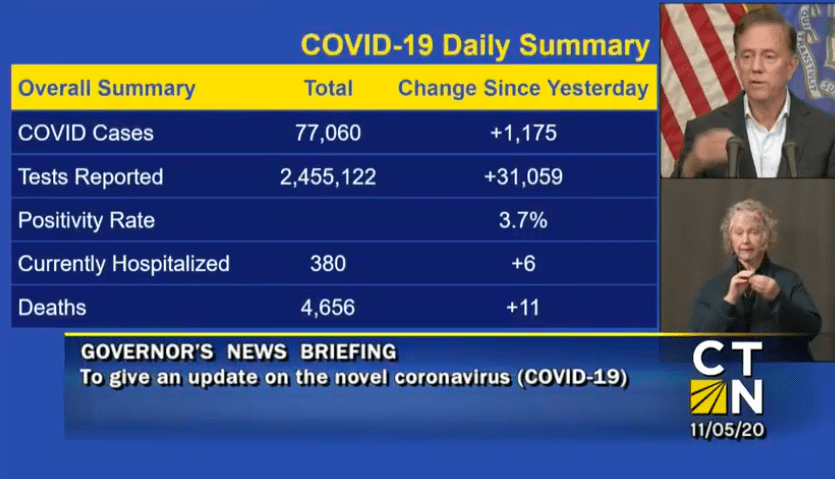 Republished with permission from CTNewsJunkie.com, all rights reserved.
Like what you see here? Click here to subscribe to We-Ha's newsletter so you'll always be in the know about what's happening in West Hartford! Click the blue button below to become a supporter of We-Ha.com and our efforts to continue producing quality journalism.