Gov. Ned Lamont said Monday that Phase 3 will be paused to 'err on the side of caution,' and did not provide a timetable for when businesses such as bars would be able to reopen or when larger indoor and outdoor gatherings will be able to take place.
By Christine Stuart, CTNewsJunkie.com
Out of an abundance of caution and based on what's happening in other states, Gov. Ned Lamont is postponing Phase 3 of Connecticut's reopening plan.
Phase 3 would have brought the reopening of bars and an increase in capacity for entertainment venues, restaurants, and gyms.
"We're going to keep that at 50% for the foreseeable future," Lamont said. "We're just erring on the side of caution. Like we said before, we're seeing what's going on in other states and I think it's really important that we maintain that."
The state is also allowing 25-person gatherings inside and 100 people outside, along with 150-person outdoor graduations.
State campgrounds will still open on July 8, but bars will still have to keep their doors closed.
"Standing up at a bar is not a good way to socially distance," Lamont said.
He said they were unable to control what happened in Texas and then had to close the bars.
"I like a beer at the bar like the next person. I know how frustrating this can be," Lamont said. "Right now with this pandemic flaring up in a majority of our other states, this is not the time to take a risk."
Lamont said they seem to be past a point where they would expect to see a spike from the Black Lives Matters rallies that took place in Connecticut a few weeks ago.
He said the fact that the rallies were outdoors, and most people were wearing masks, appears to have helped.
Contact Tracing
Lamont said that the state has been able to stay on top of contact tracing and has followed up with 96% of positive cases within 48 hours.
However, only 47% of the people the positive person has had contact with have been successfully contacted. Some of that is because of people who haven't answered the call, and others have been uncooperative.
Josh Geballe, Lamont's chief operating officer, said there are tools available to encourage participation if there is someone who was at a significant spreading event, but they haven't had the need yet to get greater cooperation.
ContaCT is Connecticut's voluntary tracing program for tracking people with COVID-19.
Lamont urged anyone who gets a text message from CT COVID TRACE to respond.
COVID-19 Data
The state has been releasing COVID-19 data on a daily basis since the pandemic began, but last week announced that information would not be distributed over the weekend.
Monday's data showed a three-day aggregate that the governor said "continue to trend in the right direction."
The ratio of positives to total tests was just over 1%, and the seven-day average is about 0.7%, Lamont said Monday.
There were three deaths statewide in the past three days, and hospitalizations have fallen to 69 across the state.
In West Hartford, based on data released Monday there was one more case reported in the past three days, and no additional fatalities due to COVID-19.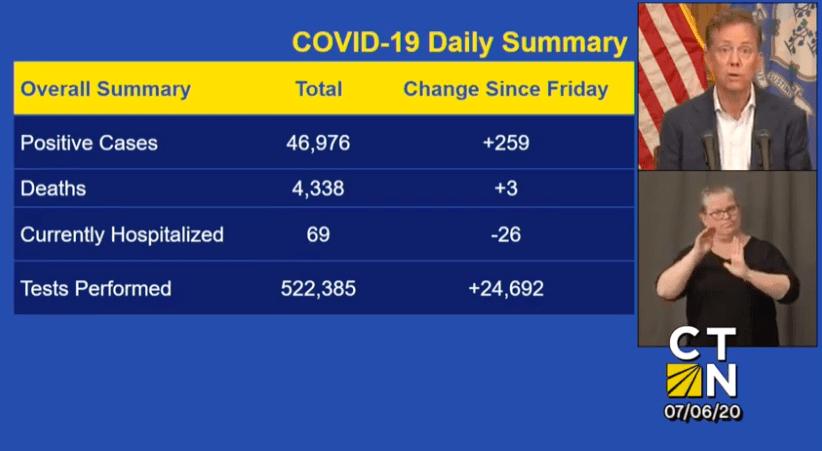 Ronni Newton, We-Ha.com, contributed to this article.
Republished with permission from CTNewsJunkie.com, all rights reserved.
Like what you see here? Click here to subscribe to We-Ha's newsletter so you'll always be in the know about what's happening in West Hartford! Click the blue button below to become a supporter of We-Ha.com and our efforts to continue producing quality journalism.