West Hartford had 50 new positive COVID-19 cases reported over the past three days, according to data released by the state Monday, the lowest number in a three-day period in since November.
By Hugh McQuaid, CTNewsJunkie.com 
West Hartford-specific information provided by Ronni Newton, We-Ha.com
Connecticut restaurants will be able to keep their doors open for an extra hour beginning this week as Gov. Ned Lamont has announced plans to extend a COVID-related business curfew from 10 p.m. to 11 p.m.
Lamont announced the plan Monday during a televised news briefing in which he released statistics suggesting the rates of COVID-19 infection were continuing to drop around Connecticut. The state infection rate held at 3.86% through the weekend and the number of people hospitalized with the virus stood at 912 after nine consecutive days of decline.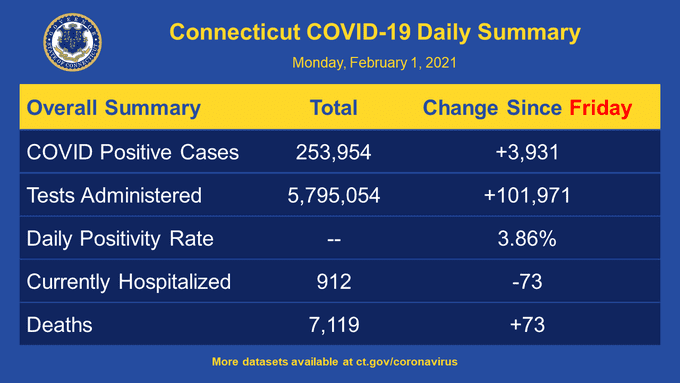 "Our rates are down, [which] allows us to do it. I think our restaurants in particular really operated professionally, doing everything they could to keep you safe," he said. "It gets us back, as long as you're cautious, to a new normal."
The change, which the governor said is expected to go into effect within the next day or so, will impact businesses like bowling alleys and restaurants that have sought to stay open later than the state-imposed curfew. Those establishments will continue to be limited to operating at 50% of their normal capacity.
In a statement, Scott Dolch, executive director of the Connecticut Restaurant Association, said his group appreciated the efforts of the Lamont administration to reopen Connecticut's economy. He said Monday's announcement was another step in that direction and would benefit the state's restaurant industry. But Dolch urged Lamont to get rid of the curfew altogether.
"It's important that we take further steps in the weeks ahead, including fully lifting this curfew just as neighboring Massachusetts and Rhode Island have done. Connecticut can continue to be a leader on fighting COVID while also being mindful of our economic recovery," Dolch said.
Lamont said it would "take a little bit longer" before he agreed to get rid of the curfew entirely. Other states have found that a curfew, even one extended until 11 p.m., can help ensure restaurants function as eateries rather than bars, the governor said.
"Most people have finished their meals by 11 o'clock at night. I don't know what happens between 11 and two in the morning," he said.
Asked whether state data showed restaurants to be a common vector for spread of the virus, Josh Geballe, Lamont's chief operating officer, said outbreak investigations by the Public Health Department have occasionally shown clusters of cases "in and around restaurants."
"But in the grand scheme of things, relative to the total number of cases in the state, it continues to be a pretty low percentage." Geballe said. "We want to remind people, if they do go out to eat, please follow the rules. Take every precaution."
During the briefing, the governor also formalized plans announced last week to lift a restriction capping at 100 the number of people allowed inside a house of worship. A 50% capacity restriction on churches, synagogues and mosques will remain in place, Lamont said.
The governor has recently shown a willingness to ease up on restrictions as virus cases have stayed relatively low and an increasing number of Connecticut residents are vaccinated against COVID-19. As of Monday, 338,859 people in the state had received at least their first dose.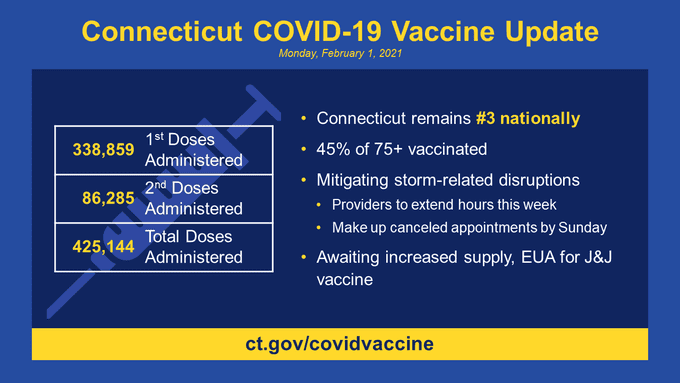 The vaccination effort was at least temporarily hindered Monday by a snowstorm which seemed intent on hanging over the state and clogging its roadways with persistent snow. Geballe said the storm delayed the delivery of vaccine shipments and forced the cancellations of more than 10,000 vaccination appointments. The state hopes to make up the difference by the end of the week by increasing the hours providers will administer the shots.
A new chart released by the state Monday, which going forward will be updated every Thursday indicates the number of people and percentage of residents in each town that have received at least one dose of a COVID-19 vaccine, as well as the number and percentage of individuals over age 75 who have been vaccinated. The chart indicates that 13.37% of West Hartford residents overall have been vaccinated, and 43.65% of those over 75 have gotten at least one dose.
Another cloud on the horizon was the continuing threat of highly-infectious mutations of the coronavirus. Lamont announced eight additional cases during Monday's briefing, bringing the statewide total to 16. Geballe said the spread of the new variants made efforts to make up for the snowstorm delays all the more urgent.
"I think all of our providers understand we're in a race right now against these variants," he said. "We just need people to be all hands on deck. Do whatever it takes to get these people back in, get these vaccines caught up by the end of the week. This is a unique moment in time right now and we need everyone to do everything they possibly can."
Republished with permission from CTNewsJunkie.com, all rights reserved.
Like what you see here? Click here to subscribe to We-Ha's newsletter so you'll always be in the know about what's happening in West Hartford! Click the blue button below to become a supporter of We-Ha.com and our efforts to continue producing quality journalism.