Since Friday, there have been 17 additional confirmed positive COVID-19 cases in West Hartford, and five more fatalities were reported among town residents over the weekend.
By Ryan Lindsey, Connecticut Public Radio, for CTMirror.org
West Hartford-specific information provided by Ronni Newton, We-Ha.com
Gov. Ned Lamont signed Executive Order 7Y on Saturday establishing COVID-19 recovery centers in some nursing homes, a move that creates places for residents who've been discharged from the hospital to continue to recover. 
Lamont announced COVID-19 recovery centers at Sharon Health Care Center in Sharon and at Northbridge Healthcare Center in Bridgeport. A third is in the works at Torrington Health and Rehabilitation Center. 
"People who live in nursing homes are among the most vulnerable, and this plan is needed in order to protect those who are negative for the virus while providing adequate areas of recovery for those who have tested positive and can be discharged from hospitals," Lamont said in a statement Saturday.  
As of Saturday, the most recent date for which data has been provided, of the 215 nursing homes in the state, 103 have reported at least one confirmed case of COVID-19. The state says a total of 1,181 nursing home residents have tested positive for the virus. Of those, 322 have been hospitalized and 165 have died. 
In West Hartford, five nursing homes had at least one resident test positive as of Saturday. Those facilities include Hebrew Center for Health and Rehabilitation, Hughes Health and Rehabilitation, Saint Mary Home, The Reservoir, and West Hartford Health and Rehabilitation Center.
According to data released Sunday afternoon, according to the Department of Public Health there have been 554 COVID-19 associated fatalities in Connecticut – a total which grew by 46 on Saturday and 60 on Sunday.
As of Sunday, eight West Hartford residents have passed away due to COVID-19 related causes. Three of those fatalities were reported on Saturday and there were two more on Sunday. All were between the ages of 70-80 or 80-90. No further demographic information is currently available.
There are now 12,035 confirmed positive cases of COVID-19 in the state, based on 41,220 tests performed. The total number of patients who have been hospitalized is 1,654 – a number which increased by 31 on Saturday and by 61 on Sunday.
As of Sunday, West Hartford has 92 residents who have tested positive for COVID-19.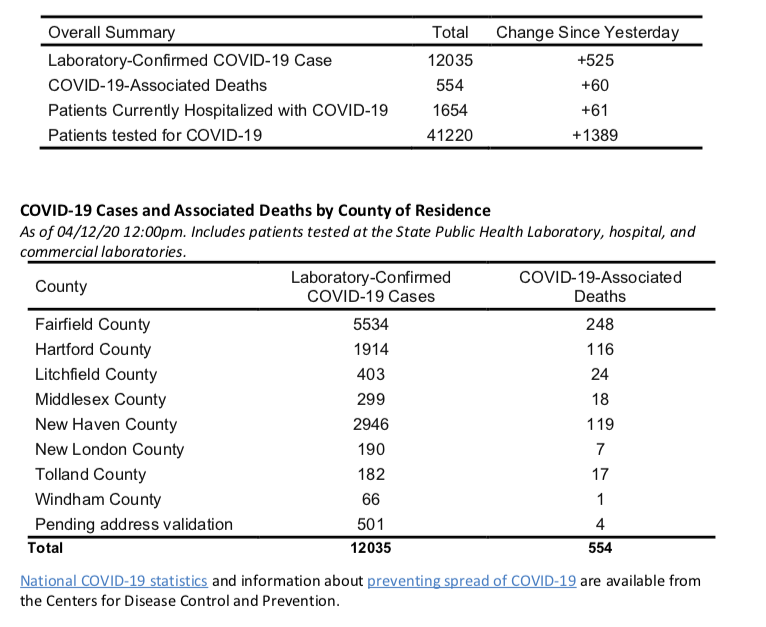 A day after Lamont got some criticism for expanding school, restaurant, and widespread business closures until May 20, he also got some support.
New Haven Mayor Justin Elicker said in a press conference Saturday  that remaining cautious is the best way to keep residents healthy and safe. 
"There's been a little bit of messaging around the state, and definitely from Washington [D.C.], that [is] out of touch with what epidemiologists believe is the right course of action here," Elicker said. "My concern is that people in leadership roles, pushing out a message that things might be getting better already when this is exactly the time when it's most important for people to stay inside and practice social distancing – my concern is that sends the wrong message and creates some uncertainty and disagreement in the public about what people should actually be doing."
According to the Department of Public Health, as of Saturday New Haven County had the second-highest number of deaths and confirmed cases within the state, at 107 and 2,715 respectively.
Meanwhile, in Hartford, the Connecticut National Guard began setting up 646 beds in the Connecticut Convention Center Saturday as an auxiliary site for Hartford Hospital. Hartford County has the third-highest number of deaths and confirmed cases within the state, at 101 and 1,832 respectively, behind Fairfield and New Haven counties.
The state says the convention center is the third such location to be set up in this way – the first two being Southern Connecticut State University in New Haven and Western Connecticut State University in Danbury.
Hartford Mayor Luke Bronin said he hoped the annex would not be necessary.
"But we need to be as prepared as possible as the number of coronavirus cases continues to increase in the Hartford region," Bronin said in a statement Friday. "In the Hartford region we may still be weeks away from the peak…we are working together to do everything we can to prepare for the weeks ahead and keep our community healthy and safe."
Reprinted with permission of The Connecticut Mirror. 
Like what you see here? Click here to subscribe to We-Ha's newsletter so you'll always be in the know about what's happening in West Hartford!