Leadership Greater Harford is offering 'The Leadership Challenge' specifically for small business owners and entrepreneurs in West Hartford and throughout the area.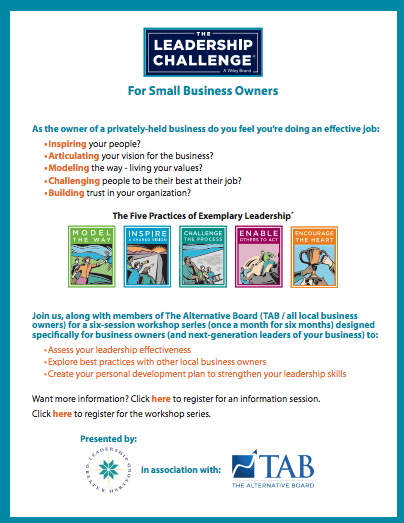 Submitted by Carin Buckman, Leadership Greater Hartford
Are you a small business owner who needs to assess your leadership effectiveness? Explore best practices with other local business owners? Create your own personal development plan to strengthen your leadership skills? If so, then you are ready to take the challenge!
The Leadership Challenge is a leadership development model based on more than 30 years of rigorous research by Jim Kouzes and Barry Posner.
Three West Hartford residents have already completed The Leadership Challenge: Jennifer Fabas, Maggie LaLima, and Wanda Williams-McCormack. All three were interested in taking their performances to the next level by refining their leadership skills, leveraging their strengths, and clarifying their goals in order to set a new course for their  futures.
The Leadership Challenge is an intensive and highly interactive leadership development experience that Williams-McCormack says was "phenomenal." Fabas echoes those thoughts, claiming that The Leadership Challenge "was a fantastic opportunity to learn how to improve my leadership skills."
Participants received personalized attention in their exploration of the Five Practices of Exemplary Leadership by Kouzes and Posner, five fundamental practices that are always present during extraordinary leadership achievements:  Model the Way, Inspire a Shared Vision, Challenge the Process, Enable Others to Act, and Encourage the Heart. According to LaLima, The Challenge "taught me leadership skills that were pivotal to my career."
Interested but want more information? Click here to register for an information session on July 28.
Ready to sign up for the six-session morning workshop series?  Click here to register and reserve your spot now!
For more information about The Leadership Challenge contact Karen Senteio, Director of Consulting & Training, at [email protected] or call 860-206-5068.
Leadership Greater Hartford (LGH) is a mission-driven, nonprofit organization that supports and strengthens the local community by training and connecting aspiring and established leaders. For more information about how to be a participant or sponsor, or to inquire about customized training with Leadership Greater Hartford, call 860-951-6161 (x1800), email [email protected] visit http://www.leadershipgh.org, or follow LGH on Facebook and Twitter @leadershiphtfd.