West Hartford's second annual 'How-To Festival' will be held on Saturday, March 24 at the Noah Webster Library, and will include demonstrations on a wide variety of topics and activities.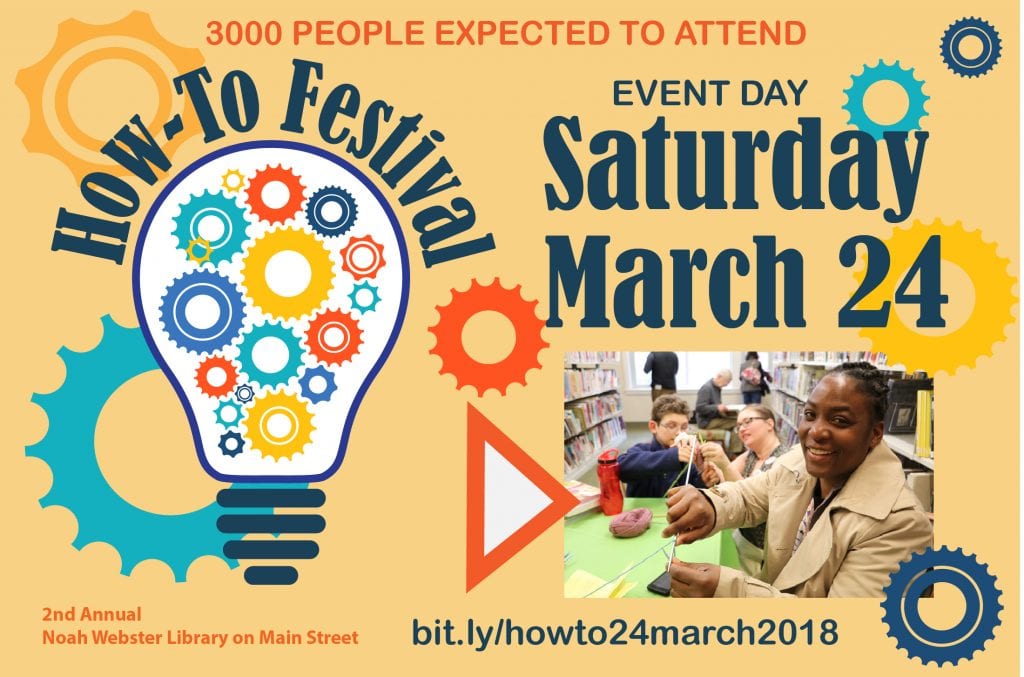 By Ronni Newton
In one space, in one day, people will be able to learn a diverse variety of skills ranging from brewing beer, to embroidery, to cake decorating, to orienteering, to playing the bagpipes, to belly dancing.
More than 3,000 people attended the inaugural How-To Festival at West Hartford's Noah Webster Library last spring, and Grants and Programming Manager Joe Cadeiux anticipates this year's event will be even bigger.
"The concept is uncomplicated," Cadieux said. "Forty volunteers from our community show off their stuff, their special skills, how to do something." Those 40 people include local experts, enthusiasts, and hobbyists, as well as professionals. The wide variety undoubtedly includes activities to appeal to people of all ages, and personalities.
A full list of demonstrations is provided below.
"Preparations for the Festival began with a strategy session last October, attended by a dozen West Hartford librarians, who formed the How-To Festival committee," Cadieux said. Funding is being provided by the West Hartford Public Library Foundation.
One of the event's goals is to engage with the community, and bring people to the library who haven't visited in an while, Cadieux said.
In addition to the demonstrations, guests will be entertained with live music throughout the day by jazz pianist Taino Pacheco, and jazz guitarist Sinan Bakir. The Green Teahouse will serve tea.
"You don't even have to be from West Hartford, or have a library card, to come and enjoy the Festival," said Cadieux.
The How-To Festival is Saturday, March 24, from 10 a.m. to 3 p.m. at the Noah Webster Library, 20 South Main St. in West Hartford Center. Attendees can park in the Isham Garage in Blue Back Square and come
directly to the library to get parking validated.
During the Festival, both the Faxon and Bishops Corner branch libraries will be open for business as usual from 10 a.m. to 2 p.m.
For more information, visit the How-To Festival's web page, or or call the library information desk at 860-561-6990.
Demonstrations
3D Print:  Flying Dragonflies
Belly Dance (ages 16 and up)
Bhangra Dance (traditional dance from India)
Brew Beer
Build Super-Cool Engineering & Robotics Robots with LEGOS
Cake Decorating with Lindsey O'Donnell
Care for your Orchid
Change a Bicycle Tire
Choose Teas to Enhance Your Healthy Lifestyle
Compass: Orienteering Basics
Create Designs on Lucite Picture Frames
Create Geometrical Art Patterns on Paper
Dance Salsa (popular dance that originated in the Caribbean)
Declutter, Downsize and Organize
Design a Mini Notebook using Washi Tape
Design and Plant a Vegetable Garden
Do a Variety of Embroidery Stitches and Styles
Do Needlepoint (Canvas Embroidery)
Edit RAW images in Photoshop
Fly Fish
Lawn Bowls (popular in 46 countries!)
Make a Hula Hoop
Make Beautiful Charm Bracelet
Make Decadent Desserts Vegan and Gluten-free
Make Henna Cones (Arabic Style)
Make Henna Designs (Indian Style)
Market Your Home or Business Using Digital and Social Media Marketing
Meditate: Intro for Adults (Intermediate Students Welcome)
Organize and Manage the Paper in Your Life
Paint Rocks: Step-by-Step Painting of an Octopus (ages 10+, adults welcome) Max. 15
Perform a Proper Squat for Daily Activities
Play the Bagpipes and Drums
Prepare your Home for Sale (+ 3 Home Staging Tricks)
Properly Determine the Correct Portable Fire Extinguisher to Use on a Fire, for ages 12 and up
Putt a Golf Ball
Quilling Flowers and Snowflakes
Safely and Effectively Use Essential Oils
Set Up Tents and Camping Equipment
Transform Clay into a Bowl Using a Potter's Wheel
Use Simple Tips to Relieve or Eliminate Back Pain
Weave a Textile on a Loom
Like what you see here? Click here to subscribe to We-Ha's newsletter so you'll always be in the know about what's happening in West Hartford!