The annual Celebrity Breakfast fundraiser will be held on Tuesday, June 11 at Effie's Place Family Restaurant on Park Road in West Hartford.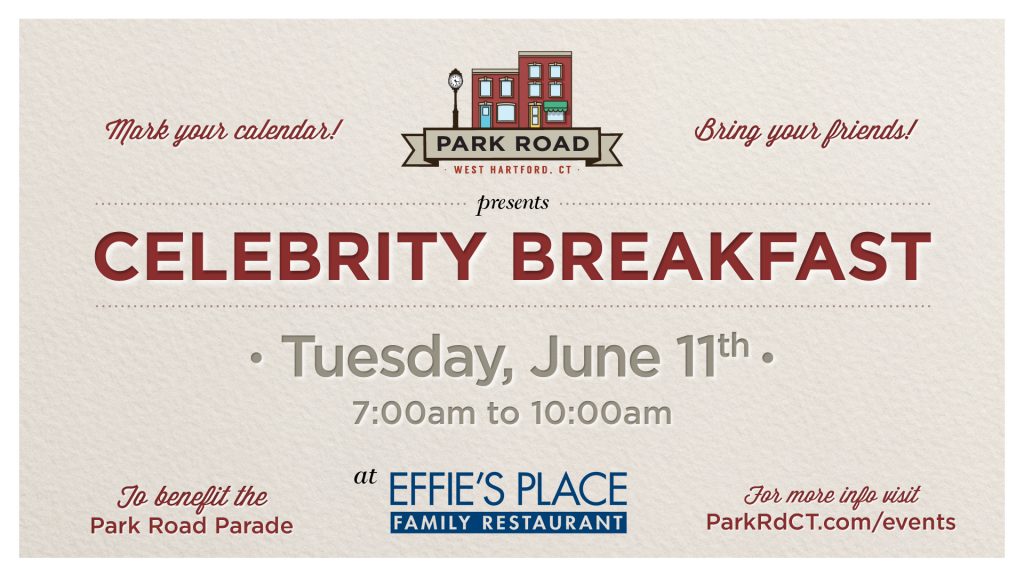 By Ronni Newton
The eggs will be egg-cellent, the waffles will be wonderful, or you can choose the palate-pleasing pancakes – all of which will be served up for a purpose by "celebrity" waitstaff on Tuesday morning, from 7-10 a.m. at Effie's Place Family Restaurant, 91 Park Rd., West Hartford.
The annual Celebrity Breakfast is a fundraiser for the Park Road Parade – which this year will celebrate is 21st year on Saturday, Oct. 5.
At the breakfast fundraiser on Tuesday, June 11, diners will have their choice of three mouth-watering meals: Patrissi Pancakes (three fluffy pancakes piled high), Whiting Lane Waffles (an old-time favorite with strawberries and whipped cream), and Effie's Eggs (two eggs cooked any style with home fries, bacon or sausage), all served with coffee and juice. Meals are $15 each, with 100 percent of proceeds going to support the Park Road Association's expenses for the annual parade.
It's also a chance to meet and greet some local celebrities, who will be glad to chat as they fulfill their breakfast-serving duties. WFSB News Anchor Dennis House, West Hartford Town Manager Matt Hart, Director of Leisure and Social Services Helen-Rubino-Turco, members of the Town Council, as well business and civic leaders will be glad to take and serve your order, and keep your coffee mug filled. [Editor's note: I will be serving as well, and despite my unsuccessful five-day career as a waitress back in my college days, have learned to pour coffee without spilling.]
A list of servers and their scheduled shifts is below in case you don't want to miss being served by your favorite waiter. If you're in too much of a hurry to sit down and eat, you can also place your order in advance and have it ready to go. Call Effie's to order at 860-233-9653.
The legendary Brad Davis will be back, broadcasting his show live with many of the local celebrities and special guests who are serving breakfast to you.
For more information, call Effie's owner John Paindiris at 860-836-9366.
The Celebrity Breakfast is sponsored by the Park Road Association, an organization comprised of people who live or work in the Park Road neighborhood.
CELEBRITY SERVERS
7-8 a.m.
Chris Barnes, Town Council Minority Leader
Rick Lilijedahl, Simsbury Bank
Dennis House, News Anchor, WFSB
Ryan Keating, Keating Agency Insurance
7:30-8:30 a.m. 
Elizabeth Paige Fierman, President, Junior League of Hartford
Jessica Pieri, President-Elect, Junior League of Hartford
Helen Rubino-Turco, Director, Leisure & Social Services, Town of West Hartford
Chris Williams, Town Councilor
8-9 a.m.
Richard Chiarappa, Music Director, West Hartford Symphony Orchestra, Kingswood Oxford
Tom Dillow, Headmaster, Kingswood Oxford
Matthew Hart, Town Manager
Ronni Newton, Editor, We-Ha.com and West Hartford LIFE
Ani Robaina, Chef, Pond House
Julianne Roth Day, President, Companions in Living
Ben Wenograd, Town Councilor
8:30-9:30 a.m.
Patti Albee, Founder, Neighbors & Friends Facebook
Jennifer Evans, Executive Director, West Hartford Community TV
Kirsten Gorski, Economic Development Specialist, Town of West Hartford
Chuck Coursey, Principal, Coursey & Company
Yard Goat mascot
9-10 a.m.
Kate Jacobson Kobs, West Hartford Chamber of Commerce
John Lyons, Weather Guru, Neighbors & Friends Facebook
Kim Yarum, General Manager, Pond House
Tracy Barrett Flater, President, Park Road Playhouse
Like what you see here? Click here to subscribe to We-Ha's newsletter so you'll always be in the know about what's happening in West Hartford!