Audition winner to sing at 'The Outrageous Sophie Tucker' film premiere.
Submitted by Mandell JCC
The Mandell JCC is searching for Hartford's next Sophie Tucker to perform in March 2015 when a new film about Hartford's own Red Hot Mama makes its Connecticut premiere at the 19th Annual Mandell JCC Hartford Jewish Film Festival. "The Outrageous Sophie Tucker" entertainingly captures the life and career of Hartford's most famous daughter and legendary vaudeville, stage, film, broadcast and recording superstar.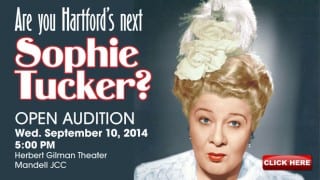 Open auditions for 'Hartford's Next Sophie Tucker', will be held Wednesday, Sept. 10, 2014 at 5 p.m. at the Mandell JCC's Herbert Gilman Theater, Zachs Campus, 335 Bloomfield Ave., West Hartford, CT 06117, in partnership with the University of Hartford's Hartt School.
Candidates ages 15 and above should prepare 16 bars of an iconic song from Ms. Tucker's repertoire and a brief comic monologue or audience interaction routine expressing her larger-than-life stage persona. Participants are required tobring sheet music or score in proper key, a photo and resume.
Paul Feyer, vocal coach and accompanist at the University of Hartford's Hartt School will accompany auditioners. The competition is open to students, the general public and all faiths and backgrounds are welcome. A sign-up sheet will be available upon arrival, and performers will be auditioned in the order of sign-in. Callbacks are by invitation.
An honorarium of $1,000 will be granted to the winner, who will perform in front of a live audience on Opening Night of the Festival, Thursday, March 12, 2015. The performance will take place prior to the film's premiere at the new Infinity Music Hall & Bistro, Front Street, Hartford.
For more information about the 19th 2015 please contact Harriet J. Dobin, Festival Director, 860-231-6350, [email protected] and visit www.hjff.org.
ABOUT 'THE OUTRAGEOUS SOPHIE TUCKER'
Oscar nominated filmmaker William Gazecki's THE OUTRAGEOUS SOPHIE TUCKER (USA, 2014, 94 minutes) focuses on the tumultuous early days of Hartford's Red Hot Mama who ruled the 1920's Flapper Era in the U.S. Before Mae West, Marilyn Monroe, Bette Midler, Madonna and Lady Gaga, Sophie Tucker – daughter of a Jewish immigrant family in Hartford CT – was the first woman to dazzle her audiences with a bold, bawdy and brassy style unlike any other previous performer. Using "The Last of the Red Hot Mamas" 400+ personal scrapbooks, filmmakers Susan and Lloyd Ecker retrace Tucker's 60 year show business career, which began with singing for customers at her parents' Hartford restaurant. With the assistance of 15 time Grammy winner Executive Producer Phil Ramone, Sophie's early lost recordings serve as a nostalgic sound track. The film features Tony Bennett, Barbara Walters, Michael Feinstein, Carol Channing, Shecky Greene and Bruce Vilanch with appearances by Paul Anka, Tony Martin, Mickey Rooney, Brenda Lee, Kaye Ballard, Connie Stevens, Chubby Checker, Mamie Van Doren, Joe Franklin, Rusty Warren, Kaye Stevens, Jane Kean, Libi Staiger and Don Dellair.