Connecticut reports its 19th death and 875 confirmed cases as of Wednesday afternoon.
By Greg B. Hladky, CTMirror.org
Coronavirus deaths in Connecticut jumped again Wednesday with seven more fatalities and another 257 cases even though officials said testing has declined because of shortages of key materials.
"We're not doing quite as much testing right now," Gov. Ned Lamont said. He explained that special reagents necessary to process coronavirus tests and get results are "in short supply."
State health officials reported Wednesday that coronavirus deaths now total 19 and that a total of 875 Connecticut residents have now tested positive – a nearly 42% increase since yesterday.
There were also reports that some hospitals around the state were running short of COVID-19 test kits and were starting to ration surgical masks for some hospital and medical personnel.
"We're doing everything we can to add capacity," Lamont said during his afternoon media briefing concerning the supply situation.
As Congress was working on a landmark $2 trillion coronavirus economic and aid package, Lamont said Connecticut is awaiting delivery of a major order for personal protective equipment (PPE) like hospital masks, gloves and gowns. "It's supposed to be arriving in the next 48 hours," Lamont said.
U.S. Sen. Chris Murphy said Wednesday that the head of one Connecticut hospital informed him that that facility has only enough coronavirus test kits to last another three days. Murphy declined to name the hospital but tweeted a plea for President Trump to federalize the medical equipment supply chain during this crisis.
Dr. Matthew Cartter, Connecticut state epidemiologist, said state officials are working to find more ventilators, a critical piece of medical equipment for patients suffering from severe cases of the coronavirus. He admitted that the national shortage means that there "probably will never be enough ventilators."
The latest state health statistics show the impact from COVID-19 continues to be greatest in Fairfield County, which is closest to the greater New York City region. The county has 546 of the 875 confirmed cases, 47 of the 113 hospitalizations and 12 of Connecticut's 19 deaths.
New Haven County has the second largest number of confirmed coronavirus cases: 127, with 28 of those people now hospitalized.
Coronavirus deaths in this state are primarily limited to people older that 70, with the large majority of fatalities restricted to people age 80 and older. But the latest statistics show some younger people, ages 10-19, have now tested positive.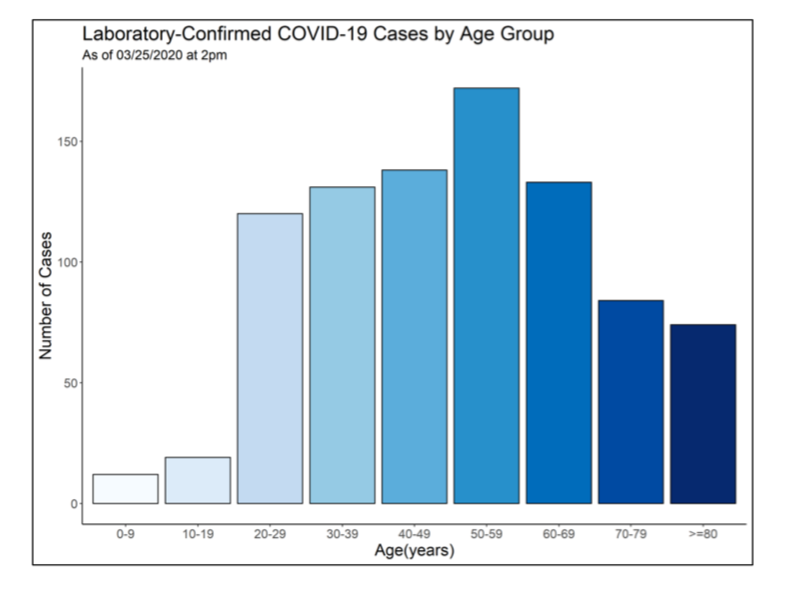 Lamont said the most recent indications from New York and Connecticut appear to show that social distancing and the restrictions on businesses and places where large numbers of people can gather "seems to be working." Metro-North, the commuter rail connection between southwestern Connecticut and New York City, was running  at 5% of capacity.
New York Gov. Andrew Cuomo has said the "rate of increase is perhaps beginning to slow a little" in the hardest hit areas of that state, according to Lamont. New York now has about half of the approximately 55,000 positive COVID-19 cases in the U.S.
Cartter again warned that the number of COVID-19 positive tests in this state is "just the tip of the iceberg" and that thousands more people in Connecticut almost certainly have the disease. He said that, based on annual infection rates for the flu in Connecticut, it's likely that some 350,000 people in this state will come down with the coronavirus in the next 8-10 weeks.
Lamont said he has no plans to restrict travel into Connecticut from New York because of the high number of virus cases in that state or to mandate self-quarantines for people coming into this state. He was responding to the governor of Florida's demand that travelers from New York and Connecticut self-quarantine for two weeks.
Maryland Gov. Larry Hogan announced Wednesday a 14-day quarantine order for anyone in Maryland who has visited New York, New Jersey, or Connecticut.
Hospitals experiencing equipment shortages
The uneven spread of the disease across the state has meant that hospitals in some areas, such as Hartford County and much of eastern Connecticut, appear to be in better shape at the moment than stressed medical facilities in Fairfield County.
Dr. Ajay Kumar, vice president for medical affairs in the Hartford region for Hartford HealthCare, said Wednesday said there are shortages of masks, gloves and other protective gear but that donations and supplies that have been ordered are still enabling HHC to provide necessary items to medical personal – at least for now.
Sterile gloves "are the big challenge right now because they are made in China," Kumar said during a morning briefing. He said the Hartford HealthCare system uses 12,000 to 15,000 surgical masks every day.
There were reports that Middlesex Hospital in Middletown was having to ration surgical masks and was seeking donations.
But Middlesex Health spokeswoman Amanda Falcone said Wednesday that "Everyone at Middlesex Health has the personal protective equipment needed to do their jobs safely in accordance with CDC guidelines."
"However, like hospitals around the country, Middlesex is concerned about its supplies because of the worldwide shortage and intense demand, and it is conserving and reusing equipment safely when appropriate," Falcone said.
"At Middlesex Health, we are overwhelmed by the generosity of our community! We are happy to accept donations of new, unopened masks, homemade masks, or other PPE," Falcone said in an email.
Hospital officials praised donations of equipment and money from a variety of area businesses and residents seeking to help out in this crisis.
Companies that include NEFCO Corporation of East Hartford, Gil's Drywall of Plainville, and PW Power Systems of Glastonbury have donated respirators for distribution to medical facilities around Connecticut.
A courthouses closes, four state troopers are sick, and a second prison employee tests positive
The march of the illness through Connecticut's state agencies continued Wednesday.
The Judicial Branch closed the Danbury courthouse at 146 White St. at 5 p.m., after officials learned an employee of the clerk's office has tested positive for COVID-19.
Standard screening procedures determined another 10 employees of the courthouse had been in proximity to the infected worker. All 10 have also have been sent home for at least the next 14 days and told to self-monitor, said branch spokeswoman Melissa Farley.
The Danbury building will be subjected to intense cleaning and disinfection, Farley added, and all business will be transferred in the interim to the Waterbury courthouse at 400 Grand St. It was unclear when the Danbury court will reopen.
The State Police announced four confirmed cases of the virus Wednesday night – troopers from Troop G in Bridgeport, Troop L in Litchfield, and the Training Academy in Meriden, as well as a recruit from the 129th Training Troop. All four people are self-quarantining.
Also on Wednesday night, the state Department of Correction announced that a second prison employee has tested positive for the virus. The employee, who works at the Corrigan-Radgowski Correctional Center in Uncasville, last came to work on March 21, the DOC said.
The employee called out sick today and later reported the positive test result. Correction officials said the employee was working in an area of the building that required minimal interaction with prisoners and that no other staff member or inmate at the prison has tested positive for the virus.
An employee at the Garner Correctional Institution in Newtown tested positive for the coronavirus earlier this week.
UConn and CSCU will refund housing and dining payments
There was a little good news Wednesday, however, for students who attend the University of Connecticut and the four state universities. Officials said students will be getting refunds or credits for unused housing, dining plans, and discontinued programs like Study Abroad that have been disrupted by the coronavirus crisis.
The UConn Board of Trustees Wednesday gave that school's administrators the okay to send pro-rated refunds to students for housing, dining, and Study Abroad programs. Officials said those refunds could amount to thousands of dollars for many on-campus students who were sent home because of the epidemic.
Mark Ojakian, president of the Connecticut State Colleges and Universities, notified the four state universities that students should receive credits in their accounts or refunds for unused room and board.
CSCU officials said the amounts of the credits and refunds would vary and promised to return money to students as swiftly as possible.
"We understand that these housing refunds are important monetary sources for our students as they begin to adjust to a new normal of online learning," Ojakian said in a statement.
While most UConn students have been sent home to continue their studies remotely, about 1,200 students have been allowed to remain in their Storrs campus residence halls, either because they are international students or because they have family members with compromised immune systems.
UConn officials estimated those refunds will cost the university about $30 million.
The overall financial impact of the coronavirus crisis on UConn is now estimated at nearly $134 million, according to university officials.
Officials said students who were on the main campus in Mansfield could see refunds for room and board ranging from $1,600 to almost $3,200, plus $1,200 to $1,400 for dining plans.
Students who were living in UConn residence halls in Stamford could see refunds of between $2,800 to $3,100.
UConn President Thomas C. Katsouleas is urging Connecticut's congressional delegation to support efforts to provide federal financial aid for students and higher education institutions in this crisis.
Reprinted with permission of The Connecticut Mirror. 
Like what you see here? Click here to subscribe to We-Ha's newsletter so you'll always be in the know about what's happening in West Hartford!