[Updated, Oct. 24] Businesses and community organizations are invited to participate in the Miracle League of CT's annual Trick-Or-Treat Miracle League Style event on Oct. 27.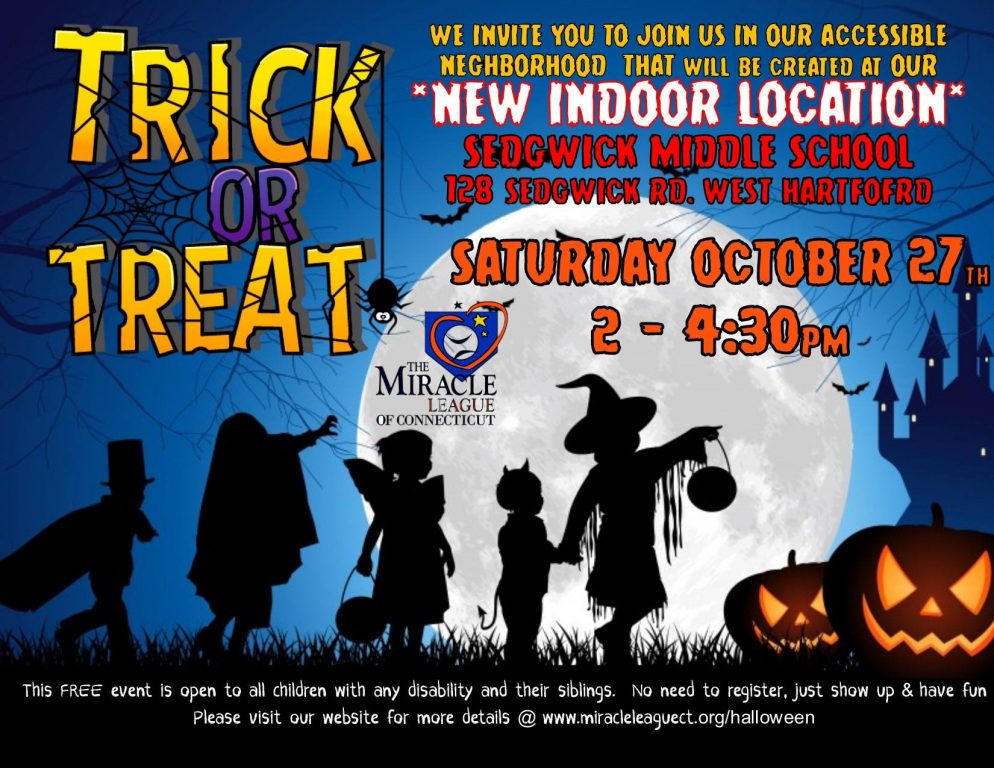 Submitted
Update – Location change, please spread the word
Mother Nature is trying to trick us with an ugly forecast for the coming weekend but our friends at Sedgwick Middle School and the Town of West Hartford have offered up a treat to beat her at her own game.
Because this is our favorite event of the year and more importantly because we don't want to disappoint all of the kids who look forward to this event, we will be relocating our annual accessible Trick or Treat event to Sedgwick Middle School in West Hartford.
The GPS address for the school is 128 Sedgwick Rd. in West Hartford. But please note that the parking lot entrances to the gym are around the corner, on Wardwell Street, just before or after the school depending on your direction of travel. There will be a drop off area that leads directly into the gymnasium where the event will be held. You may drop off there and then find a parking space on either side of the school. We will do our best to have some signs up to direct you all.
Original Story
Once again the Miracle League of Connecticut will create an "accessible neighborhood" on the Miracle League field in West Hartford.
The free event, which will be held Saturday, Oct. 27 from 2 to 4:30 p.m., is open to any child who has any type of disabilities and their siblings.
The field, located on the corner of Trout Brook and Asylum in West Hartford, provides a safe environment for trick-or-treating on the fully rubberized, wheelchair accessible surface.
Local businesses and organizations set up decorated tables and tents for children to visit on their trick-or-treating journey.
"This is one of our favorite days of the year at the Miracle Field," said The Miracle League of Connecticut Executive Director Mike Michaud. "The joy on the children's faces is so rewarding. We're happy to make Halloween safe and accessible so all kids can enjoy it."
The rain date for this event is Sunday, Oct. 28.
Spots are still available for those interested in giving out candy to the expected 300 to 350 children. To sign up call Michaud at 860-769-7056 or email [email protected].
The Miracle League of Connecticut is a non-profit organization dedicated to providing children with special needs a safe and nurturing environment to play organized team sports and opportunities to participate in recreational activities. It has served hundreds of families and children state wide. Through a collaboration with Chapter 126 in Bristol, The Miracle League of Connecticut has been able to expand offerings to include a toddler playgroup, Saturday adaptive sports clinics and supportive parent gatherings and a program for the siblings of children with special needs, among other activities.
For more information, visit miracleleaguect.org.
Like what you see here? Click here to subscribe to We-Ha's newsletter so you'll always be in the know about what's happening in West Hartford!