West Hartford Summer Arts Festival will perform the musical 'Something Rotten!' on stage at Conard High School from July 27-30, 2022.
By Ronni Newton
One of the most common theater sayings is that "the show must go on," and with a bit of a delay, that's happening at Conard High School beginning Wednesday, July 27, when the musical farce "Something Rotten!" begins its four-performance run.
Although COVID-19 – which clearly is "something rotten" – made its presence known just days before opening night, with an outbreak among the cast causing a shutdown of all activity for five days, cast and crew returned to rehearsal this week and all are ready for the new opening night of Wednesday, July 27.
"This has never happened before," said Sara Avery, who has been artistic director with the West Hartford Summer Arts Festival (SAF) since 2010 and successfully staged "Mama Mia" last summer, when COVID cases were at a low point. "We made the drastic and difficult decision to put the entire show on hold," she said, adding that the performers – including those who were infected – are resilient and ready to go. Everyone has remained masked during rehearsals since they returned just to be safe, but they aren't planning to wear them for the performances.
"Something Rotten!" is set in 1595 in London. It's the Renaissance, and the stage is dominated by William Shakespeare. Brothers Nick (played by Declan Smith) and Nigel (played by Ben Stone-Zelman), are struggling playwrights, desperately trying find their own niche.
On the advice of a soothsayer, they take a bold step.
"They go about writing a Broadway musical … during the Renaissance," Avery said. A musical, as the audience soon learns, was not something that had even been contemplated but they persist because the soothsayer says "it's the next big thing," and what will succeed in the future.
Not surprisingly, hilarity ensues.
"The material is really funny and smart," said Director/Choreographer Kate Morran, now in her 18th year with SAF. "There are so many musical references in the show," she said listing "CATS," "Music Man," "Les Miserables," "Dream Girls," and more – some which are obvious and others which are much more subtle.
"This has been a dream show of mine for a while," said Smith, a 2022 Conard graduate who plays older brother Nick Bottom.
Smith said he originally saw the show on Broadway, and since then has wanted to be part of it.
"It's hilarious but very clever. I like smart comedy," said Smith, who will be pursuing his BFA in musical theatre at the University of Cincinnati's College-Conservatory of Music beginning this fall.
He's on stage most of the time, and that's physically challenging. "There's lots of dancing, and finding the humor, and making [Nick] real," while at the same time it's supposed to be a farce so the character also needs to be larger than life.
Much of the dancing is tap, including a tap dancing "battle" with Shakespeare while reciting a monologue.
"I've played a wide variety of characters, played a lot of villains," said Stone-Zelman, a West Hartford resident and Northwest Catholic graduate who is now a rising sophomore at Boston University studying film and television production.
"I'm the younger brother, so he thinks he has power over me," he said of the relationship between Nigel and Nick, but Nigel must ultimately stay true to himself.
The show is meant to be enjoyed by those who like Shakespeare, as well as those who don't. "It's making fun of him, but in a nice way," Stone-Zelman said. "If you're a fan of musical theater, you will definitely like this," he said, and will be especially entertained trying to pick up references to Broadway musicals.
"If you're coming to the show, I promise that you'll laugh through the whole thing," he said.
While this is his first SAF production, Stone-Zelman has extensive experience in regional productions at the Goodspeed Opera House and has done voiceovers for the Nickelodeon cartoon "Becca's Bunch."
"Something Rotten!" opened on Broadway in 2015, and while it may not be as well known as some of the shows SAF has previously staged, Stone-Zelman said he saw it on tour at the Bushnell and it was one of his favorites and that's what prompted him to audition.
"This is a very fun show to be a part of, and a very fun show to watch," said Dani Savino, captain of the featured ensemble.
The South Windsor resident, now a rising junior at Sacred Heart University studying theater arts and musical arts, is in her third year with SAF. She first tried out with a friend who knew Avery and Morran, and was hooked.
"The people, that's a definite reason I keep coming back, ad the support around you," Savino said.
Offering special assistance to the show is Tim Reed, a friend of Avery and Morran who was assistant lighting designer for the Broadway production. "I love this program, and I love educational and youth theater," he said. "The kids are amazing.
"There's so much dance, much more than most shows," Morran said. She was glad to have assistance choreographing the show from Joseph Fierberg, a Hall graduate and SAF veteran who came from New York to assist with this show. "It's a heavy lift," Morran said, but the performers learned quickly. Rehearsals began on June 20, and were shut down abruptly on July 21, but she said the young adults, "are pretty remarkable."
The performers – other than Avery's 9-year-old daughter, Penny, who makes a cameo appearance – are all either high school or college students, and are not require to be West Hartford residents.
Thursday night is "Friends of Feeney" night, with a table in the lobby offering information about the local nonprofit. Eric Feeney, a Wolcott Elementary School teacher who founded the organization to assist children and families who have suffered trauma, will make a cameo appearance that night.
Performances of "Something Rotten!" will be July 27, 28, 29, and 30, and all begin at 7 p.m. Tickets, which are $18-$20, are available online.
"Something Rotten" was created by Grammy Award-winning songwriter Wayne Kirkpatrick, and successful screenwriters Karey Kirkpatrick and John O'Farrell. The show "was lauded by audience members and critics alike, receiving several Best Musical nominations and hailed by Time Out New York as 'the funniest musical comedy in at least 400 years,'" the SAF website states.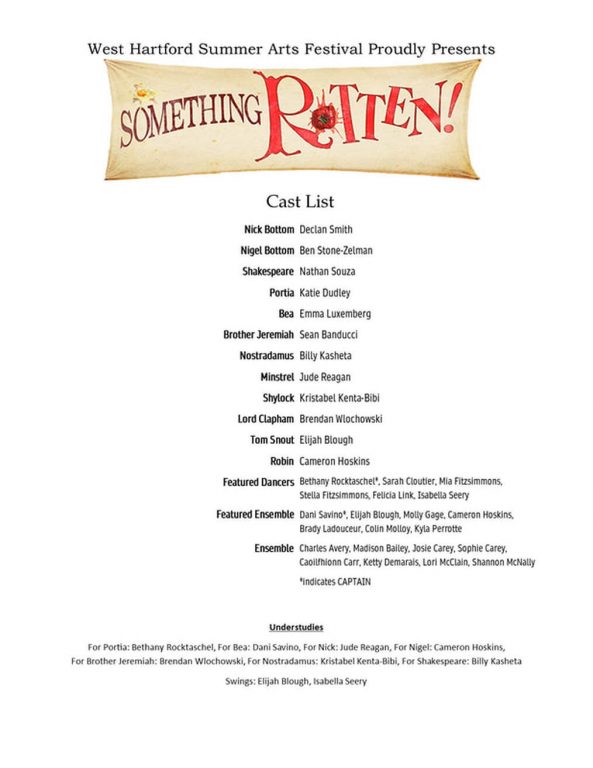 Like what you see here? Click here to subscribe to We-Ha's newsletter so you'll always be in the know about what's happening in West Hartford! Click the blue button below to become a supporter of We-Ha.com and our efforts to continue producing quality journalism.