Work by students from West Hartford's Conard and Hall high schools is on exhibit at the Noah Webster Library through the end of March.
Submitted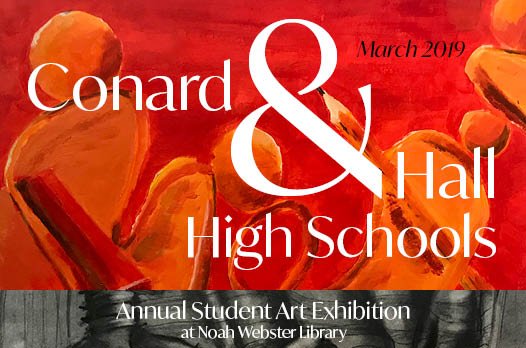 Students from Conard and Hall High Schools involved in the National Art Honor Society (NAHS) have art on display at Noah Webster Library through the end of March.
The students with art on display are in grades 9-12 and their work is the result of ceramics, painting, drawing and sculpture classes.
The NAHS is a national organization, sponsored by the National Art Education Association. The purpose is to bring community awareness to art programs and to recognize student achievement in the visual arts. NAHS members initiate service projects in their schools and in the community.
Over the years, these service projects have added art to the school and broader community. For example, members have painted the insides of cages for the science museum, created artistic trees for the Wadsworth Atheneum's Festival of Trees, painted murals for town hall, carved a Charter Oak tree sculpture for the new Charter Oak School, and raised money for various causes by selling handmade ceramics and jewelry.
Noah Webster Library's gallery is open during operating hours, which can be found on the website.
Event Parking: There is ample library event parking in the nearby Isham Garage. Please bypass the garage payment kiosks and come directly to the Information Desk on the main floor of the Noah Webster Library, 20 South Main St., where you may validate your parking with your license plate number and then proceed to the program.
Like what you see here? Click here to subscribe to We-Ha's newsletter so you'll always be in the know about what's happening in West Hartford!