Conard High School's Class of 2018 celebrated their graduation with words of wisdom, advice, and encouragement for their future endeavors. 
By Maddie Geerlof. Photos by Ronni Newton
Students, faculty, and family gathered to celebrate the 61st Commencement ceremony of West Hartford's Conard High School's 360 Class of 2018 graduates on Tuesday evening.
Class President Charlotte Novak opened the ceremony with remarks that the superseding speakers would soon echo in agreement – words of thanks to the parents' continuous support and well wishes for fellow classmates' future successes.
"Those who have helped us along the way … we could not have done it without your support," said Novak graciously as she reflected on her high school career. Novak added that she could not be more grateful for the friendships and memories that she has had while at Conard, and said to her class, "I cannot wait to see where life takes us."
"Your diploma is much more than a piece of paper," said Conard Principal Julio Duarte. Duarte, during his address to the graduates, told the students that a diploma is a symbol of the students' hard work and perseverance.
Duarte said that through musicals, artwork, sports, and random acts of kindness, the Class of 2018 is a well-rounded class and has set a new precedent for future classes. He also challenged each of the graduates, as they embark on their new beginnings, to stop and listen to people's stories before casting judgment on them.
For many of the seniors, their graduation "symbolizes the end of a story and start of a new one," said commencement speaker and math teacher Douglas Serkoski. As a testament to this, the Senior Choir sang "Hello, Goodbye" to commemorate not just the end of their high school careers, but the start of their new, exciting journeys.
Superintendent of Schools Tom Moore, who was not only a commencement speaker but also the proud parent of a graduate, shared a special testament with the graduates as he spoke from a parent's perspective. Moore congratulated the students and thanked them for helping him, as well as all of the parents in attendance, to grow.
"Go and do miraculous things," said Moore as his final challenge to the class of 2018.
Moore was not the only speaker to leave the graduates with final charges just moments before they would graduate. Serkoski, who was selected by the graduating seniors to speak, challenged the students with the following tasks: he encouraged the graduates to practice compassion, set realistic goals for themselves and plan for the future, and he advised the students to know when to pick up their cellphones and use them and when to put them down and live in the moment.
In a similar manner, one of the class speakers, Annie Bugos, advised her classmates to "Be kind … it's as simple as that," she said. Bugos reminisced about the valuable lessons she learned during her career as a Conard student and emphasized to her peers the importance of cherishing those lessons and remembering their roots. "Once a Chieftain, always a Chieftain," she said with pride as she concluded her remarks.
It was evident that for the students graduating, a Chieftain is more than just their high school mascot. Instead, it is a term that exemplifies an extraordinary community and a family. "A Conard Chieftain is someone who follows their own path and chooses to be unique," said Serkoski, and he added that the class persevered even through the toughest challenges as a Conard family.
Alex Held, who also spoke on behalf of the class, said that the Conard Chieftain camaraderie is one that is rooted deep within the student body.
After the students walked across the stage to receive their diplomas, they gathered one final time and moved their tassels from right to left.
The ceremony concluded and mortarboards flew into the air as Moore presented the crowd with the Conard High School Class of 2018.
A complete list of graduates from the Conard High School Class of 2018, provided by Conard, follows the photos.
Like what you see here? Click here to subscribe to We-Ha's newsletter so you'll always be in the know about what's happening in West Hartford!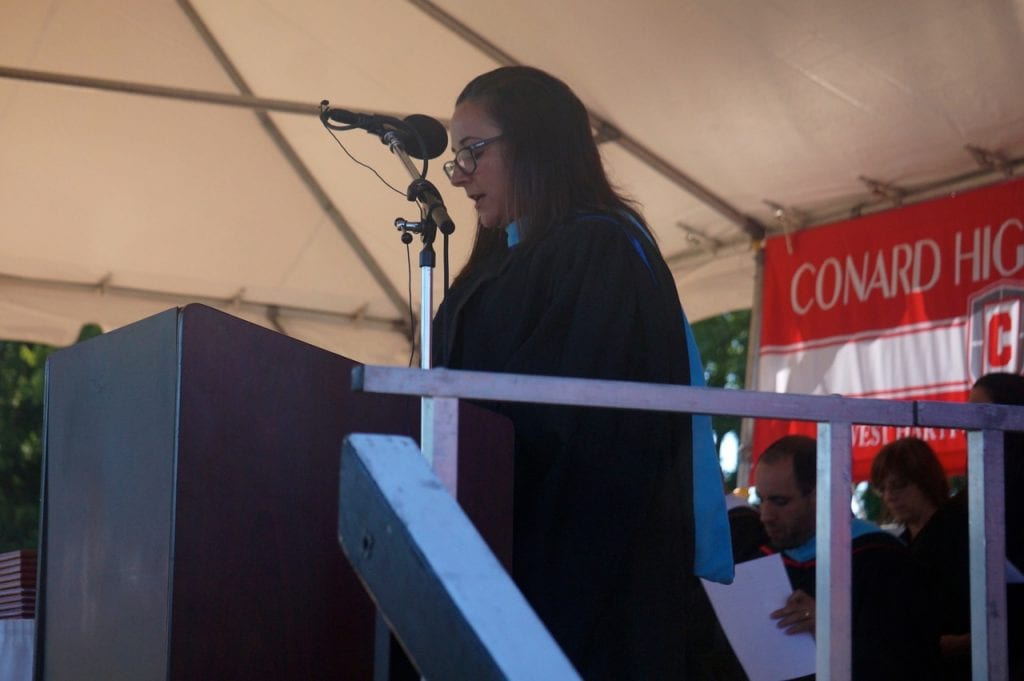 Conard High School Class of 2018:
Nicole Renee Abrahamsen
Anthony Joseph Adam
Enoch Jesuloba Adelani
Shushank Adhikari
Alyssa Rose Alford
Shaheer Akhter Ali
Syed Hunain Ali
Jasmine Juliet Alvarado
Jonathan Joseph Amara
Grace Elizabeth Andrews
Sofi Jane Andrews
Katia Koledo Araya
Kyle Edwin Armstrong
Nimesh Bajgain
Anna Golli Baker
Conrad James Baldwin
Brooke Ann Barbeau
Delina Rose Bartolomei
Spencer Thomas Bavaro
Keith Martin Beadle
Kaylee Ann Bechard
Lila Fallon Bell
Jordyn Bellizzi)
Lauren Emily Belo
Michael Joseph Bienasz
David William Birnbaum
Sam David Bourquin
Jennah Boyd
Mackenzie Ellis Brink
Jared Thomas Brown
Malik Dominick Brown
Tanner Daniel Bruttomesso
Anne Dewitt Bugos
Danny Bui
Sarah Frances Burgdorff
Joseph Anthony Burnett
Maria Elise Burnett
Grace Elizabeth Burns
Marisela Caban
Liseth Enedina Cabrera Anaya
Finn Andrew Cahill
Julianna Rose Calcaterra
George Baltimore Calvert II
Summer Rose Calvert
Daniel Moises Campos
Abigail Rose Capone
Anthony Vincenzo Carabello
Michelle Cardona
Frank Carpio
Luke Thomas Carroll
Adam Joseph Carson
Orlando Rivera Castillo
Sheppard Thomas Cersosimo
Jennifer Diana Chacon
Nathan Alexander Chacon
Alexander Alexandrovic Chernysh Jr
Alexander Milton Chinchilla
Matthew Abraham Chorches
Rachel Frances Chozick
Chinedu Christopher Chukwura
Danielle Paige Clymer
Rose Betsyris Colon Santiago
Mya Concepcion
Vincent Ralph Conelli
Delaney Elizabeth Connors
Andrew William Corcoran
Victor John Amaral Costa
Gillian Arseanna Danielle Cotton-Graves
Tai Ke'Juan Craig Jr
Lauren Nichole Cummins
Yasmin Da Silva Arcenego
Benjamin Kilty Dalton
Arnold DaRocha
Aakrish Naresh Daswani
Nadia C. Davis
John Nathaniel Davison
Ian Rafael De Matto Mendoza
Janina Rane Decelles
Kemuel Gabriel DeJesus
Ava Rose DeLaCruz
Joseph Thomas DeMeo
Jada Montrice Devonish
Jaden I. Devonish
RuthAnn Elizabeth Dillon
Catherine Jiang Ding
Kerrigan Frances DiPippo
Kasey Do
Leah C. Dollar
Dionna Henrietta Dorsey
Omari Benjamin Douglas
Graham Duncan Douglass
Tiasha Tiana Downer
Tiazjah Jamesha Drayton
Ayla Aliguyon Dulnuan
Eleanor Rose Duva
Jessica Haley Edelson
Zarin Asiyih Ehsani
Andrew James Eikleberry
Richard E. Faria
Osvaldo Feliciano
Jessica Joy Fernandes
Andrew Daniel Ferrucci
Janeidi Figueroa
Matthew T. Fisher
Matthew Edward Flanagan
Maya Elizabeth Flores
Jaden Henry Foster
Jaela Milin Fowler
David Manuel Freitas
Jessica Michelle Frigon
Nicholas John Gaglioti
Gabriel Marcel Garcia
Adarsh George
David Livingstone Giles Jr
Jacqueline Leigh Gilmartin
Michael Eduard Giungi
Samuel Kasimer Glista
Lila Jane Goldstein
Vanessa Chanel Goodman
Magdelena Rhea Grabber
Thomas McLaughlin Grady
Katherine Anne Gregory
Sophia Jeanette Gruber
Cole Thomas Haggerty
Lindsey Hamilton Hammond
Daniel William Harris
Mohamed Abdullahi Hassan
Gillian Leigh Haverty
Tyler Emerson Healey
Alejandro Held
Ramsey Blackburn Henderson
Rebecca Ann Hendsey
Rachel Abigail Hennessey
Evelin Boyle Henninger
Benjamin Davies Hollerbach
Kylon Holloway-Carter
Thomas Hoong
Charles Joseph Hosek
Mathew David Hutchins
Owen Matthew Hyland
Lauren Elizabeth Jacobs
Jimith K. James
Troiana T. Jenkins
Colby Alexander Jones
Nicole Taylor Jones
Terese Katherine Jones
Christopher David Josiah
Arbindra Karki
Mary Elizabeth Kauczka
Margaret Casey Kelly
Omar Ghani Khan
Alexander Kennedy Kim
Rebekah Doeun Kim
John Robert Kirklin
Tyler Knott
Katherine Olivia Kopp
Hunter Lee Kowal
Nicholas Yuan Kuang
Kishan Raj Kunver
Jamie Alexandra Kurowski
Owen Theodore Kutscher
Zachary Burke Lagana
Christopher Anthony LaMarco
Jake Andrew Landry
Lilliana Szabo LaPointe
Nicole Hayley C. LaPorte
Anh-Tu Nguyen Le
Kevin Hoang Le
Isabelle Anderson LeConche
Jane Lee
Cristoff Stefan Ligon
Joel Angel Lopez
Cassidy Marie Lorenzo
Janey Rose Lorenzo
Christian Diogenes Lowe
Anny Lu
Olivia Marie Lucas
Jesus D. Luna Mora
Ethan Andrew Lynch
Raymond Ma
Xiaoyang Ma
Chloe Michelle Macko
Nicholas Andrew Magliochetti
Jackson Anton Mahaffey
Maxwell David Main
Cristian Teodoro Maisonet
Clare Elizabeth Majewski
Jesenia Maxine Maldonado
Maeve Colleen Maloney
Daniel Thomas Manger
Sofia Maricevic
Matthew Joseph Marino
Emily Elizabeth Marshall-Delude
Jenna Elizabeth Marshall-Delude
Rachel Alina Massey
Abel Mathew
Irin Elizabeth Mathew
Danielle Marie Mathura
Cullen Patrick McCaffrey
Collin Blaine McCarthy
Matthew Benneyan McCauley
Sienna McClay
Eileen Mary McGowan
Bryanna Nichole McKreith
Diamond Alisia McLeod
Elizabeth Lucey McMahon
Frances Shelton McPherson
Ivan Eduardo Medina-Ribeiro
Fitore Mehmeti
Roy Carter Melhado
Abel Anthony Mendoza
Angelica Maria Mesias-Mejia
Kyle Manuel Milhomens
Nilan Kamar Miller
Michaela Lynn Mocadlo
Olivia Lee Mocadlo
Hussein Ismail Mohamoud
Christina Marie Molina
Gabriela Magdalena Molina
Jack Thomas Moore
Diana Francheska Morales
Armela Mucka
Adriana Nace
Yash Nair
Syed Muhammad Ali Naqvi
Lauren Nicole Nasby
Mutiyah Nash
Daniel Webster Newton
Alyssa Linh Nguyen
Chan The Nguyen
Chris Anh Nguyen
Kathy Hoang Nguyen
Lukas Vu Nguyen
Tin Tommy Nguyen
Frankie Ni
Jake Donald Nichols
Kyle Robert Nichols
Dominic David Niman
Margaret Wieland Noble
Jenniffer Oliveira Nogueira
Charlotte Elizabeth Novak
Aidan P. O'Brien
Grant Michael O'Connor
Maeve Catherine O'Shea
Jackson Albert O'Sullivan
Lillian Oliveira
Sophia S. Oliveira
Korina Angelique Oliveras
Douglas Joseph Olmstead
Long Bich On
Miles I. Onukwugha
Cameron Paul Orentas
Ryan James Orlowski
Hector Anibal Ortega Jr
Leslyan Marie Ortiz
Michelle Lurry Outlaw
Andrea Gabriela Padilla
Nayeli Padin
Alexandra Alissia Padurariu
Ariya Pakabutr
Briana Kay Paparazzo
Neyarit Pardo
Christian Ariel Paredes
John Stafford Parker
Anna Arlette Patterson
Venkata Krishna Sai Pranav Peddibhotla
Madison Nicole Perez
Cole Aric Peterson
Elizabeth Rice Phillips
Zoe Harper Pierce
Lillie Miriam Pinette
Stephanie Pixley
Nora Elizabeth Policelli
Kaylee Marie Pollicita
Rian Mikella Carolyn Preston
Lena Elizabeth Proietti
Timothy Henryk Rak
Benjamin Lee Ratchford
Trevor William Ratchford
Macy Reese
Jared Justice Reisner
Matthew John Remigino
Joshua Luis Restrepo
Liza Eduarda Ribeiro
Hector Javiel Rivera Jr
Brandon Wilfredo Rivera
Brian Daniel Roach
Eric Joseph Rodonis
Juliana K. Rodrigues
Edwin Alexis Rodriguez
Joseph Lexus Rodriguez
Savannah Jade Rodriguez
Yuneli Yomaris Roman
Nathaniel Marquis Rosado
Anaida Isabel Ruiz
Victoria Rose Santa Maria
Briana Evelyn Santana
Mario Carl Santos
Michael Dailey Schneider
Kaitlin Grace Schulken
Isabelle Rose Schwartz
Max Benjamin Schweitzer
Robert Ganesh Seecharran
Luke Francis Serdechny
Alejandro Serrano
Cristiano Sgarbi
Maryonna Shamonei
Casey Miller Shane
Elijah Shapiro-Rios
Kelsey Margaret Shay
Madison Nina Shea
James G. Shepard
Claire K. Sherrill
Hunter Martin Sigler
Lakshmana Fournier Silva
Cameron James Silver
Sonia Montgomery Simon
Timothy Barry Simplicio
Isaac Noah Sims
Manjot Singh
Emma Niamh Sinnock
Anna Smith
Hunter Ames Smith
Skylar Rose Sokolowski
Nadia Marie Son
Brent Armand Soucy
Emma Mayland Soucy
Julia G. St.Pierre
Aidan Dean Stabnick
Yaira Ayanna Stallings
Jackson Evans Starr
Christopher Louis Stimson
Abigail Marie Swanton
Corey Joseph Tague
Jack Bryan Tapia
Gia-Vonna Jean Tavares
Brandon Thai
Ujwal Thapa
Austin Michael Tobin
Alexandra Elizabeth Tousignant
Chloé J. M. Toutain
Anhthien Teddy Tran
Kelly Tran
Kiet Tuan Tran
Shannon Truong
Liza Beth Uthgenannt
Yasmine Valentin
Ashley Van
Melanie Desiraee Vazquez
Neyde Mercedes Velasquez
Maggie Catherine Venora
Camila Vieira Aguiar
Cameron Ruth Vines
Lauren Kathryn Vitelli
Joseph John Volpe
Jewel Elise Voyer
Ethan William Wadsworth
Andrew Ian Walsh
Matthew John Walsh
Sasha Marie Wenograd
Kaleigh Anna Werner
Jenna Jie-Yu Westfall
Austin Joseph Whittel
Zachary Quentin Wiggins
Alysha Irene Williams
Chloe Elizabeth Williams
Robert Jesse Williams
Casey Natasha Wilson
Paul Owen Wilson
Camille Helena Wimpe
Joseph Thomas Wojciechowski
Cory Alexander Wolski
Eric Campion Woods
Michael Luke Woods
Dylan Michael Wu
Miguel David Yancce
Maggie Kathleen Yezza
Juan Jose Zayas
Robin Jiaxin Zheng
Dominik Zysk