Twenty-four breweries will present one-off cask creations at the 2nd Annual Real Ale Harvest Festival at the Noah Webster House & West Hartford Historical Society.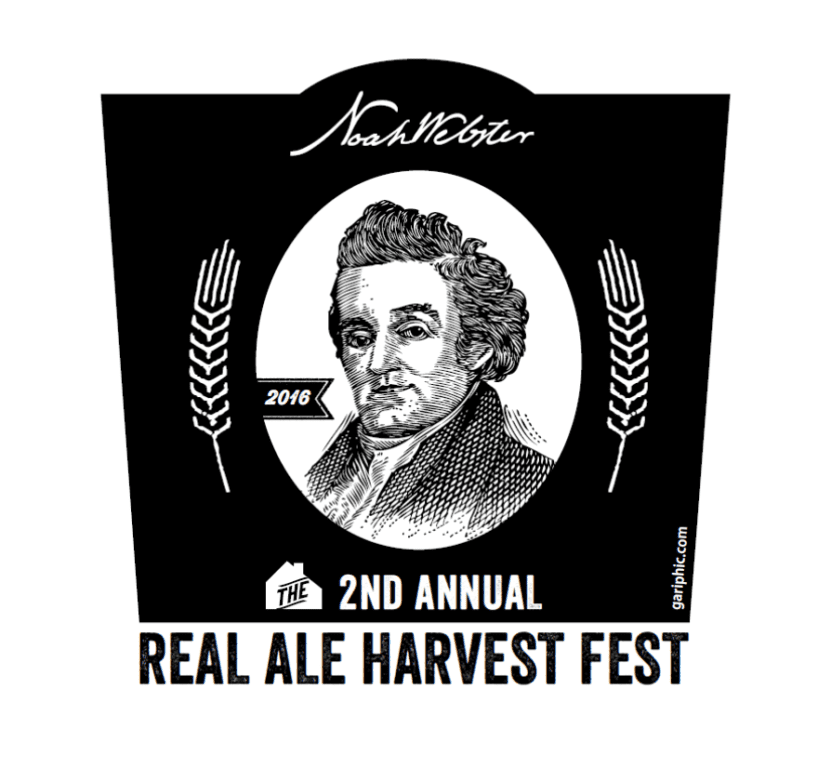 Submitted by Noah Webster House & West Hartford Historical Society
On Saturday, Oct. 1, 2016, the Noah Webster House & West Hartford Historical Society will host the 2nd Annual Noah Webster Real Ale Harvest Festival. Co-hosted by Harvest Country Store and Harvest Fine Wines & Spirits, the event will feature 24 breweries in a competition that uses a staple found in the National Historic Landmark's 18th-century style garden: hops.
Founding Father and lexicographer Noah Webster was born on a 200-acre farm in rural West Hartford. When Webster's childhood home was restored and opened as a museum in 1965, the historic garden was also recreated, hop plants and all.
These hops, as well as other plants from Webster's garden, are on the ingredient list for the two dozen breweries from around New England and New York that will be participating in the fest. Using a traditional technique that Webster's contemporaries might have employed, each brewery will create a one-off cask of "real ale" for attendees to sample. Real ale is a beer that's top-fermented and matured by secondary fermentation in the container from which it's served. Known for its flavor and texture, real ale is naturally carbonated and served at cellar temperatures.
"What's so special about this event is that the casks of real ale are created for this day only. The brewers are extremely creative and their concoctions are completely unique – you're not going to find them anywhere else," says the museum's Executive Director, Jennifer DiCola Matos. "This year, we also have doubled the number of breweries participating, so there will be even more creations to sample."
Breweries competing in the Cask Challenge include: Aspetuck Brew Lab (Bridgeport), Back East Brewing Co. (Bloomfield), Black Hog Brewing Co. (Oxford), Blue Point Brewery (Patchogue, NY), Cambridge Brewing Co. (Cambridge, MA), City Steam Brewery (Hartford), DuVig Brewing Co. (Branford), Hanging Hills Brewing Co. (Hartford), Hog River Brewing Co. (Hartford), Kent Falls Brewing (Kent), New England Brewing Co. (Woodbridge), OEC Brewing (Oxford), Olde Burnside Brewing (East Hartford), Relic Brewing Co. (Plainville), Shmaltz Brewing Co. (Clifton Park, NY), Sixpoint Brewery (Brooklyn, NY), Steady Habit Brewing Co. (Haddam), Still Hill Brewery (Rocky Hill), Thomas Hooker Brewery (Bloomfield), Two Roads Brewing Co. (Stratford), White Birch Brewing (Hooksett, NH) and Willimantic Brewing Co. (Willimantic).
Captain Lawrence Brewing Co. (Elmsford, NY) returns to defend their 2015 Cask Champion title, as will New Park Brewing (West Hartford), the winner of the 2015 Taster's Choice Award.
In addition, specialty logs and samples will be available from Allagash Brewing Co. (Portland, ME), Brouwerij Boon (Lembeek, Belgium), Dogfish Head (Milton, DE), Goose Island (Chicago), Lagunitas Brewing Co. (Petaluma, CA) and LoverBeer (Marentino, Italy).
Co-host Harvest Fine Wine & Spirits and Harvest Country Store were instrumental in organizing the participating the breweries and determining competition rules. Brewers must use at least one ingredient from Webster's garden, which in addition to hops includes herbs like lavender, lemon balm ,and lovage and plants like Jerusalem artichoke and quince. Brewers are invited to forage in Webster's garden and take their harvest back to their test kitchen.
"There's a craft movement afoot, one that cultivates a culture of independence and idealism," says Ian Halpern, director of operations at Harvest. "As 'organic' is to food, 'craft' is to beer. The real ale fest captures just that and we're honored and excited to be part of it."
The breweries' special batches of real ale will be presented at the fest and tasted by guests and a team of celebrity judges who will present the 2nd Annual Noah Webster Real Ale Harvest Festival "Cask Champion" award to the winning brewery. Attendees will also have the opportunity to vote for their favorite ale for the "Taster's Choice" award.
In addition to unique real ale, there will be live music from James and The Untold Riches and Ray Morant's Soul Tsunami, food trucks and a lawn game tournament.
The Noah Webster Real Ale Harvest Festival will take place at the Noah Webster House & West Hartford Historical Society, 227 South Main St. in West Hartford, on Saturday, Oct. 1, 2016, from 2-5 p.m. and 6-9 p.m. Tickets include unlimited samples, a commemorative tasting glass, a $5 voucher towards a food truck purchase and a detailed guide printed especially for the event.
Ticket price until Sept. 23 is $40 for the general public and $35 for museum members and Let's GO Arts! cardholders. All tickets purchased Sept. 23-30 are $45 and $50 day of the event.
Designated-driver discount ticket available for $20. Attendees must be 21 or over and valid ID required. Tickets are limited; advanced purchase recommended and available at: www.noahwebster.yapsody.com. All proceeds to benefit the museum's educational mission.
This event is co-hosted by Harvest Fine Wines & Spirits (842 Farmington Ave., West Hartford, CT 06119) and Harvest Country Store (161 Oakwood Ave., West Hartford, CT 06119) and sponsored by Telefunken and CBS Local Connecticut. Additional support for the museum is provided by the Hartford Foundation for Public Giving and the Greater Hartford Arts Council.
The Noah Webster House & West Hartford Historical Society is a not-for-profit museum and cultural destination where citizens can learn to understand and appreciate the past. The museum preserves the birthplace of Noah Webster, the Founding Father, educator, author and lexicographer who taught generations of Americans what it means to be American. This National Historic Landmark is also a repository for the history of West Hartford, the community that molded Webster's future and is still thriving 250-plus years later. The historic house and exhibit spaces are open daily 1-4 p.m. For information on the museum's extensive school and public programs, visit www.noahwebsterhouse.org or call 860-521-5362.
Like what you see here? Click here to subscribe to We-Ha's newsletter so you'll always be in the know about what's happening in West Hartford!