West Hartford Yoga in the Parks will return for the summer beginning July 1. [Updated, July 5]
By Ronni Newton
Free outdoor yoga has been a popular summer activity for many summers, and will return to West Hartford parks beginning July 1.
At a virtual meeting of the Town Council's Special Advisory Committee on Social and Community Recovery on June 22, Barbara Ruzansky, owner of West Hartford Yoga (WHY), said, "I am very, very concerned with the post pandemic mental health issue that our state, our city, our country will be facing. I am particularly concerned for the youth."
Providing the free, outdoor yoga, in cooperation with West Hartford Leisure Services, will allow members of the community to connect with nature, improve their health, increase their energy, and relax and regroup among fellow yogis.
The hour-long classes are open to people of all levels and will be led by certified instructors from WHY. They will be socially-distanced, with mats placed at least 6 feet apart. Participants are required to bring their own yoga mat, towel, and water.
The focus will include yoga postures as well as breath work and meditation – in a beautiful setting rotating between West Hartford's parks.
Masks should be worn while walking to and from the car, but not while participating in the practice on your mat.
Classes are free of charge, but donations will be accepted.
The current schedule is:
Wednesday, 5:30 p.m., Eisenhower Park, 33 Sheep Hill Dr.
Sunday, 9 a.m., Beachland Park, 847 South Quaker Lane
Pre-registration is required and capacity will be limited. More information is available on the West Hartford Yoga in the Parks web page.
Ruzansky said WHY is also offering outdoor yoga at the Copper Beach Institute and the Hill-Stead Museum, and is looking for other ways to support youth, particularly those at risk, through West Hartford Yoga's nonprofit outreach program.
The studio will be reopening in the next month or so, she said.
Helen Rubino-Turco, director of Leisure and Social Services, said that the town and WHY are also working to arrange a family yoga practice once a week at rotating parks.
That schedule has now been published and will be according to the schedule below, beginning with July 8 at Eisenhower Park.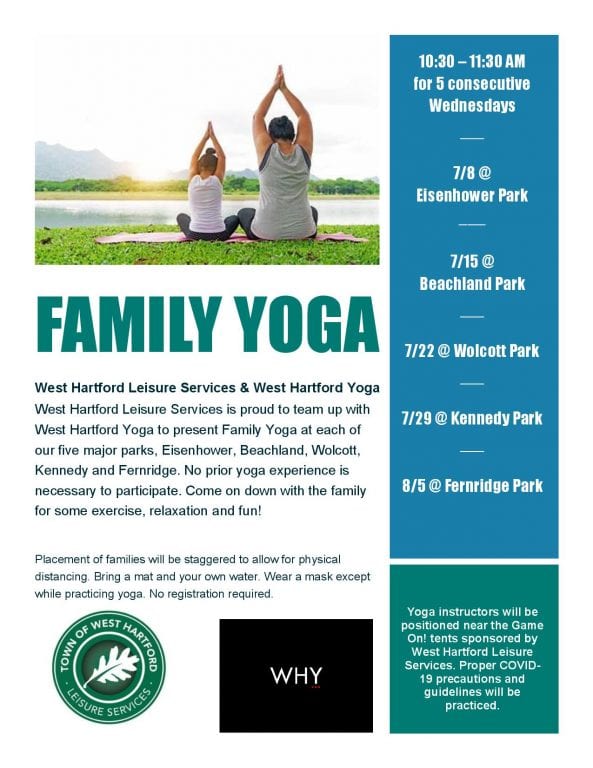 The Town of West Hartford is also offering fitness centers the ability to obtain a permit to utilize space at Sedgwick Middle School and King Philip Middle School to hold outdoor classes.
Anyone interested in pursuing the rental of one of these spaces, should contact Leisure Services Manager Marc Blanchard via email at [email protected]gov.
Like what you see here? Click here to subscribe to We-Ha's newsletter so you'll always be in the know about what's happening in West Hartford! Click the blue button below to become a supporter of We-Ha.com and our efforts to continue producing quality journalism.