Hometown celebrities will be serving up breakfast on Tuesday, June 14, at Effie's Place Family Restaurant, as a fundraiser for the Park Road Parade.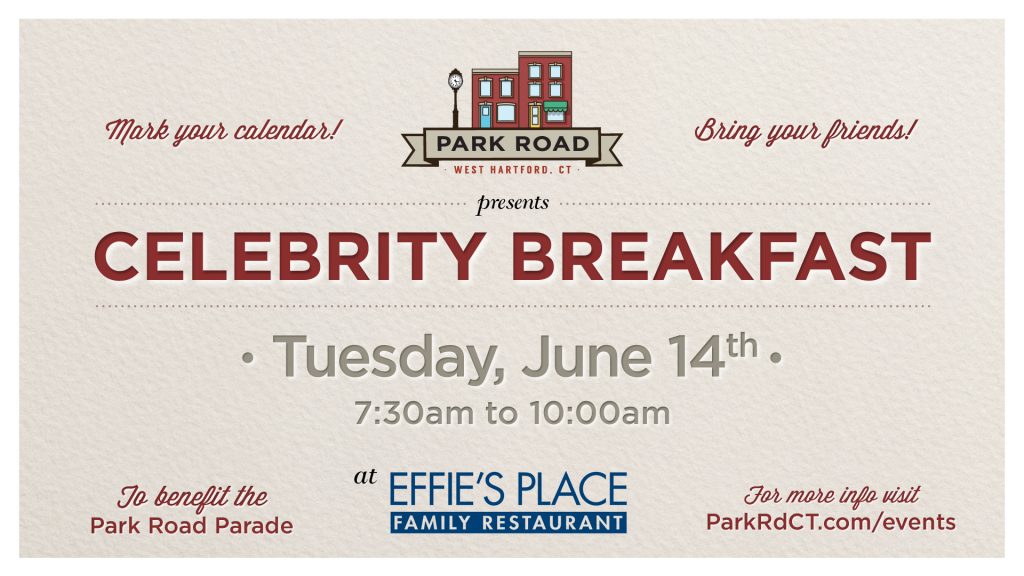 Submitted
Bring your appetite and $20 to Effie's Place Family Restaurant, 91 Park Road, on Tuesday, June 14 and you will receive your choice of breakfast served by hometown celebrities.
The Celebrity Breakfast is the Park Road Parade's major fundraiser. The money raised will help make the 2022 parade bigger and better than ever. Stop by from 7:30 to 10 a.m. to support this community event.
Hometown celebrities will be serving customers a choice of three fluffy pancakes piled high, Belgium waffles with strawberries and whipped cream, and Effie's Eggs – two eggs cooked any style with home fries. All are served with choice of sausage or bacon, coffee or tea, and juice. You can also place a to-go order by calling Effie's Restaurant at 860-233-9653.
Notable locals include West Hartford Mayor Shari Cantor and Hartford Mayor Luke Bronin, as well as state Sen. Derek Slap, state Rep. Jillian Gilchrest, Town Councilors Liam Sweeney and Adrienne Billings-Smith, and Board of Education member Clare Taylor Neseralla.
Be on the lookout for Richard Chiarappa, music director of the West Hartford Symphony Orchestra, in his tuxedo, as well as Barry Walters, chair of West Hartford Pride, and Patti Albee, founder/webmaster of the Neighbors & Friends in West Hartford Facebook group.
From the business community, servers will include Annisa Teich of West Hartford Co-Working and The Small Business Collective, Kate Kobs of West Hartford Chamber of Commerce, and Chuck Coursey of Coursey & Company Public Affairs Communication. Jennifer Evans, executive director of West Hartford Community Interactive will be taking orders and serving coffee to diners, too.
Staff from the Town of West Hartford will be there including the new Library Director Laura Irmscher, Helen Rubino-Turco, director of Leisure Services & Social Services, Kristen Gorski, Economic Development coordinator, Renée McCue, Public Relations specialist, and Aimee Krauss, executive director, West Hartford-Bloomfield Health District.
More local celebrities are being added to the roster of servers for this special event. They are ready to tie on their aprons and serve you with a smile.
Ronni Newton of We-Ha.com and John Lyons will host their We-Ha Roundtable podcast on Facebook Live, featuring interviews with local celebrities and special guests throughout the event. Tune in at https://www.facebook.com/wehartford.
Special thanks to Johnny Paindiris of Effie's Place for hosting the event and donating the proceeds to the parade. Be sure to mark your calendar for Oct. 1, 2022 for this year's Park Road Parade!
For more information, call John Paindiris at 860-836-9366 or Tony Landino at 860-719-9827.
Like what you see here? Click here to subscribe to We-Ha's newsletter so you'll always be in the know about what's happening in West Hartford! Click the blue button below to become a supporter of We-Ha.com and our efforts to continue producing quality journalism.