LIFER Fitness Studio in West Hartford is hosting a "Pedal to End Cancer" event to benefit the American Cancer Society.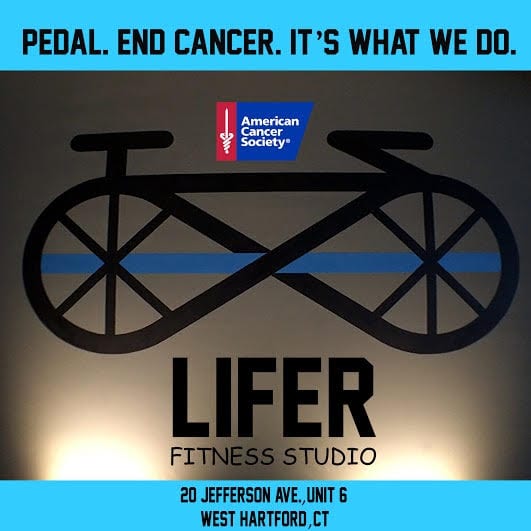 By Ronni Newton
LIFER Fitness Studio will join four other Connecticut fitness clubs Sunday in the American Cancer Society's "2016 Pedal to End Cancer" event.
"My father died of lung cancer 11 years ago this April," LIFER owner Debra Fountain said. "Everyone says they know someone who has had cancer. It's personal for most people."
Space on bikes is still available, and teams and individuals are invited to register for Sunday's fundraiser, a three-hour cycling class. Funds will be raised through the $25 registration fee. Beyond that there is no required sponsorship amount, but Fountain said that some participants have raised much more. Top fundraising teams will be eligible to win prizes.
Anyone who wants to contribute can also stop by on during Sunday's event and donate. "We're just trying to raise as much as we can. It all goes to the American Cancer Society," Fountain said.
Fountain opened LIFER Fitness on July 6, 2015, and Sunday is the business' eight-month anniversary. "I'm very pleased with the progression of the business," she said. LIFER Fitness, located at 20 Jefferson Ave. (near Home Depot) features cycling, barre, and yoga classes all in one space.
"This is how I envision being a community business," Fountain said of holding a fundraiser in the studio.
Pedal to End Cancer will be held on Sunday, March 6, 2016, from 9 a.m. until noon. Participants are invited to join #PedalToEndCancer and sign up their team at www.pedaltoendcancer.org by clicking on the "Sign Up" button. A team leader must create a team by selecting the "Start a Team" option and additional team participants must select the "Join a Team" option. Both should select "LIFER Fitness Studio" as their location. When registration is complete, an email confirmation will provide a link to reserve the team's bike. Fountain said that participants can also email her at [email protected] and she will handle the registration.
About Us: LIFER offers more than a daily workout; it's a lifestyle. LIFER Fitness Studio promotes a healthy, balanced lifestyle beyond our walls. High energy indoor cycling classes that will be fun and challenging. Muscle toning barre classes that will strengthen and elongate the body. Dynamic yoga classes that will improve flexibility and posture. Each class is designed by each instructor and tailored to accommodate clients with varied experience, intensity levels and fitness goals.#ITSWHATWEDO