Hall High School performers will take the stage beginning March 10 for the 65th Pops 'n Jazz Extravaganza.
By Ronni Newton
Singers, dancers, musicians, and actors will appear on stage at West Hartford's Hall High School for a nautical-themed "PnJ on a Boat" Pops 'N Jazz extravaganza that opens March 10, 2023.
After being canceled in 2020 and reimagined as a streamed and recorded program in 2021 amid the COVID-19 pandemic, Pops 'n Jazz made a triumphant return to the stage in 2022 and organizers are thrilled to once again feature more than 100 student performers for the program which "is known for its eclectic blend of music, ranging from traditional and progressive jazz, to pop-rock and Broadway."
Guests are invited to "sail away" during the two weekends of performances – with programs varying slightly each time – and feature performances in various settings and collaborations by Hall's Concert Jazz Band, Jazz Band, Jazz Dancers, Choraliers (singers), and I Giovani Solisti (strings), as well as elementary and middle school ensembles and guest artists.
"Audiences this year will be treated to our performers sailing through one of our most incredible lineups of guest artists, an amazingly strong and dedicated group of musicians, dancers, and actors, while upholding and adding to the 65-year tradition of Pops 'n Jazz," said James Antonucci, Hall High School's director of Bands and Jazz Bands.
Evening performances are scheduled for March 10, 11, 16, 17, and 18, with doors opening each night at 7 p.m. and the curtain rising at 7:30 p.m. In addition, a 50-minute abridged, family-friendly matinee on Sunday, March 12, beginning at 2 p.m., will feature a small sampling of the evening performances.
Professional musicians who will appear on stage this year include rising star alto saxophonist Lakecia Benjamin (March 10); world-renowned tap dancer, singer, actor, and drummer DeWitt Fleming Jr. (March 11); internationally-acclaimed jazz trumpeter Marcus Printup (March 16); and both trumpeter Larry Gareau and saxophonist Nathan Edwards on March 18. The On March 17 "Local Legends" from the West Hartford community will be celebrated, including appearances by the piano/saxophone duo Jen & Kris Allen and trombonist Sean Nelson. Participation of guest performers is supported by the Ellen Jeanne Goldfarb Memorial Charitable Trust.
"Hall Junior Artists" from the district's elementary schools will also join the high schoolers on stage for select performances. On March 10, students from Norfeldt, Whiting Lane, Aiken, and Bugbee will perform, and the March 17 show will include students from Smith STEM, Charter Oak International Academy, and Morley. Middle school singers and musicians will also perform, including King Philip Middle School's KP Singers and Bristow Middle School's Big Band on March 11, and the King Philip Middle School Jazz Band on March 16, and KP's Sixth Dimension on March 18. "The involvement of these younger students with exemplary older students is part of the West Hartford Public School District's effort to inspire excellence and commitment to the arts," organizers said.
Antonucci, along with Emmett Drake, the Director of Orchestras at Hall and Conard high schools, are co-producer's of the 65th Pops 'N Jazz show. Technical director is Spencer Bazzano, Hall's Theater program and StageCraft teacher. Dave Lewis is set designer and lead builder and audio engineer designer is Rob Trelor.
Hall Director of Choirs Brett Boles is director of the Choraliers, while Kate Morran, assisted by Hall alumnus Joseph Fierberg, direct the Jazz Dancers. Many Hall High School parents, teachers, and staff have spent countless hours bringing the extravaganza to fruition.
Hall's former band director, Bill Stanley, originated Pops 'n Jazz in 1958. Hall has since been known as one of the first high schools in the U.S. to integrate jazz into its daily curriculum, and the school and district have achieved acclaim both on the national and international stage.
Honors received include the district's recognition with Kennedy Center Award for Excellence in Arts Education, the Concert Jazz Band performing in the national finals of the Essentially Ellington Competition at Lincoln Center with Wynton Marsalis on multiple occasions, and three first-place finishes at the Berklee School of Music Jazz Festival in Boston.
Tickets to Pops 'n Jazz, for assigned seats, are available online here. Tickets are $18 for adults and $15 for students; tickets to the Sunday matinee are $10. Tickets can also be purchased in person at the Hall High School box office on Wednesdays, Thursdays, and Fridays beginning Feb. 22. Monday and Tuesday hours will be added beginning March 6. Box office hours are Monday, Tuesday, Thursday, and Friday from noon-2:30 p.m., and Wednesday from 11 a.m.-1 p.m.
To stay up-to-date with Pops 'N Jazz, follow the show on Facebook and Instagram (@popsnjazz). For more information, call the box office at 860- 929-5151 or visit hallhighjazz.com.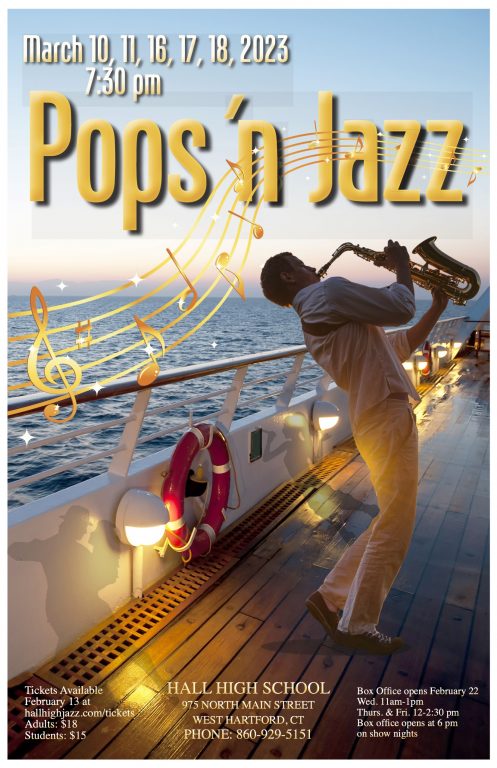 Like what you see here? Click here to subscribe to We-Ha's newsletter so you'll always be in the know about what's happening in West Hartford! Click the blue button below to become a supporter of We-Ha.com and our efforts to continue producing quality journalism.