Banners in West Hartford Center and purple lights at the Delamar Hotel fountain are raising awareness, and on Friday night the second annual 'Rock Away Pancreatic Cancer' concert will benefit the Ron Foley Foundation.
Submitted
In recognition of National Pancreatic Cancer Awareness month, several local events are being held to support the West Hartford-based Ron Foley Foundation.
The lights of the fountain at the Delamar West Hartford Hotel have been turned purple, and on Wednesday night a group gathered at the fountain for a vigil and read aloud the names of loved ones who have been lost to pancreatic cancer as well as those battling the disease.
In addition to "lighting up purple," the Artisan Restaurant at the Delamar has added a special purple cocktail to their menu, with 10 percent of the proceeds going to the Ron Foley Foundation.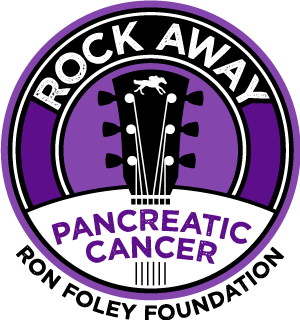 The major event of the month is the second annual "Rock Away Pancreatic Cancer" concert on Nov. 16.
New Country Motor Cars of Hartford continues its powerful partnership with the Ron Foley Foundation to find a cure for one of the most deadly cancers. In honor of Pancreatic Awareness Month, on Friday, Nov. 16, from 6 to 9 p.m., New Country will host the second annual Rock Away Pancreatic Cancer fundraising event at its Mercedes Benz dealership.
The evening will include light fare and beverages and a special musical performance by the Como Brothers, a rock, pop, and blues duo from Long Island, whose songs have been featured on such popular TV shows as E! Entertainment's Keeping up with the Kardashians, MTV's Real World and Oxygen Channel's Best Ink.
"The Como Brothers have established themselves as sensational singer-songwriters working with industry legends from around the globe," said Barbara Foley, founder and president of the Ron Foley Foundation.  "We know that their whimsical musicality will elevate our event to a new level and help us surpass last year's $5,000 fundraising amount."
The evening has a capacity crowd of 220 people. The minimum suggested donation is only $50. The dealership is located at 1 Weston St. in Hartford.
Established in memory of Ron Foley, who lost his battle with pancreatic cancer in October of 2005, the Foundation bearing his name is dedicated to promoting early detection and ultimately finding a cure through ongoing research. The foundation also provides financial assistance to pancreatic cancer patients in need through the Ron's Rescue Fund.
"New Country is happy to help give voice to a charity working so hard to improve lives for those dealing with pancreatic cancer and encourage everyone to come out and support the Ron Foley Foundation by attending the event," said New Country Vice President Tim Parker. "It will be an exciting event for an exceptional cause!"
New Country has also signed on as the presenting sponsor of the Ron Foley Foundation's signature event- the Annual Ron's Run for the Roses Kentucky Derby Day in May – for the sixth consecutive year.
Rock Away Pancreatic Cancer is one of several charity events New Country has hosted at its various dealerships. Five years ago, New Country launched a program of its own to benefit Hartford students in need with the Stuff the MINI to the MAX school supply drive in August and Stuff the MINI winter clothing collection in December.
Other fundraisers and organizations that New Country supports include the CRIS Radio (Connecticut Radio Information System) and Channel 3 Kid's Camp golf tournaments and the Connecticut Children's Medical Center Ferrari event.
"In addition to being a top provider in the quality car business, it's important to us as a company that we continue to be a good corporate neighbor and civic leader," adds Parker. "Giving back to the community that has sustained us for so many years is the driving mission of New Country Motor Cars."
The Como Brothers – Matt and Andrew Como – are musicians (singers, songwriters and performers) from Long Island who are passionate about music and have gained notoriety for their heartfelt lyrics, and original tunes. Combining a pop and rock easy-listening sound with a blues vibe, they have written and recorded multiple albums and EP's of original songs. Their latest songs have been recorded with Gramm-nominated engineer Kenta Yonesaka at Germano Studios in New York City.  Matt and Andrew have toured the East Coast performing at notable venues, such as the Hard Rock Café and The Cutting Room in New York City, along with sold-out performances around the country from Hollywood California to Texas' South by Southwest, Florida, Boston, New York City, and more.  
Like what you see here? Click here to subscribe to We-Ha's newsletter so you'll always be in the know about what's happening in West Hartford!