West Hartford restaurateurs say eliminating capacity may increase confidence but won't have major impact because of the spacing still required between tables, but they're really looking forward to the return of outdoor dining season.
By Hugh McQuaid, CTNewsJunkie.com and Ronni Newton, We-Ha.com
The state will lift most COVID-related capacity limitations on Connecticut businesses on March 19 while leaving in place statewide mask-wearing and social distancing requirements, Gov. Ned Lamont said during a Thursday press conference.
The sweeping change will eliminate the 50% capacity limits on restaurants, gyms, stores, and offices. It will also lift the limits on libraries, museums, barbers, and houses of worship.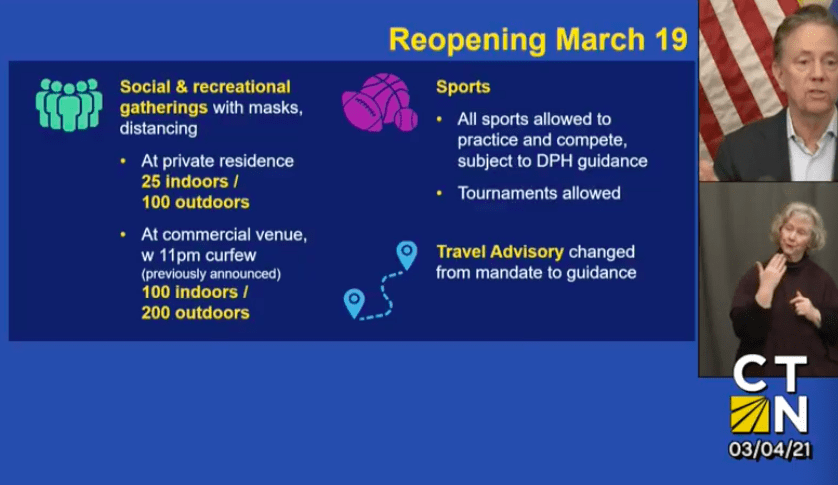 Other restrictions will be relaxed, the governor said. The cap on indoor gatherings at private residences will be increased to 25 people, and 100 will be permitted to gather outdoors at private residences. Commercial venues will be able accommodate 100 people indoors as of March 19, and 200 outdoor s.
All sports adhering to public health guidelines will be permitted and tournaments will be allowed. Meanwhile, the state travel advisory will be shifted to a guideline rather than a requirement.
"Connecticut has earned it. You know, it's been tough. People have been frustrated and they've been sheltered at home and a lot of our businesses really suffered and people took a hit," Lamont said. "I've felt that more than most. So I'll tell you, it feels pretty good."
Lamont chose to leave some restrictions on businesses in place. Bars will remain closed and the 11 p.m. curfew on restaurants will remain in place. The number of patrons permitted to sit at a table inside a restaurant will remain capped at eight. Meanwhile, movie theaters will still be required to observe a 50% capacity limit.
Connecticut's restaurant and retail associations praised the move in separate press releases.
Scott Dolch, executive director of the Connecticut Restaurant Association, said Lamont had taken an important step toward restoring an industry that had sustained deep losses during the pandemic.
"Throughout the pandemic, Connecticut restaurants have proven that it's possible to serve customers safely and responsibly. They've shown they are ready to take this next step, and to help drive local communities and local economies across Connecticut as they work to return to a new normal," Dolch said.
But the need to maintain the distance between tables, unless there are impermeable barriers, means that although it may help increase public confidence that the restrictions are being eased, the reality won't change much for most restaurants.
"I appreciate everything and I think it's a step in the right direction to increase confidence," said Billy Grant, chef/owner of Restaurant Bricco in West Hartford and Bricco Trattoria in Glastonbury. But because they will still need to maintain 6 feet between tables, the dining room at Bricco in West Hartford Center will still be down by seven tables.
Grant said getting customers comfortable about dining in restaurants is what's most important, and he sees an uptick of some returning now that they have been vaccinated.
He's hoping that further easing of restrictions will follow.
"We don't have high expectations," said Scott Miller, COO of DORO Restaurant Group, of the impact the governor's rollback of capacity restrictions will have. "It changes things a little bit, but not tons."
What Miller said he'd really like to see is a modification of the curfew. "We thrive on a late night business," he said, including people who like to go out to dinner later, or stop by for dessert and a nightcap after eating somewhere else.
DORO operates four restaurants in West Hartford – Treva, Àvert Brasserie, Zohara, and DORO Marketplace – as well as Artisanal Burger Company in Manchester.
Even without a change in capacity, business is slowly picking up, Miller said. "With vaccines we see a little bit of an older demographic joining us."
Tim Phelan, president of the Connecticut Retail Merchants Association, sought to reassure customers that retailers would continue to adhere to safety guidelines despite the eased restrictions.
"Retailers have been vigilant and unwavering in maintaining social distancing, continuing mask wearing, providing informative signage, and frequent disinfectant cleaning for nearly a year now. That will not change under the revised state guidelines," Phelan said.
However, with the vaccination effort ongoing, and some residents potentially months from their first doses, some health care professionals worry that it is too soon to be lifting capacity restrictions on businesses.
Dr. Mark D. Siegel, a Yale New Haven Hospital physician, was among a group of Connecticut doctors who wrote to and eventually met with Lamont in December, urging him to enact stricter public health guidelines. On Thursday, Siegel said he hoped the governor was not eliminating restrictions prematurely.
For most residents, the risk of being infected with the coronavirus remains high and the ongoing cold weather makes distancing in some establishments difficult.
"It's not practical to resume outdoor dining and indoor restaurants and bars will remain unsafe because ventilation tends to be poor and patrons, by definition, don't wear masks when they're eating and drinking," Siegel said in an email Thursday.
The doctor also worried about more infectious variants of the virus which have appeared in Connecticut and could lead to spikes in cases. Siegel pointed to a projection by President Joe Biden indicating there could be enough supply of doses for every American by May.
"I wish Governor Lamont would continue to focus on social distancing and mask wearing and ask Connecticut residents to hold on just a bit longer. I fear that relaxing restrictions now will lead to more preventable illness and death," Siegel said.
Lamont said March 19 was chosen to allow more time for the weather to warm and for residents to get vaccinated. Meanwhile, the two highly-infectious strains known to be present in Connecticut had, so far, not spread as rapidly as some feared, he said.
"We had to think about the variants. That's the last wild card in the deck. That gave us pause," Lamont said. "Well over a month later, we haven't really seen that spike. So we have a little more confidence."
Unlike some other states, where governors have lifted virtually all COVID-related rules, Lamont stressed that Connecticut would continue to require residents to observe guidelines like wearing masks and social distancing.
"This is not Texas. This is not Mississippi. This is Connecticut. We are maintaining the masks," he said. "We know it works."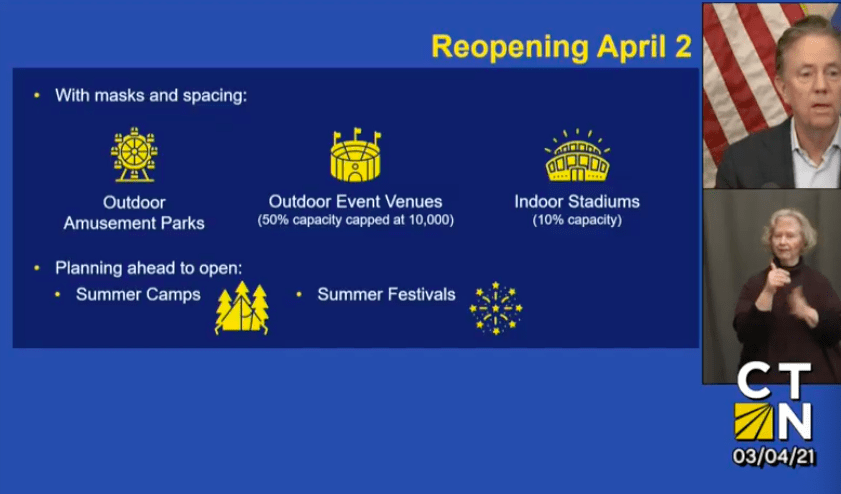 In addition to the limits to be eliminated on March 19, Lamont said he would ease further restrictions on April 2, when outdoor amusement parks will be permitted to open, event venues can increase their outdoor capacity to 50%, and indoor stadiums will be allowed to open at 10% capacity. He said summer camps and festivals could begin planning their seasons.
As in the past, the governor said he would consider reinstating the limitations if COVID-19 cases spiked and the availability of hospital beds became strained. That seemed like a distant consideration Thursday as the state infection rate stood at 1.8% and the number of Connecticut residents hospitalized with the coronavirus dropped by 18 to 433.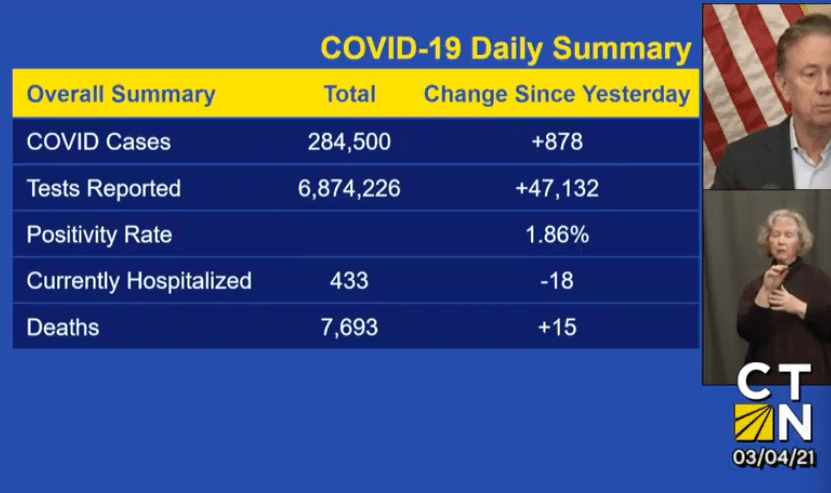 The Town of West Hartford announced this week that plans are underway for expanded outdoor dining to be in place in 2021, even if the governor's executive order that allows the relaxation of zoning regulations expires.
"That's going to be awesome," Grant said of plans for dining corrals to return to West Hartford Center. "I'm crazy excited. I can't wait for outdoor dining season."
Bricco's regular patio still has some tables in place and even with Thursday night's brisk winds and temperatures in the low 30s, he said there were diners who requested to eat outside with the heat lamps on.
"Outdoor dining is going to be very positive again for us this season," Grant said.
"We're more excited about spring being around the corner. We still get calls about outdoor dining," Miller said.
They have a few tables out at each of their restaurants, but in the next five or six weeks expects to move fully into patio season.
Miller praised the transparency and collaboration the Town of West Hartford has shown with their plans to move forward with expanded outdoor dining again this spring. "We're very thankful for the Town of West Hartford and how they jumped in. … It means a lot to us."
Last spring some of the DORO restaurants were closed completely, while others were takeout only, but once the outdoor dining corrals went up in West Hartford Center, "we saw our sales numbers get back to almost normal," Miller said.
At Thursday's press briefing, the governor expressed his support for outdoor dining, which "has brought main streets to life.
"I like to think that our municipalities and towns will be very creative in continuing that and that will provide a lot of capacity for restaurants very safely," Lamont said.
Republished with permission from CTNewsJunkie.com, all rights reserved.
Like what you see here? Click here to subscribe to We-Ha's newsletter so you'll always be in the know about what's happening in West Hartford! Click the blue button below to become a supporter of We-Ha.com and our efforts to continue producing quality journalism.