West Hartford Rotary has traditionally presented a jazz-themed brunch, but will instead present 'Beatlemania' this fall, with an open by West Hartford's School of Rock.
Submitted
The Rotary Club of West Hartford is pleased to announce the first annual "Rock 'N Rotary: Beatlemania" charity concert. The event will be held Saturday Nov. 5, 2022, noon, at Infinity Hall in Hartford, CT and features "The Cast of Beatlemania" – a nationally touring band that "recreates the sights and sounds of The Beatles so faithfully that you will recall when the world was engulfed in the most pleasant fever of all: Beatlemania."
The School of Rock West Hartford House Band – a student lead all-star band featuring the most talented musicians in the School of Rock performance program – will perform as the opening act.
This event carries on the 18-year tradition the Rotary Club's long running "Jazz Brunch."
"We are so excited to host a amazing concert that recreates the timeless music of the Beatles, as well as giving an opportunity for a local student-led band to perform in a professional setting. We are ecstatic that 'The Cast' has agreed to play an exclusive matinee performance for the West Hartford Rotary and our supporters," said Bennett Forrest chair of the event.
"School of Rock West Hartford is thrilled to have our house band, "Basement Red," perform at this re-imagined annual event. We're excited at the opportunity to play such a great venue while supporting a wonderful organization like the Rotary," said Scott Rownin, owner of the School of Rock West Hartford.
"This event generates thousands of dollars for charity each year and is one of our three key yearly fundraisers. We are looking forward to starting a new tradition," said Rotary Club president Kyle Egress. "We couldn't support all of the great local causes without these funds."
Tickets are $50-$65 and all attendees receive pizza courtesy of Harry's Bishops Corner. There are VIP upgrades available for $25 that includes two drink tickets and additional food options.
For more information about the event as well as to purchase tickets, go to www.westhartfordrotary.org/beatlemania2022 or contact event chair Bennett Forrest 860-977-3176 or [email protected].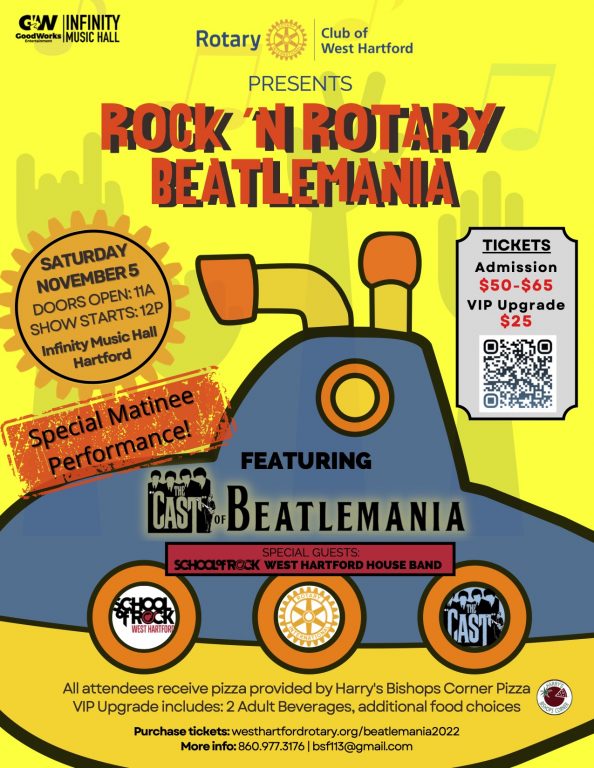 The Rotary Club is an international service organization celebrating its 100+ years of service, based on the premise of developing friendship among the community's business and professional leaders by carrying out projects that improve the quality of life in the community, as well as advancing international understanding, goodwill, and peace. The Rotary Club of West Hartford donates over $30,000 per year to many local causes and 100% of the proceeds from this event will go towards those causes.
Like what you see here? Click here to subscribe to We-Ha's newsletter so you'll always be in the know about what's happening in West Hartford! Click the blue button below to become a supporter of We-Ha.com and our efforts to continue producing quality journalism.