The West Hartford Freedom run is organized by Conard High School students and is a fundraiser for veterans.
By Ronni Newton
Organizers are hoping to attract a crowd of runners and walkers to the second annual West Hartford  Freedom Run event, which begins and ends at West Hartford Town Hall on Sunday, May 22.
The inaugural race was held on the Fourth of July weekend in 2015, but this year's race was moved up to the weekend before Memorial Day as an appropriate segue leading up to Memorial Day celebrations. Organizers are also hoping that the weather will be cooler than it is in July. Money raised from this year's event will go directly to support the Wounded Warrior Project and Team RWB.
Connor Swanton, now a senior at Conard High School, was inspired to support the Wounded Warrior Project when he watched a commercial about the organization. Swanton's two uncles served in the military in Afghanistan and Iraq, and he said he "wanted to give back to those who sacrificed their lives to protect this nation."
Connor formed a committee of his classmates to help with the inaugural run, and has added additional Conard students to the organization this year. The West Hartford Freedom Run team includes: Abigail Swanton, Nate Richam, Tyler Carson, Zach Boehm, Brian McCauley, Zacharie Mega, Julie McKenna, Michaela Mocadlo, Matt McCauley, Sophia Gruber, and Noah Schulman.
The 5K race will begin and end at West Hartford Town Hall, and takes runners on a flat route through the West Hartford Center area. The route is: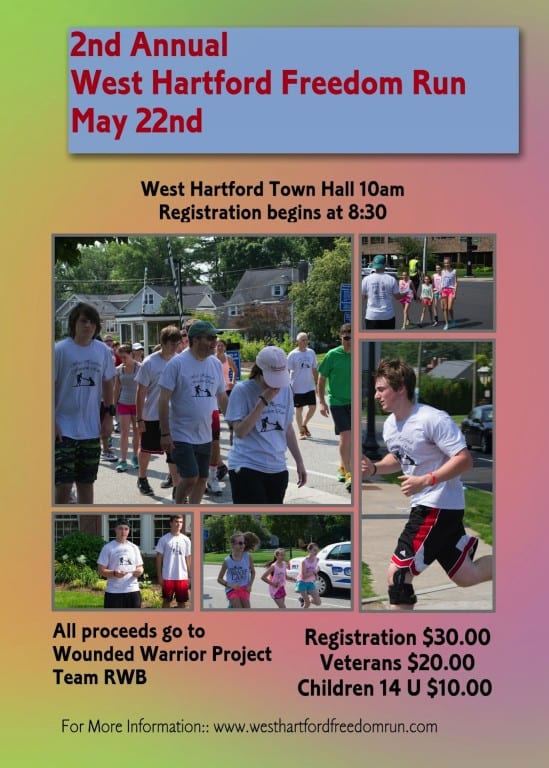 Start at Town Hall cross over South Main Street to Ellsworth
Left turn onto Van Buren
Right turn onto Boulevard
Right turn onto Ridgewood
Right turn onto Farmington
Right turn onto LaSalle
Left turn onto Ellsworth
Finish at Town Hall
The West Hartford Freedom Run begins at 10 a.m., with race day registration open at 8 a.m. Preregistration is now open, with an early registration special of $30 ($20 for veterans and $10 for children under 14). Each runner will receive a t-shirt.
Runners, as well as volunteers and donors, are encouraged to participate. Visit www.westhartfordfreedomrun.com to register or for additional information. You can also contact Connor Swanton at [email protected] or 860-561-9599. The West Hartford Freedom Run is a 501(c)(3) organization.
Like what you see here? Click here to subscribe to We-Ha's newsletter so you'll always be in the know about what's happening in West Hartford!
Wounded Warrior Project
The Wounded Warrior Project is a charity and veterans service organization that offers a variety of programs, service and events for wounded veterans of the military actions following the events of September 11, 2001. It operates as a nonprofit 501(C)(3) organization.
WWP's vision is to "foster the most successful, well-adjusted generation of wounded service members in our nation's history" as it works to raise awareness and enlist the public's aid for the needs of severely injured service members, help severely injured service members aid and assist each other and provide unique, direct programs and services to meet their needs.
Team RWB
Team RWB was formed to (i) develop personal connectivity between Veterans with invisible wounds and citizens in the communities where they live, (ii) enhance reintegration of Veterans into civilian life through physical fitness and (iii) galvanize an esprit de corps among Veterans through membership with Team RWB. It has been actively transforming the Veteran non-profit landscape through its grassroots approach and dedication to building an organization that bridges the military and civilian communities. With the West Hartford Freedom Run support, Team Red, White and Blue will be better poised to accomplish its vision.