1 sweet potato, peeled
1 parsnip, peeled
1 yellow onion
2-3 Russet or Yukon gold potatoes
1 inch fresh ginger, peeled and grated
1/2 teaspoon fresh milled
ground fennel seed
1 teaspoon kosher salt
1/2 teaspoon fresh milled
black pepper
2 eggs, beaten
3 ounces flour
peanut or other high smoke point oil
applesauce or sour cream for serving
1. Grate the sweet potato, onion, and parsnip using the large holes into a large bowl.
2. Wash and scrub the Russet potatoes very well, leaving the skins on. Grate into the bowl with the other vegetables. Add the salt, pepper, fennel, and ginger. Let rest a few minutes.
3. Using a colander (or cheesecloth if you prefer) wring all the excess moisture from the mix. Repeat, then return to the bowl.
4. Mix in the beaten eggs and flour.
5. Generously coat the bottom of a heavy pan with 1/8" of oil. Heat to medium high until a drop of liquid would sizzle in the pan.
6. Working in small batches, ladle the mix to the heated pan to form 4 latkes with about a 3 to 4" diameter. Fry each one on one side until golden brown, then flip and cook the other side until golden. Drain on paper towels.
7. Serve warm with generous dollops of sour cream and applesauce.
Serves 4-6
The Crown Market
2471 Albany Ave.
West Hartford, CT 06117
www.thecrownmarket.com
860.236.1965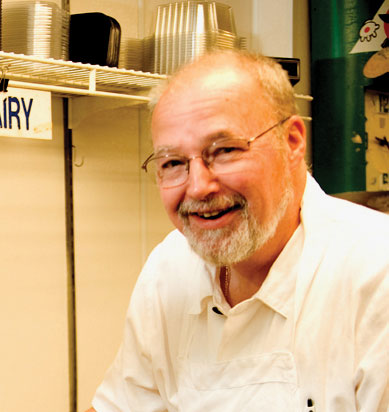 Executive chef, Stephen Grace is just as much an institution as The Crown Market itself.  A graduate of The Culinary School of America as well as Paul Smith's College, Stephen has been creating dishes at The Crown for 24 years.  Running a busy kitchen, Stephen focuses on using fresh seasonal ingredients to offer his customers quality convenience cuisine made from scratch.  This particular creation, The Spiced Autumn Latke, was the winner at last year's CT Latke Throwdown.