The Shops at 485 New Park will 'Shake Off Those Winter Blues' at Spring Fling, and also donate to West Hartford's Town That Cares Fund.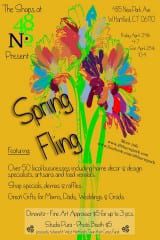 Submitted
The Shops at 485 New Park are excited to announce their annual Spring Fling event. After one of the worst winters on record, The Shops at 485 New Park invite you to celebrate the arrival of spring and discover unique ideas for your home and family. Jumpstart your gift-shopping for moms, dads, grads, and that upcoming wedding … there will be something for everyone!
This event runs Friday, April 24, 4-7 p.m. and Saturday, April 25, 10 a.m.-4 p.m., featuring over 50 local businesses, including home décor & design specialists, artisans, crafters, and food vendors. The Shops at 485 New Park welcome these additions to our building's vibrant community of businesses and creative spaces.  As always, these events are FREE and open to the public, with plenty of free parking.
The business owners at 485 New Park strongly believe in "Keeping it Local" as much as possible; they use local banks, local office supplies, and frequent local eateries. This sense of community is what encourages them to invite the public to share in their events, where a portion of the proceeds is donated to the West Hartford Town That Cares Fund. The Town That Cares Fund is administered by the Town of West Hartford, funded 100 percent by contributions, and assists residents in crisis.
New to the Spring Fling event are Gary Dinowitz, Fine Art Appraiser as well as Studio Pura's Photo Booth. Bring in your art and antiques and have them appraised on the spot ($5 for up to 3 pieces). While you're shopping, stop by the Studio Pura Booth with family and friends for a fun photo to remember your experience. Both businesses are donating their $5 fees to the Town That Cares Fund, so bring in your family heirlooms and your smiles!
Come visit the shops at 485 New Park: Custom Framing Depot, Joe Cornfield's Wallpaper & Window Treatments, Panache Consignments, A Little Something Bakery, Blaze & Bloom, Hello Dahle, J&M Imageworks, Whamsco Kitchens & Baths, C&C Book Loft, Cirone Gallery, Urban Antique Radio & Vintage HiFi, and more!
All the Shops at 485 New Park will be running special promotions, such as Custom Framing Depot, offering 30 percent off all custom framing, and Joe Cornfield's Wallpaper & Window Treatments, offering 10 percent off everything.
Joe Cornfield's is also a drop-off site for AID-a-Pet. AID-a-Pet provides pet food for veterans, the sick, the elderly,  and those who cannot afford it. Any kind of pet food is welcome!