Interim Superintendent Andy Morrow's proposed budget for the West Hartford Public Schools' 2023-2024 academic year includes a $8.75 million (4.8%) overall increase.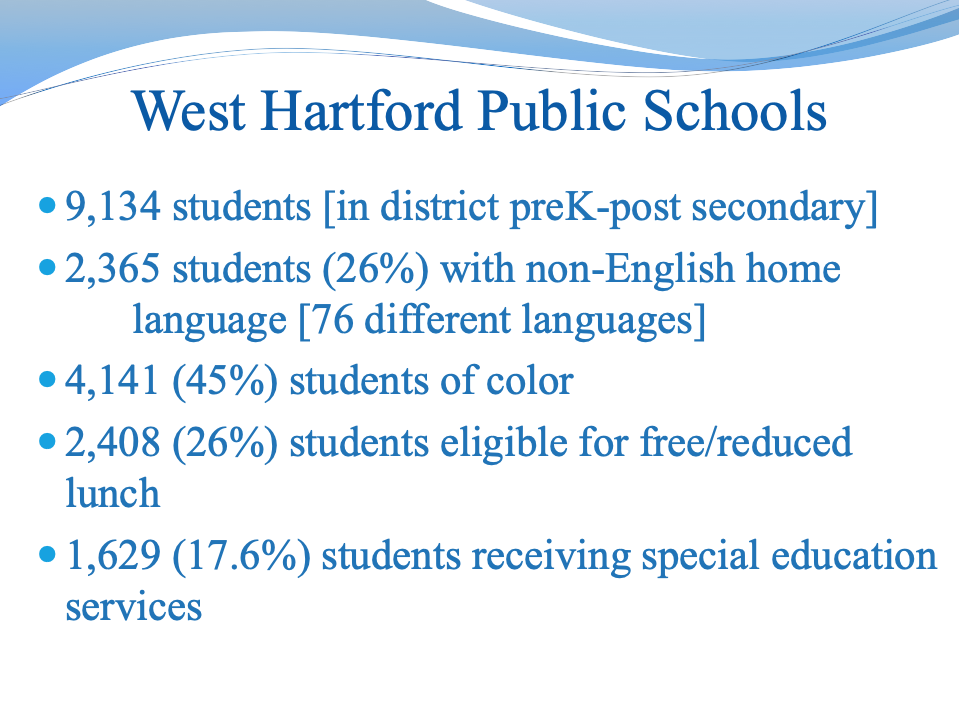 By Ronni Newton
The West Hartford Board of Education received the proposed 2023-2024 budget from Interim Superintendent Andy Morrow on Tuesday night, the first official step in the process that actually began when the school year started, and which will lead to the adoption of the budget on April 4.
A snapshot of the district provided by Morrow indicated that 26% of the students in West Hartford Public Schools live in households where English is not the primary home language, and there are currently 76 different languages spoken. Forty-five percent are students of color, 26% are eligible for free or reduced lunch benefits, and 17.6% receive special education services.
"One of the main responsibilities of the Superintendent and the Board of Education is West Hartford is crafting an education budget that maintains and strengthens our great schools, while respecting the contribution and sacrifices being made by our taxpayers," begins the superintendent's message in the proposed budget. Morrow notes that despite the unimaginable challenges over the past three years, the district remains a destination for eduction, with a commitment to "clearing paths for our children that will result in bright futures for them, with no limits being set on what they can achieve."
The proposed $189,941,121 budget Morrow presented Tuesday for the 2023-2024 academic year represents an overall increase of $8,754,103 (or 4.8%) more than the $181,187,018 adopted for the 2021-2022 academic year.
The roll-forward budget – looking at keeping the exact same programs and services and the exact same number of people next year as this year – would result in a $10.8 million (5.97%) increase, nearly half of which is the result of salary increases that are part of negotiated collective bargaining agreements as well as additional staffing to meet student needs.
"Education is people, and when we look at salaries and benefits that is 82% of our budget," Morrow told the Board of Education on Tuesday night. The 82% is actually one percentage point less than it was last year, with utilities growing from 1% to 2% of the overall budget.
Morrow explained that the roll-forward budget is looking at what the budget would be if everything in place today was kept in place to start the next fiscal year, without any change in staffing.
In addition to salaries and benefits, other budget drivers include nearly $2.5 million in increased medical costs with an estimated 8% premium increase under the State Partnership Plan. The district switched from being self-insured to join the state plan several years ago, and initially experienced significant savings. Last year's premium costs increased 10%, and the district has been advised to expect the forthcoming 8% increase, although the premiums won't be confirmed until May.
In addition, there will be increases to the pension plan contribution and increased long-term disability and life insurance premiums, and social security costs tied to higher wages.
Contractual rate increases for in-district as well as out-of-district transportation – as well as additional demand for transportation – will add more than $700,000 to the 2023-2024 budget. Morrow said the district received a favorable renewal rate through the extension of the First Student contract, and Speciality Transportation was once again awarded the contract for transportation of special education students, but there are still cost increases.
Expenses for utilities are estimated to rise by almost a third – nearly $730,000. "That's consistent with what you are seeing at your homes," Morrow said, despite efforts at conservation.
Tuition costs are expected to increase by 15%, adding nearly $1 million to the budget. Not only are there more students requiring out-of-district placement, but the tuition rates at those schools have increased. While the cost is somewhat offset by the state reimbursing the town for 85% of the excess costs (at least for this year) – up from a reimbursement rate of 70% of excess costs – Morrow noted that the reimbursement doesn't kick in until the tuition costs exceed 4.5 times the district's per pupil cost. While tuition is estimated to cost roughly $13 million overall in the 2023-2024 year, the district will receive just $5 million in reimbursement.
"Other" costs, which include professional services, contractual services for plant and facilities, and general insurance costs add more than $900,000 to the roll-forward budget.
The budget proposed by Morrow on Tuesday has been trimmed just over $2 million, or 1.2% from the roll-forward budget. Some of the reductions are due to decreased enrollment which allows for 12.05 FTE (full-time equivalent) positions to be eliminated, saving $1.16 million.
"We're not going to be denying anyone programming," Morrow said, nor will there be a loss of services, but scheduling efficiencies due to decreased enrollment and not filling vacancies due to retirement will allow for a reduction of 2.9 FTE positions.
While "Special Instruction" adds $288,335 to the roll-forward budget, Morrow said he is proposing the addition of five full-time certified special education positions to meet student needs with a "much better return on investment" while also reducing the number of special education teaching assistants by eight. The new positions include an occupational therapist, speech and language pathologist, and an intensive academic teacher. (The net result is a 3.0 FTE reduction in the number of positions, but increased cost due to the higher-paid full-time jobs.)
Reallocating funding will allow six paraprofessional positions, an elementary school math coach, and tutoring to be paid for out of grant funds, rather than the general fund, leading to a savings of more than $350,000 through the elimination of 7.0 FTE positions.
"As we look to reduce costs, a particular focus has been on changes that do not directly affect students in the classroom," Morrow's budget executive summary states. The non-classroom modifications, an overall reduction of $577,642, include not filling several positions where there have been retirements. A secretarial position, printer, five office paraprofessionals, and a high school librarian have been eliminated from the 2023-2024 budget. In addition, since Bristow's population has been purposely downsized, the assistant principal will no longer be a full-time job and that individual will take on other administrative duties. A reduction of 8.3 FTE positions in this category is proposed. Two district bus routes will also be consolidated to provide some budget savings.
Overall, the proposed revisions to the roll-forward budget eliminate 33.25 FTE portions.
Morrow said thus far 32 districts in the state have reported their budget requests, and the average proposed increase has been 5.2%. West Hartford is coming in below average with a 4.8% proposed increase.
Fifty years ago, West Hartford spent the most in the state on a per pupil basis, but in 2015-2016 the town was ranked 128th, spending nearly the least of any district on a per pupil basis. As of the 2021-2022 school year, West Hartford was ranked 92nd out of 169 municipalities, with a Net Current Expenditure per Pupil (NCEP) of $19,910. While in most years the town spends below the average compared to other towns in DRG B (the district reference group that includes Farmington Valley towns as well as Greenwich, Trumbull, Newtown, Cheshire, and others), in the most recent year West Hartford spent $116 more per pupil. He noted, however, that the numbers are currently more difficult to compare due to the use of federal ESSER funding to offset costs by other DRG B towns.
If West Hartford Public Schools spent at the level of the average statewide NCEP of $20,354, it would add an estimated $4.2 million to the annual budget. Since 2018, the town's lower-than-average NCEP has resulted in cumulative budget savings of $28.6 million compared to DRG B towns, and $24.2 million compared to the state average.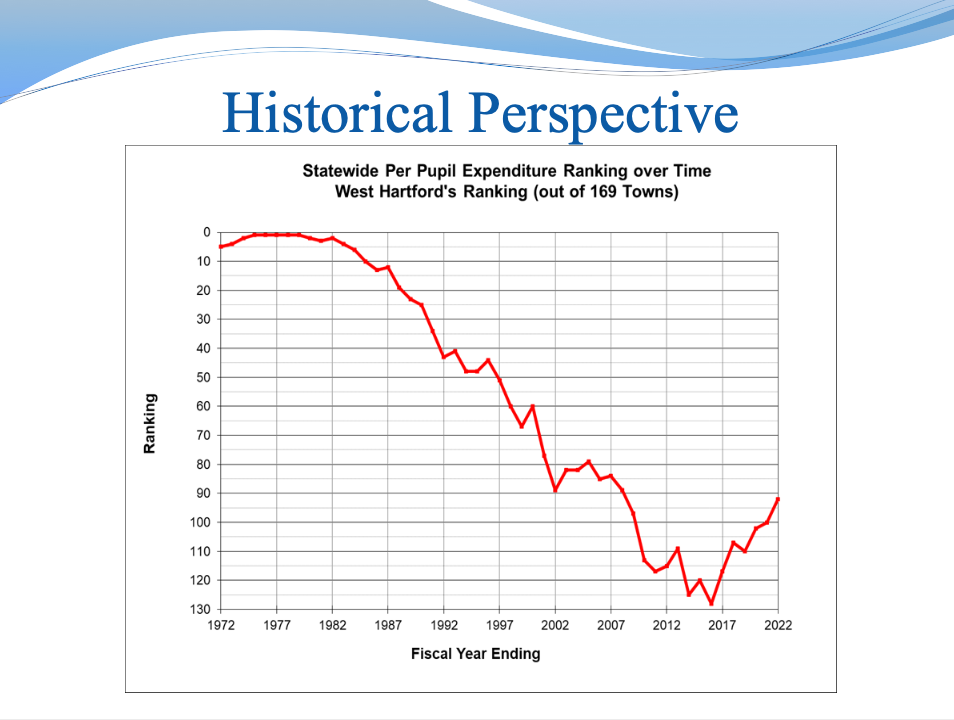 "While our per pupil expenditure ranking is low, our expectations for quality services and programs remains high," Morrow's executive summary states. The proposed budget "focuses on maintaining quality educational programming in support of student interests and learning needs, but with a focus on delivery these services in the most efficient manner possible. In addition, the district priorities of equity advancement, inclusiveness, and reducing the achievement gap and opportunity gaps for students, continue to be at the forefront of our mission."
While the Board of Education decides what to spend, it is ultimately up to the Town Council to allocate the funding. The Council, however, cannot alter specific line items but only the overall district budget.
Upcoming public meetings related to the Board of Education budget include:
Budget Workshop No. 1, Wednesday, March 15,  7 p.m.
Board Public Hearing, Wednesday, March 29, 7 p.m.
Budget Workshop No. 2, Wednesday, March 29, following Public Hearing
Board Budget Adoption, Tuesday, April 4, 7 p.m.
Town Council Budget Adoption, Tuesday, April 25, 7 p.m.
The detailed budget is available on the West Hartford Public Schools website. Suggestions can be sent to [email protected].
Town Manager Rick Ledwith will be proposing the town's overall Fiscal Year 2023-2024 budget on Wednesday, March 8. That meeting will begin at 7:30 p.m.
Like what you see here? Click here to subscribe to We-Ha's newsletter so you'll always be in the know about what's happening in West Hartford! Click the blue button below to become a supporter of We-Ha.com and our efforts to continue producing quality journalism.