Superintendent of Schools Tom Moore said West Hartford is still the 'greatest bargain in the state of Connecticut,' as he proposes a $148,576,424 budget to the Board of Education Tuesday night.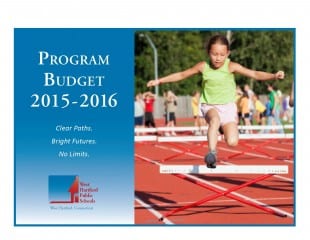 By Ronni Newton
Tuesday night marked the official beginning of the budget season in West Hartford with the presentation of the superintendent's proposed general fund budget to the Board of Education.
The 2015-2016 budget proposed by Tom Moore, a total of $148,576,424, represents an increase of 1.84 percent ($2,687,666) over the 2014-2015 West Hartford Public Schools budget of $145,888,758.
The proposed increase is far less than the 4.16 percent increase approved last year.
As a prelude to his presentation of the numbers, Moore put the magnitude of the West Hartford Public School district – the ninth largest in the state – into perspective for the board and the public. It's a district that has 1,650 employees, and just over 9,800 students in $1.8 million square feet spread out over 17 facilities, he said. The schools serve 3,900 lunches every day, and transport students a total of 10,400 rides daily.
The majority of the school budget, 85 percent, is for "people," Moore said. And of that 85 percent that goes to salaries and benefits, 85 percent is spent on direct service employees, he said.
Moore said that West Hartford is now ranked no. 125 out of 169 in terms of per pupil expenditures. If the town spent what our "DRG B" comparison group spent on average, the budget would be $12.9 million more. If we spent the state average, it would add $12.4 million, and if we spent what the other large districts on average spend, the budget would be $16.6 million higher.
Although we may rank low in terms of spending, however, the expectations of the community for programs and services continues to be high, Moore said.
The budget presentation began with the "roll forward" budget – the cost for 2015-2016 of providing the same services and programs as in the previous year. The net increase in the roll forward budget is $2.55 million increase or 1.75 percent.
Increases to the roll forward budget come from negotiated salaries of $1.94 million (2.02 percent), pension expenses of $.09 million (2.13 percent), other benefits of $.04 million (1.62 percent), transportation cost increases of $.44 million (7.06 percent) mostly due to contracted bus expenses, tuition increases (mostly for special education students placed outside the district and Inter-district magnet school costs) of $.81 million (30 percent), utilities, which Moore said have increased dramatically despite negotiated cost savings of $.53 million (19.29 percent) and other costs of $.34 million (3.9 percent).
All of those increases in the roll forward budget, however, are greatly offset by a large decrease of $1.64 million (7.35 percent) in medical, long term disability, and group life claim costs. "The primary reason is less catastrophic claims," Moore said.
Other than the increases that are part of the roll forward budget, other changes Moore is proposing are minor and add a total of $136,265, 0r .09 percent. Impacting that number are a projected decline in elementary enrollment of 108 students, which will decrease the elementary staffing by six full-time-equivalent employees (five classroom teachers and one specials teacher).
High school enrollment is projected to increase by 42 students, adding two full-time-equivalent positions. In addition, the budget adds 0.4 staffing to improve the stagecraft instruction at both high schools and 0.4 staffing to support the AP Capstone program at both high schools.
Moore is also proposing the addition of two elementary level teaching coaches to work with new teachers, one teacher at the high school Strive program "to expand the program to effectively support secondary students with social, emotional and behavioral needs," and one teacher to support students who utilize assisted technology resources.
Moore's budget also includes an assistant principal at Charter Oak who will also be added beginning in January 2016 to help plan and implement increased enrollment for the opening of the new building in the fall of 2016 and an upgrading of Roszena Haskins' position as director of Continuing Education to one of director of Continuing Education and Diversity Advancement and elevates it to an executive role.
"That's why," Moore said as he ended his budget presentation with a slide of a young student engaged in a science experiment.
"We've got to prepare students for the world they're going to be entering," he said. "What do we need to do to make sure – are we spending in the right places?" he said he asked himself.
"West Hartford is stil the greatest bargain in the state of Connecticut … this budget, I believe, will position us to continue that trend," said Moore.
It's funded at an appropriate level to maintain class sizes, he said. "There's not a fake number here, and there's not a million dollars waiting to be found here," Moore told the Board of Education.
The complete budget is available for review on the West Hartford Public School's website. In addition, residents are invited to comment on the budget by using the electronic suggestion box [email protected].
The Board of Education will hold budget workshops on March 11 and 12 at 7 p.m. A public hearing is scheduled for March 25 at 7 p.m., and will be followed by a final workshop.
Board Chair Mark Overmyer-Velazquez said that members are seeking dialogue with the community and will be speaking with PTOs. He urged board members to be sure to discuss Educational Cost Sharing (ECS), which has been underfunded by $100 million in just the past three years and has a huge impact on the West Hartford) Public Schools budget.
The Board of Education will adopt its budget on April 7 and the Town Council is scheduled to vote on the overall budget on April 20. Town Manager Ron Van Winkle said that the council had to move up the date of the vote "because of a requirement in our Charter that we must adopt our budget 74 days before the end of the fiscal year."
Like what you see here? Click here to subscribe to We-Ha's newsletter so you'll always be in the know about what's happening in West Hartford!