The seventh annual 'Taste of West Hartford-Elmwood' will be held on Monday, March 7.
Submitted
Food, glorious food, will take center stage at the Seventh Annual Taste of West Hartford-Elmwood, to be held Monday, March 7, 5-7 p.m. at Corporate Center West, 433 South Main Street in West Hartford.
Foodies and their friends will have the opportunity to taste a sampling of the delectable delights on the menu at some of Elmwood's most popular eateries – including Beachland Tavern, Cafe Louise, Chick-fil-A, Corner Pug, Taste by Spellbound, and other local restaurants. Beverages and a cash bar will be provided by Two Pour Guys, and raffle prizes and a host of other surprises will fill out the fun-filled evening.
Food offerings (subject to change) include:
Chicken Salad in Belgium Endive Slices
Potato Chips with Boursin Cheese
Israeli Cous Cous Salad
Clam Chowder
Chick-fil-A Chicken nuggets
Chick-fil-A sandwiches
Superfood Side Salads
Desserts including cookies, brownies, mini tartlets, chocolate truffles, cupcakes, French macarons, and cake-pops.
A cash bar, provided by Two Pour Guys, will feature:
$1 Water
$2 Soda
$5 Beer
$6 Wine
$7 Mixed Drink
There will also be a specialty drink – the NBT as well
Produced by 20/20 Media, West Hartford's "Taste of …" events began seven years ago, inspired by the town's growing reputation for outstanding eateries. The first "Taste of" event focused on Elmwood restaurants and was soon followed by similar events in business districts throughout town.
Tickets to the March 7 event are $40 and may be purchased here. A portion of the proceeds will benefit Friends of Feeney. The donation of a canned good or non-perishable food item to the West Hartford Food Pantry is also welcome.
The event is supported by a host of sponsors, including presenting sponsor NBT Bank and host sponsor Figure Eight Properties.
Any existing COVID-19 precautions and guidelines will be followed.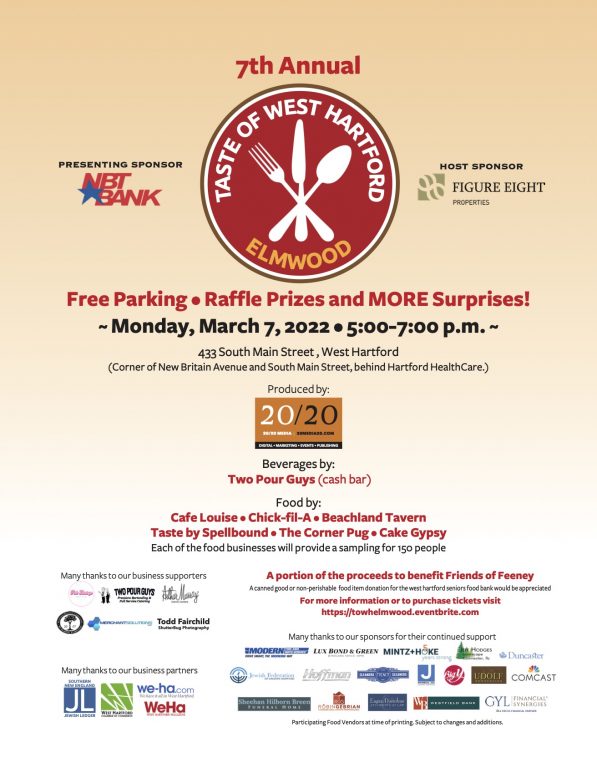 >Like what you see here? Click here to subscribe to We-Ha's newsletter so you'll always be in the know about what's happening in West Hartford! Click the blue button below to become a supporter of We-Ha.com and our efforts to continue producing quality journalism.