Unified Theater, now a national non-profit organization, began in West Hartford, and will celebrate its 15th anniversary with a year-long spotlight on 'ability.'
Submitted
Unified Theater, Inc. has come a long way from its first show in the choir room at West Hartford's Conard High School in 2002.
That first production featured just 20 students of all abilities and their student-written show, "The Swinging Sixties," by dancing and acting in homemade tie-dyed t-shirts. Fifteen years and hundreds of original student theater performances later, this school year will feature over 2,000 young people with and without disabilities onstage in Unified Theater productions in seven states, performing for over 5,000 audience members and creating more inclusive schools and communities for people of all abilities, interests, and backgrounds.
Unified Theater will mark its 15th anniversary with a year-long celebration of inclusion and creativity. The year begins with the launch of Unified Theater's newer, sleeker website.
"We're turning 15 and want to be a tech-savvy teen!" said Unified Theater CEO, Laura McLelland. "We know that our students and donors are accessing our site on their phones. This new, mobile-friendly design makes sure our content – especially our Spotlight Center online learning portal – is easy to use from any device. And it doesn't hurt that we get a better platform to highlight our rockstar students through pictures, video and stories!" (Visit www.unifiedtheater.org to see more.)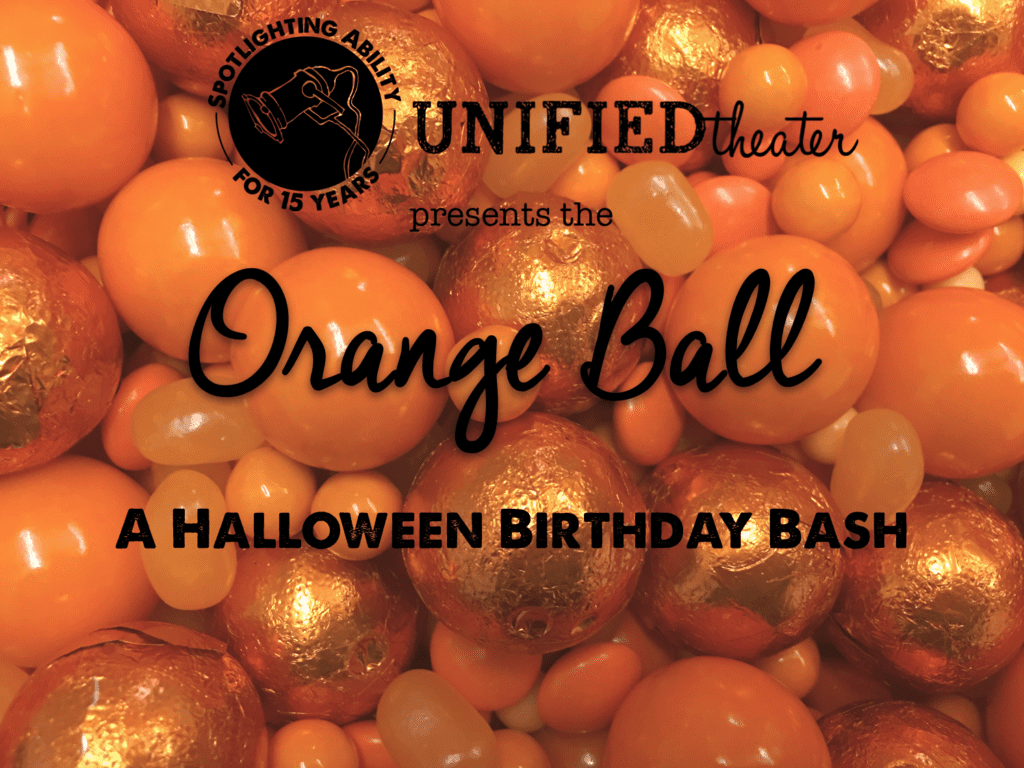 The "Orange Ball: A Halloween Birthday Bash" kicks off the anniversary year events on Oct. 29. This party promises to be the Halloween event of the year. Parents, donors, community members and Halloween lovers alike will come together to eat, drink, dance, and compete for best costume, all while raising support for Unified Theater.
The Orange Ball will be catered by local West Hartford favorites Barcelona and NoRA Cupcakes, with alcohol provided by Wine Cellars 4 and a special tasting from Litchfield Distillery. Generous Orange Ball sponsors include Jeffrey and Nancy Hoffman, Hoffman Auto Group, Marketing Solutions Unlimited, KPMG, and Fischman Orthodontics. Tickets and event information are available at www.unifiedtheater.org/OrangeBall.
The anniversary celebrations will continue with a variety of special events throughout the school year for Unified Theater supporters of all ages and interests, with a focus on their founding town of West Hartford.
"We are so grateful for all of the support that the community of West Hartford has given to Unified Theater over the past 15 years," said McLelland. "Our largest programs are here. We pilot new programs like CampUT with local partners, and a great many of our donors live right here in West Hartford. It seemed only fitting to use our anniversary to say thank you to the town that made our success possible."
National inclusion advocate and theater artist, Pamela Schuller, will join the anniversary year lineup on Dec. 3 and 4. Schuller will lead improv workshops for middle and high school students, a Saturday evening student performance, and a Sunday keynote luncheon on the importance of inclusion in the Jewish Community. The event will be held in partnership with the Mandell JCC and with the Commission on Jewish Education, part of the Jewish Federation of Greater Hartford.
Unified Theater will also partner with West Hartford-based SpeakUp, a Hartford-based storytelling organization, for a benefit performance in early February (date TBD). Unified Theater students and teachers will work with SpeakUp founder, Matthew Dicks, to learn the art of storytelling and then perform with experienced storytellers to share stories of inclusion, belonging, acceptance and finding one's place.
Additional events and details will be announced as dates are confirmed, including a partnership with HARC, a student playwriting competition, and the culminating celebration at the 15th annual Conard and Hall High School Unified Theater performance.
To stay up-to-date or to get more details visit www.unifiedtheater.org/15years or call 860-559-3810.
About Unified Theater: Unified Theater creates more inclusive communities through youth leadership and the performing arts. Students of all abilities, backgrounds, interests, and experiences come together as individuals and equals to write, direct, and produce their own theater performances. Founded in West Hartford in 2002 by a 15-year-old, Unified Theater is currently celebrating 15 years of empowering young people to change their schools and communities through acceptance, creativity and inclusion. Find your local student production at www.unifiedtheater.org/join.