The 4th annual War-Chief Tailgate will support the athletic programs at West Hartford's Conard and Hall high schools.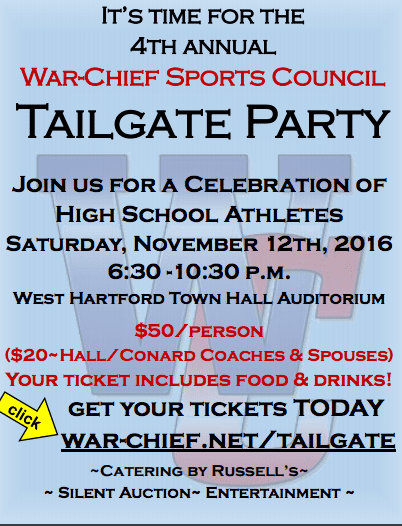 By Ronni Newton
Supporters of athletics at both Conard and Hall high schools will gather on Nov. 12, and although some may be wearing red and others wearing blue, the annual War-Chief Tailgate is dedicated to what can be done working together.
The 4th Annual War-Chief Sports Council Tailgate will raise funds to support athletics at both Conard and Hall high schools. A "coach of the year" award for each high school will also be awarded at this year's event.
This event, scheduled for the Saturday evening preceding the annual Conard vs. Hall football game, won't include cheering on the sidelines, however, although it should certainly be fun. The War-Chief Sports Council's fourth annual Tailgate will include food, beer/wine, entertainment, raffles, and live and silent auctions, all with the goal of raising money to support athletics at both high schools.
The War-Chief Sports Council was founded to continue the townwide cooperative efforts that the Hall and Conard community put together in the "Unite for Light" campaign, where $250,000 was raised to cover the town's costs to light the stadiums at the high schools. The board has representation from both schools, and continues to work together to enhance the experience for West Hartford student-athletes.
Funds raised from the 2014 tailgate were used to purchase new padded chairs at both high schools that are used by basketball, volleyball, and other indoor teams. Costs associated with the cross country teams travel to an out-of-state meet were also offset.
According to War-Chief Co-Presidents Dennis Swanton and Paul McConnell, during 2015-2016, $8,400 raised through the tailgate was used to make the HUDL videotaping software available to all teams at both high schools.
"We are a booster club in the traditional sense of the word, but with goals tempered by what has always set West Hartford apart – namely, sportsmanship and opportunity for all," the co-presidents said.
The tailgate is a chance for families to mingle in a relaxed atmosphere. Many coaches also attend, and it's a chance to chat with them off the field as well.
"The Tailgate is a ton of fun. Nearly all the high coaches attend and this year we are adding a coaches award for each high school," McConnell said. "The tailgate will include great food, great beverages, and great people supporting a great cause."
The Tailgate will be held in the West Hartford Town Hall Auditorium 50 South Main St., on Saturday, Nov. 12, from 6:30-10:30 p.m. Tickets are $50 per person. Tickets for coaches and their spouses are $20 per person. Food will be provided by Russell's Creative Global Cuisine and will include chili, hot dogs, sliders, and mac and cheese.
For more information or to purchase tickets, click here for the War-Chief Sports Council website.
Like what you see here? Click here to subscribe to We-Ha's newsletter so you'll always be in the know about what's happening in West Hartford!