'Webster Hill Wednesdays' begins Feb. 3, and is a fundraiser for the school's Goodwill Fund that also includes enrichment activities for families.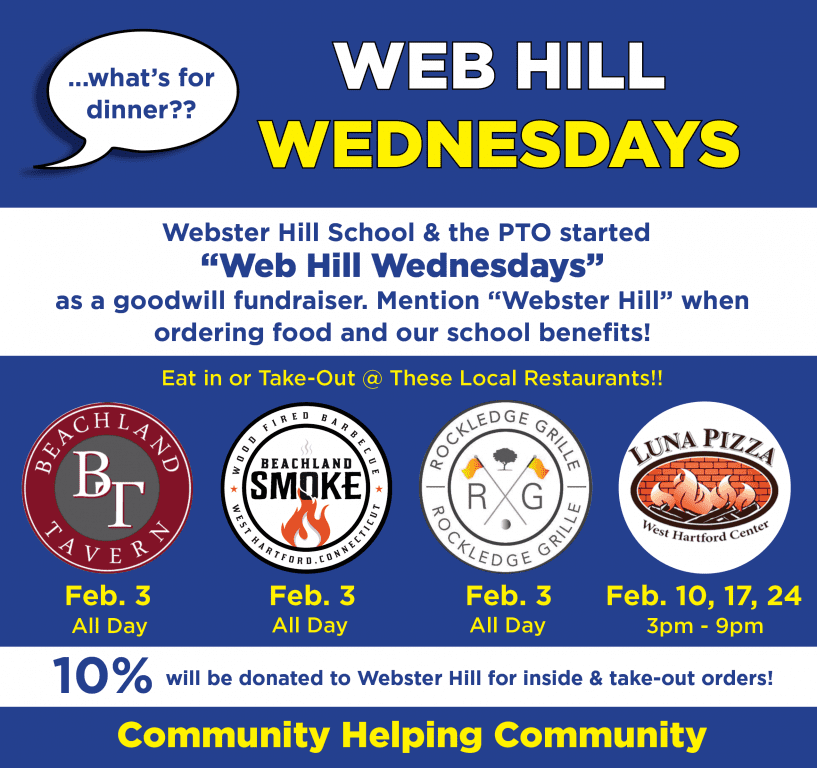 By Ronni Newton
West Hartford's elementary schools are open in full in-person learning mode, but the impact of the lingering COVID-19 pandemic has put a damper on many schools' extracurricular activities, particularly evening family activities and those involving serving food at the school.
At Webster Hill Elementary School, Family Math Night and Family Reading Night have been two long-standing traditions, both of which involve educational activities as well as food. Neither is able to be held in its normal form this year.
"We're kicking off Webster Hill Wednesdays next Wednesday, Feb. 3, as an alternative to our traditional Family Math Night and Family Reading Night," Principal Melissa Behrens said. Family Math Night traditionally is held in conjunction with the school's "Goodwill Pasta Dinner," and Family Reading Night is traditionally accompanied by an ice cream social.
This year, teachers will instead be sending home a literacy and math bag with all students, Pre-K through fifth grade, "filled with resources, games, and activities to support literacy and math engagement at home," Behrens said.
In addition, Webster Hill is partnering with the Beachland Group, which owns three local restaurants (Beachland Tavern, Beachland Smoke, and Rockledge Grille), and with Luna Pizza, to raise money for the Goodwill Fund.
"The Goodwill Fund has been used to support students by providing scholarships for after-school activities and field trip experiences, clothing (which our nurse gifts when children need it), etc.," Behrens said. "This year, field trips and some after-school activities are on hold given current circumstances, so the funds are used for any student needs that arise." The Goodwill fund ensures that cost will not prevent students from participating in learning experiences or extracurricular activities.
On Feb. 3, all three Beachland Group restaurants will donate 10% of all eat-in or takeout orders to the Goodwill Fund. On Feb. 10, 17, and 24, Luna Pizza will donate 10% of orders to the Goodwill Fund. Customers must mention "Webster Hill" for the benefit to apply.
"We are hoping that families will order take-out … so they can enjoy family time eating together and engaging in literacy and math fun – just as they would do at our traditional in-person events," Behrens said.
"Just as we are all doing in these unique circumstances, these plans are in the spirit of coming up with alternatives/creative spins on special events that will be experienced and enjoyed just a bit differently this year," she said.
Like what you see here? Click here to subscribe to We-Ha's newsletter so you'll always be in the know about what's happening in West Hartford! Click the blue button below to become a supporter of We-Ha.com and our efforts to continue producing quality journalism.