The WeHa Artists Emporium spring Art Trail will take place at six different locations in West Hartford.
Submitted
Many big art shows will be cancelled this season, but on Saturday, June 5, the WeHa Artists Emporium will be hosting an Art Trail event in West Hartford to scratch that art show itch.
The Art Trail is a collection of six locations in West Hartford that will host 15 local artists and crafters.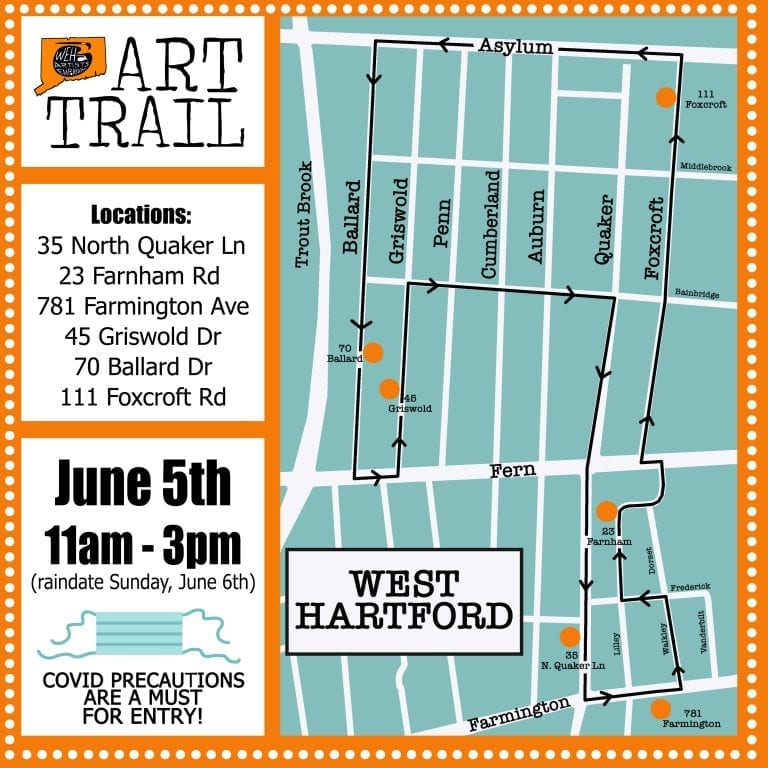 "One of the goals of the WeHa Artists Emporium is to create events that link local artists with the community," says group founder Stefanie Marco. "So when Celebrate West Hartford had to cancel their art event last summer, I started thinking of other ways our artists could show their work."
The first Art Trail was held in the fall and it was a big success. "People really seemed to enjoy following the path to all the vendors," says artist Monica Boeckmann-Whalen who participated in the fall. "Everyone was having fun, like following a treasure map."
Fortunately, six of the artists live in and around the Morley School area. "One of the goals is to keep the locations close," says Julie Phillipps, one of the event organizers. "We want people to be able to visit all six location in one afternoon if they want."
The event will begin at 11 a.m. and go until 3 p.m.
Art supporters will be able to see the works of: Stefanie Marco of Kindspin Design, Sarah May of Block21Prints, Eina Rieger of Einamade, Handmade by Julie Phillipps, Christy Corey, Alexandra Burness, Amy Sommers Photography, Soulful Creations by Denise Balcanoff, Monica Boeckmann-Whalen of The House She Loved, Kaitlyn Considine of The Cottage Potter, Elizabeth Hanlon of ElizaDoLittleToday Photography, Marilyn Holt of Spirited Touch Designs, Grace Hanlon, Annie Hayami of Anniemade, and Linda Gagnon Davidson of Quilibet Jewlery.
The WeHa Artists Emporium's Art Trail will be an outdoor event and most of the participants will be vaccinated by then, but the group is still asking visitors to exercise COVID-19-safe behaviors such as wearing a mask, disinfecting their hands regularly, and maintaining safe distances.
More information can also be found on the WeHa Artists Emporium Facebook event page.
Rain date is Sunday, June 6, from 11 a.m.– 3 p.m.
Like what you see here? Click here to subscribe to We-Ha's newsletter so you'll always be in the know about what's happening in West Hartford! Click the blue button below to become a supporter of We-Ha.com and our efforts to continue producing quality journalism.