The West Hartford-based WEHA Artists Emporium will hold the first ever Art Trail on Oct. 3, and plans to make the event an annual tradition.
By Ronni Newton
Supporters of the arts, or anyone looking for a unique gift or home decor, will have the opportunity to view as well as purchase the works of 16 diverse West Hartford artists on the WEHA Artists Emporium's inaugural Art Trail, scheduled for Oct. 3, 2020.
"With so few venues hosting art shows this year during COVID, it's great to set up the Art Trail so people can support their local artists," said Stefanie Marco, a founding member of the WEHA Artists Emporium and owner of KiNDSPiN DESiGN.
Work by the 16 local artists will be shown at seven different locations throughout town, and will feature a selection of items as diverse as the artists themselves, including mixed media pieces, photography, crochet items, sewn goods (including masks), pottery, ceramics, custom jewelry, home decor, paintings, custom stationery, and recycled art.  
"I am excited to participate in this first of its kind Art Trail with the WEHA Artists Emporium," said photographer Amy Sommers, who will be participating in the event. "This is a great time to shop and support your local art community. With around 10 weeks to the start of the holiday season, what better time to come out and shop for those unique one-of-a-kind holiday gifts."
Many of the artists have also donated an item to the "Passport Raffle," and those who collect a business card from all 16 vendors and then post a photo of all of the cards on the event's Facebook page, will be eligible to win.
For more information about the Art Trail, including images of some of the pieces that will be on display and for sale, as well as raffle items, follow the Art Trail Facebook event.
Follow the Art Trail on Saturday, Oct. 3, from 11 a.m.-3 p.m.
Because all displays will be set up outdoors, there is a rain date on Oct. 4.
The WEHA Artists Emporium noted the following in an announcement of the event: "COVID-19 precautions will be observed at every stop along the trail. Please be respectful of your fellow vendors and shoppers.  We ask that social distancing be observed at all times.  Masks are required of all attending."
Locations are: 
35 North Quaker Lane

781 Farmington Avenue

45 Griswold Drive

70 Ballard Drive

87 Ballard Drive

111 Foxcroft Road

88 Overbrook Road

104 Vera Street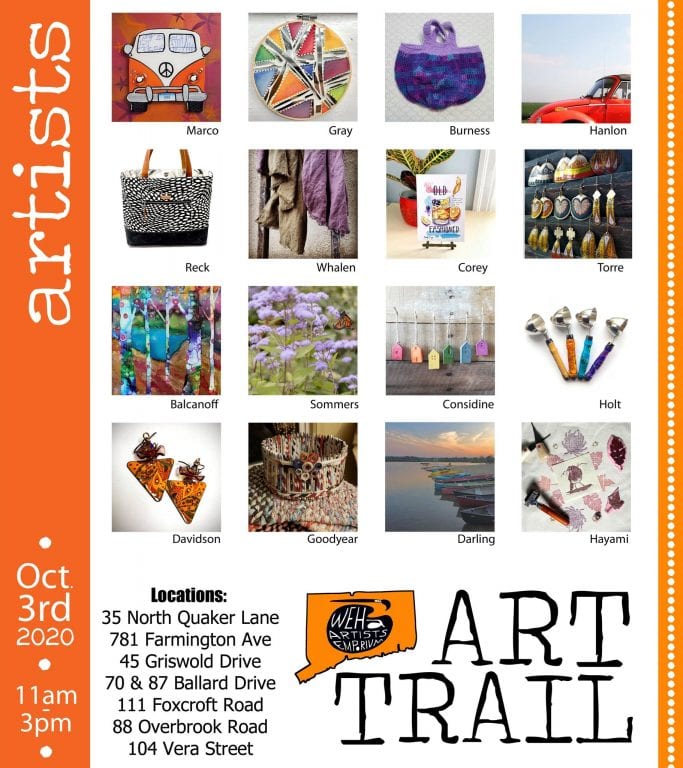 Like what you see here? Click here to subscribe to We-Ha's newsletter so you'll always be in the know about what's happening in West Hartford! Click the blue button below to become a supporter of We-Ha.com and our efforts to continue producing quality journalism.