Events are scheduled throughout the summer in West Hartford, at Eisenhower Park and Conard High School.
By Ronni Newton
The West Hartford Summer Arts Festival and the Department of Leisure Services are collaborating for "Welcome Back West Hartford," offering in-person events to the community, at no cost, throughout the summer.
Events are a combination of outdoor performances held at Eisenhower Park and indoor performances in the Conard High School auditorium.
The first set of outdoor performances was held last week at Eisenhower Park, and another set of family-friendly shows will be held the first week of August.
Performers at Eisenhower Park include the Matica Arts Circus, KC Sisters Band, Boyd Meets Girl, and One Time Weekend. Kate Morran will also offer yoga for teens and families, there's "Story Time with Belle," and "Music with Becca" which is appropriate for children ages 0-6. Times of events vary.
"We are so excited to be back together on stage as a WHSAF family and to partner with The Town of West Hartford Department of Leisure Services to present 'Welcome Back West Hartford,' said Festival Manager Tyler Lauretti. "After over a year without live theater, this is a great opportunity for our students and community members to get out and experience the magic again."
SAF, which other than last year has produced a major musical every summer for more than 40 years, will present two major events as part of the 2021 series, including a live, in-person "Mamma Mia!" featuring a cast and pit orchestra of West Hartford and other area high school and college students.
Sara Avery returns as artistic director for the SAF. "We are blessed to have such a talented group of young people working with us on 'Mamma Mia!,'" she said.  "One of the great challenges of casting a show is finding the perfect place for every student to shine, and this show has allowed us the chance to think outside of the box. This has meant that we have placed students in the roles where they best fit, while being inclusive and representative of all types of families in our production. It has been such a good feeling to be back in the rehearsal room again."
"I'm really grateful that SAF trusted me to play a traditionally male role in a show that distinctly explores what makes a family," said Riley Doerner, an Enfield resident who plays Sky. "I'm so proud of the work that Stephanie [Reuning-Scherer] and I have done to represent such a loving relationship on stage between Sophie and Sky. It's an opportunity that has meant a lot to me personally and I can't wait for everyone to see it."
Reuning-Scherer, a West Hartford resident and recent Conard High School graduate, said, "I'm so excited that SAF has taken the step to put a gay couple onstage, and I'm really happy to be able to bring this relationship to life in front of a live audience. It's wonderful to live in a town that is so accepting of different kinds of relationships and families, and I think it's really important to make sure that we represent all different kinds of young people onstage. It's been awesome to act alongside Riley, and adding in this aspect that I think makes an already fun-filled show even more exciting."
"After being dark for an entire year due to the pandemic, it has been so wonderful to return to the stage with such a joyful show," said Director/Choreographer Kate Morran. "We are so proud of these young artists who have rehearsed in a fast, furious, and FUN four-week process. The WHSAF community is all about inclusion and we are so happy to be back with our theater family."
Performances of "Mamma Mia!" will be held on July 24, 25, 29, and 30, at 7 p.m. at Conard High School. Click here to reserve tickets, which are free.
As a special bonus for 2021, the WHSAF Pops will hold a free concert featured the vocalists and orchestra performing a variety of pops tunes on July 28, at 7 p.m., at Conard High School. Tickets, which are free, can be reserved here.
More information about SAF can be found on their website.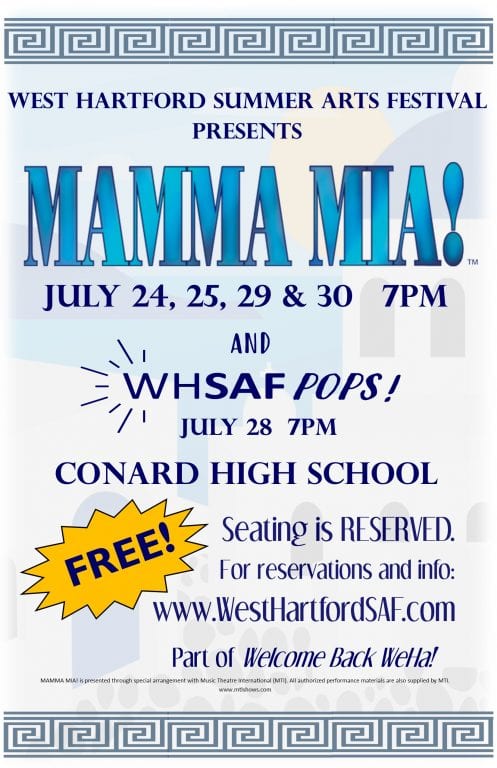 Like what you see here? Click here to subscribe to We-Ha's newsletter so you'll always be in the know about what's happening in West Hartford! Click the blue button below to become a supporter of We-Ha.com and our efforts to continue producing quality journalism.