A round-up of openings, closings, and other news about West Hartford businesses. 
Business Buzz is sponsored by NBT Bank, and we are very thankful for their support!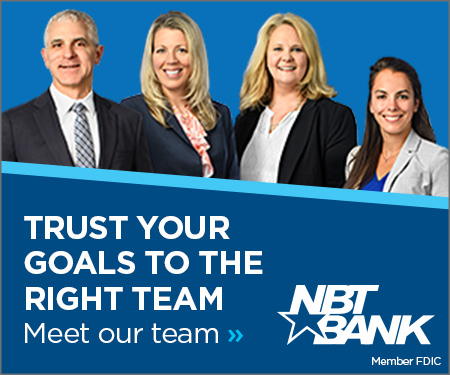 By Ronni Newton
I hope all who celebrate had a Happy Easter on Sunday, and that all who celebrate Passover are having a wonderful holiday, and Ramadan Mubarak to all who observe. Overlap of these observances by the world's three major religions happens only once every 33 years!
I planned to write this column on Saturday so I could take Sunday off but that didn't happen because I spent Saturday morning at the UConn Men's Basketball Victory Parade and Rally in Hartford and because I took hundreds of photos I then spent a few hours later in the day posting a gallery of photos from the event. I'm still planning to create a YouTube video of the event, but haven't gotten there yet.
There were tons of West Hartford people at the parade and rally – an overall estimate by Hartford Police was that 45,000 people attended the event – and I very much appreciated having media credentials which allowed me to photograph the end of the parade and the rally from the press riser. I get somewhat claustrophobic in large crowds – and a 5-foot-tall photographer in the midst of a large group of people doesn't stand a chance at getting many good shots!
I did get to hold the Championship trophy during a media-only event after the rally, which was very cool!
This has been a week that has really included the full gamut of topics one might face in local news reporting, requiring a great deal of versatility in approach. In addition to editing numerous sports stories and press releases and covering the parade, over the past week I did a story on some changes at Union Kitchen, a lifesaving event that took place in an office building, a press conference about anti-semitism, unveiling of the new menu offerings at the Yard Goats games, and I also wrote several police stories. On Wednesday alone I wrote about the discussion and adoption of the West Hartford Public Schools budget, the lawsuit filed by the family of a kindergartner who died after collapsing on the playground at Charter Oak and a vigil held that same day, and I wrote an article about the change in traffic patterns and parking coming to LaSalle Road. Friday's big story was about the plan to relocate a portion of Conny the whale.
This is school vacation week, and while there is a Town Council meeting and I have a few feature stories planned (including more details on the new Zaytoon's location, where we enjoyed a great dinner on Saturday night), I'm hoping the week will otherwise be quiet.
As a teaser, here's a photo of the Chicken Tagine at Zaytoon Mediterranean Kitchen on New Britain Avenue.
There were 12 positive reported cases of COVID-19 in West Hartford over the past seven days (as of Saturday) and a positivity rate of 8.8%. It's still low, but up again a bit from last week. West Hartford seems to be an anomaly in the state, however, because the only other town with more cases is New Haven. I was hoping to delete this paragraph this week, but will now hope for next week. In the meantime, please continue to have patience since not everyone has the same level of comfort, continue to look out for each other, support our local businesses – and stay safe and healthy.
If you're looking for news about West Hartford in print please note that many stories from We-Ha.com, as well as other local news, is published in the twice-monthly issues of the West Hartford Press.
If you have information to share about local businesses, please provide details in the comments or email Ronni Newton at [email protected].
**************************************************
Here's this week's Buzz:
"We're getting close," said Julie Rodriguez when I stopped by on Friday and was lucky enough to find the door door open and the owners on site. Julie and Enrique Rodriguez have been hard at work over the past few months, getting ready for the opening of Americana Restaurant & Bar at 179 Park Road. They've planned a grand opening and ribbon cutting for Friday, April 21, at noon. The roof of the building – that housed JAR Bar until October – had some much-needed repairs completed and there have been some updates to the interior as well, including all new furnishings. Outdoor furniture should arrive and be in place this week, along with plants for the restaurant's expansive patio. The couple are experienced restaurateurs, owners of the MofonGo franchise at Parkville Market in Hartford; Las Tortas MX, Fowl Play, and Burrito Loko at Parkville Market and at the Assembly Room in New Britain; and in June 2022 opened Burrito Loko and MofonGo Express near the CCSU campus. Enrique also opened the Cheesecake Factory in Blue Back Square in 2007, and served as executive chef there as well as at Brio at Westfarms. Enrique has been finalizing the menu, and shared some photos (see below and at the very end of the column). Offerings are casual and approachable – and include salads, burgers, sandwiches, pastas, steaks, and seafood. The apps range from fried pickles (one of my new obsessions), potstickers, and wings, to very substantial chicken nachos and prime rib sliders. One of the bartenders is a graduate of the Culinary Institute of America and is developing a selection of great craft cocktails, Enrique said. Americana Restaurant & Bar will be open for breakfast and lunch, with brunch served on Saturdays and Sundays. The brunch menu will feature a breakfast BLT, an assortment of omelets, chorizo Benedict, and French toast and pancake platters. I'm definitely planning to sample as many menu items as possible as soon as they open – and will report back!
A lot of people have been asking about this, and I am happy to report that H&M is back open at Westfarms as of last Thursday! I haven't checked out the new store yet, but there is a reel on Instagram (@shopwestfarms) – and the image below is a screenshot of that video.
Pho 68 closed its doors at 589 New Park, and a new restaurant, 504 Restaurant Honduran Cuisine, is updating the space and preparing to open soon, according to their Facebook page. The post said the owners "are almost ready to offer you our services, a pleasant atmosphere and the best catracha food you have ever tasted," but that's all I know as of this point. By now I am familiar with a wide range of food, but I don't think I have ever had Honduran food and I am excited to try it. I looked up "catracha" and it's defined as "a fried corn tortilla with refried beans spread on it. It's topped with shredded or crumbled fresh cheese." Much more detail to come! The image of the sign is from a permit application found on the town's website.
The West Hartford Chamber of Commerce joined hundreds of other business leaders for Connecticut Business Day 2023 at the State Capitol on Tuesday and had the opportunity to meet with members of the West Hartford Legislative Delegation. Pictured in the photo below are (from left) Kate Kobs, West Hartford Chamber Director of Development & Programs; John Cassidy, Hartford Courant Media Group; State Rep. Tammy Exum; Jorge Castro, DiscoverMe Websites; State Sen. Derek Slap; Chris Conway, West Hartford Chamber President & CEO; State Rep. Jillian Gilchrest; Chuck Coursey, Coursey & Company; and and Dan Pesce Town of West Hartford Economic Development Specialist.
Congratulations to Chris Clarke of West Hartford a financial advisor at Merrill Lynch, and chair of the West Hartford Chamber of Commerce's Minority Business Network, who has been named the recipient of the Leadership Greater Hartford's 2023 Polaris Connections Award. Award winners will be honored on Wednesday, June 7 at LGH's 20th Annual

Polaris

 Awards at Infinity Music Hall Hartford. "These leaders and organizations embody our values of building community, developing leaders, and making connections. We are so proud of these shining examples in our region!" LGH said in an announcement. More details about the event can be found here. Clarke was honored with the West Hartford Chamber of Commerce's prestigious Noah Webster Award in 2022.
Several with West Hartford connections have been named to the Malta House of Care's 11th class of Wonder Women, and will be honored at an event at the Bushnell on May 3. In a news release, Malta House of Care announced that the recipients include West Hartford resident Dr. Tracy Brennan – "a champion of women's health who seeks ways to support and empower women as an advocate and changemaker. A dedicated obstetrician and gynecologist for over 35 years and regularly recognized as one of the best doctors in Connecticut, Dr. Brennan helped establish a statewide universal screening program for Intimate Partner Violence through the Health Professional Outreach Program at the CT Coalition Against Domestic Violence (CCADV). She has also helped families through her work with A Better World Adoption Agency and by establishing a diaper bank at the Malta Food Pantry. She joined the Board of Directors for Malta House of Care in 2017 and has volunteered at Malta as a direct provider of care or as interim medical director for many years. She has volunteered at the Malta Food Pantry since its inception in 2012. Dr. Brennan is known for her compassion, her willingness to volunteer for multiple causes, and her collaborative attitude. In the words of CCADV's Director, Ashley Starr Frechette, 'Her passion and commitment to women's health and safety is beyond words. She is truly the best.'" Brennan recently retired, but now volunteers as Interim Medical Director at Malta House of Care. "Serving women as an OB/GYN has been a joy and a privilege. Now that I am retired and volunteering at the Malta House of Care, I experience that same joy caring for the uninsured in

Hartford

," she said.
Also being honored as a Wonder Woman is Sister Beth Fischer who "has dedicated her career to helping underserved populations in

Greater

Hartford

. Through her hands-on service,

leadership

, and advocacy, Sister Beth truly brings to life the mission of the Sisters of Mercy as she lives out her vow to help the poor, the sick, and the uneducated. She leads by compassionate example and is a volunteer at Hands on

Hartford

, the Wellness Center, Mercy Housing and Shelter, Malta House of Care, and St. Joseph Mercy Hospital in Guyana and also facilitates community service opportunities for students as the Assistant Dean of Student Affairs/Community Engagement at the University of St. Joseph in West

Hartford

. She offers a quote from Catherine McAuley, founder of the Sisters of Mercy, that sums up her ministry beautifully: 'There are three things the poor prize more highly than gold though they cost the donor nothing. Among these are the kind word, the gentle, compassionate look and the patient hearing of their sorrows.'"
On March 29, Gov. Ned Lamont announced that 20 jurists have been nominated to fill vacancies on the Connecticut Superior Court, and among them are three individuals from West Hartford. "Selecting nominees to become

judges

is one of the most important duties that I have as governor because these individuals will become responsible for ensuring that justice is administered fairly and without prejudice, and that everyone who comes before the court is treated equally and with respect," Gov. Lamont said in a news release. "Our court system works best when it reflects the diversity, experience, and understanding of the people it serves. These individuals I am nominating have the qualifications that meet the high standards the residents of Connecticut deserve on the bench. Justice delayed is justice denied, and these new

judges

will help ensure the judicial branch is able to decide cases promptly and efficiently." The West Hartford nominees (details are from the news release) are: Walter A. Menjivar, 35, who graduated from Vanderbilt University and obtained his Juris Doctor degree from the University of Connecticut School of Law. He is currently an Assistant Attorney General in the Connecticut Attorney General's Office. He serves in the special litigation section and previously worked in the health and education section, representing state agencies in state and federal courts. He was formerly the Associate General Counsel in the Office of the Governor, where he provided legal counsel to the Governor and executive state agencies. Prior to his public service, he was a litigation associate at Day Pitney LLP; Richard J. Rubino, 54, who graduated from Southern Connecticut State University and obtained his Juris Doctor degree from Ohio Northern University College of Law. He is currently a Supervisory Assistant State's Attorney in the Hartford Judicial District and has served as a prosecutor with that office since 2000. During his tenure with the Connecticut Division of Criminal Justice, he has been predominantly focused on the prosecution of serious felony matters; and Emily Wagner, 47, who graduated from Skidmore College and obtained her Juris Doctor from the University of Connecticut School of Law. She currently serves as an Appellate Public Defender at the Connecticut Division of Public Defender Services, where she has spent the past twelve years. She began her legal career clerking for the Honorable Christine S. Vertefeuille, former Associate Justice of the Connecticut Supreme Court. She then spent four years as an associate at Shipman and Goodwin LLP.  She also teaches the Appellate Defense Clinic at Quinnipiac University School of Law.
ICYMI, there were quite a few business stories this past week, including a feature on a West Hartford oral surgeon who was the first in the state to pilot the use of robot for implant surgery. Read all about Dr. Ryaz Ansari here.
Dr. Howard Joseph, nother oral surgeon (not sure I have ever written about an oral surgeon before – and there were two stories published the same week!) and his team helped save the life of someone from an office across the hall. They were honored with a Life Saving Award by the West Hartford Fire Department last week. Read the story here.
There's a new menu and other updates at Union Kitchen. Complete details can be found here.
As noted above, a portion of Conny the whale is being moved from the former Children's Museum property in a collaboration between the Cetacean Society International, Continental Properties, the Town of West Hartford, and with the support of Kingswood Oxford. Read the complete story here.
Remember, if you have any business news to share, add it in the comments section below or email Ronni Newton at [email protected].
Like what you see here? Click here to subscribe to We-Ha's newsletter so you'll always be in the know about what's happening in West Hartford! Click the blue button below to become a supporter of We-Ha.com and our efforts to continue producing quality journalism.