The West Hartford Chamber of Commerce will hold the Annual Meeting and Spotlight Awards ceremony on June 28, and will honor all 2021 award winners including the prestigious Noah Webster Award.
Submitted
The West Hartford Chamber of Commerce is proud to announce their 2021 awards recipients.
The awards will be presented at The Chamber's Annual Meeting & Spotlight Awards on Monday, June 28 from 5:30-8 p.m. at the Farmington Polo Club. This year's event is honored to have PeoplesBank as Presenting Sponsor. The evening will include a presentation of the awards, the Chamber year-in-review, appointment of new Board of Directors members, as well as dinner and live music.
To create an exciting and memorable evening for the award recipients and attendees, the Chamber has partnered with DirectLine Media and School of Rock West Hartford who will provide live entertainment by hosting the house band from School of Rock – Seekonk, MA.
Noah Webster Award
Dr. Rick Liftig will be the recipient of the 2021 Noah Webster Award which is given each year to the person, persons, or organization exemplifying an extraordinary commitment to the West Hartford community. Dr. Liftig is a third-generation dentist who maintained a practice in West Hartford for many years. "I've had the honor of knowing many of the past Noah Webster Award winners," says Dr. Liftig. "What a privilege it is to stand with them! Each one of us has tried to make our town a better place."
Liftig has several decades of service to the community including longtime president of the Elmwood Business Association, president of West Hartford Vision, Cub Scout den leader and Pack 161 committee chairman, Board member and Board chair of the Children's Museum, publisher of the Elmwood Gazette, Fellow in the Academy of General Dentistry, and long-time member of West Hartford Rotary where he was a Paul Harris Fellow.
Rick and his wife Kathleen recently retired to pursue their new roles as "Nana and Pop."
In addition to the Noah Webster Award, the Chamber is also awarding individuals, businesses, and organizations in a variety of Spotlight Award categories during the in-person event.
Entrepreneur of the Year
Naima Craft of The Craft Baking has been chosen as Entrepreneur of the Year. A native of Trinidad and Tobago, Craft founded her business two years ago with a desire to share the aromas and tastes of her culture with the local community through her baking.
"I take this award as validation of the hard work and focus that has made what started out as a dream, a reality," says Craft. "While this is an individual achievement, I could not have accomplished my success without the support of the local community, which includes the West Hartford Chamber. I'm grateful, honored and humbled by this recognition."
Unsung Hero of the Year
This award is given to someone who works toward a better community outside of their regular profession. This year's recipient is Valerie Hansen, a second Grade teacher at Bugbee Elementary School. She challenged her family, friends and colleagues to walk 30,000 steps each during Spring Break 2021 to raise money and bring awareness to pulmonary fibrosis, a disease that scars the lungs. Her father, Malcolm, was diagnosed with the illness in 2018. Together, they brainstormed ideas to raise money for the Pulmonary Fibrosis Foundation. They came up with "Steps for Better Breathing Walk." She and a dedicated group of family, coworkers, and friends were able to raise nearly $12,000 in just seven days for the cause.
"I am honored and humbled.  I wish I could share the award with all of the teachers who participated in the step challenge with me to support the Pulmonary Fibrosis Foundation," says Hansen.
Young Professional of the Year
Dr. Shayna Burke was chosen as Young Professional of the Year. She is a Board-certified allergist/immunologist and founder of Allergy and Asthma Family Care, where she enjoys helping patients of all ages improve their health and quality of life by treating asthma, seasonal allergies, food allergies, and other related conditions.
"I am truly honored to be chosen for the young professionals award," says Dr. Burke. "The Chamber has not only helped me grow my business but also introduced me to my soon-to-be husband, so I am forever grateful to the West Hartford Chamber."
Burke is an active member of FLOW (Future Leaders of West Hartford), the Chamber young professionals committee.
Volunteer of the Year
Chuck Coursey is president of Coursey & Company, a public affairs and communications company he founded in 1994 along with his wife, Mary. This award is presented by the staff of the West Hartford Chamber of Commerce to a Chamber member who volunteers their time and expertise to further assist the Chamber in fulfilling their mission to be a resource for their members. Chuck was instrumental in a variety of ways in helping the Chamber support and advocate for businesses and nonprofits during the pandemic. Along with being a member of the Chamber's Board of Directors, Chuck is also chairperson of the Chamber's Economic Development Committee.
"I am grateful for the opportunity to work with so many talented and dedicated folks within the Chamber and our West Hartford community to help continue to make our wonderful town such a welcoming and successful place in which to live, work and raise a family," says Coursey. "Our community's successes are the direct result of so many others who volunteer their time and energy."
The other Chamber Awards this year include: New Business of the Year – Bards; Economic Driver of the Year – Mike Mahoney of RLM Co.; and Nonprofit of the Year – Mandell JCC. Lux Bond & Green is this year's Legacy Award recipient which is given to a business with more than 25 years of presence and contribution to the community.
In addition to the awards, the West Hartford Chamber will be adding the following people to the Board of Directors: Scott Miller – DORO Restaurant Group; Judy Schuler – East-West Engineering; Judy Travers – Legrand North America; Alberto Arebalo – Westfarms; Avi Smith-Rapaport – We Care Computers; and Dave Calibey – Big Thunk.
Sponsors for the event are: Presenting Sponsor – PeoplesBank; Gold Sponsors – Amy Babich, Realtor and Downsizing & Staging Consultant, DirectLine Media, Liberty Bank, Lux Bond & Green, and School of Rock West Hartford. This year's Silver Sponsors are Comcast Business, and Keating Agency Insurance. 2020Media is this year's Media Sponsor.
Tickets can be purchased here.
Sponsorship opportunities are still available. For more information, contact Executive Director Chris Conway at 860-810-5663 or email [email protected].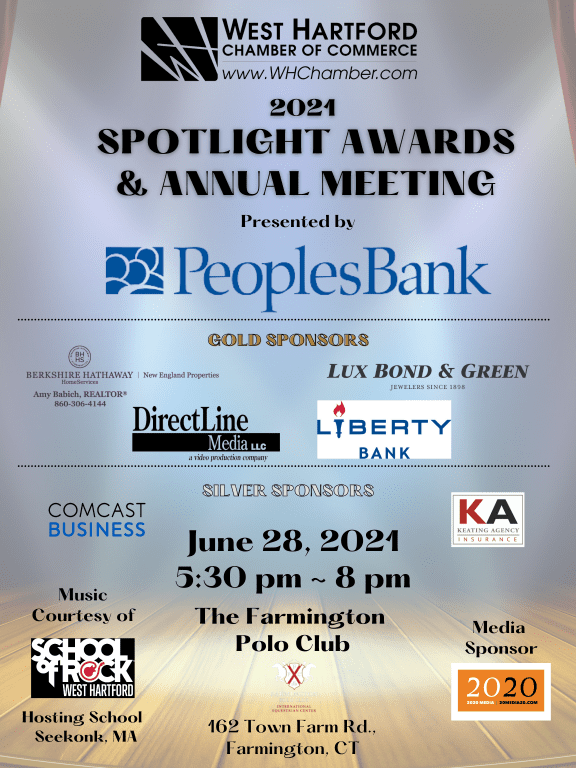 Like what you see here? Click here to subscribe to We-Ha's newsletter so you'll always be in the know about what's happening in West Hartford! Click the blue button below to become a supporter of We-Ha.com and our efforts to continue producing quality journalism.