The West Hartford Chamber of Commerce has announced the 2023 award winners, who will be honored at the annual meeting and spotlight awards event on June 26, 2023.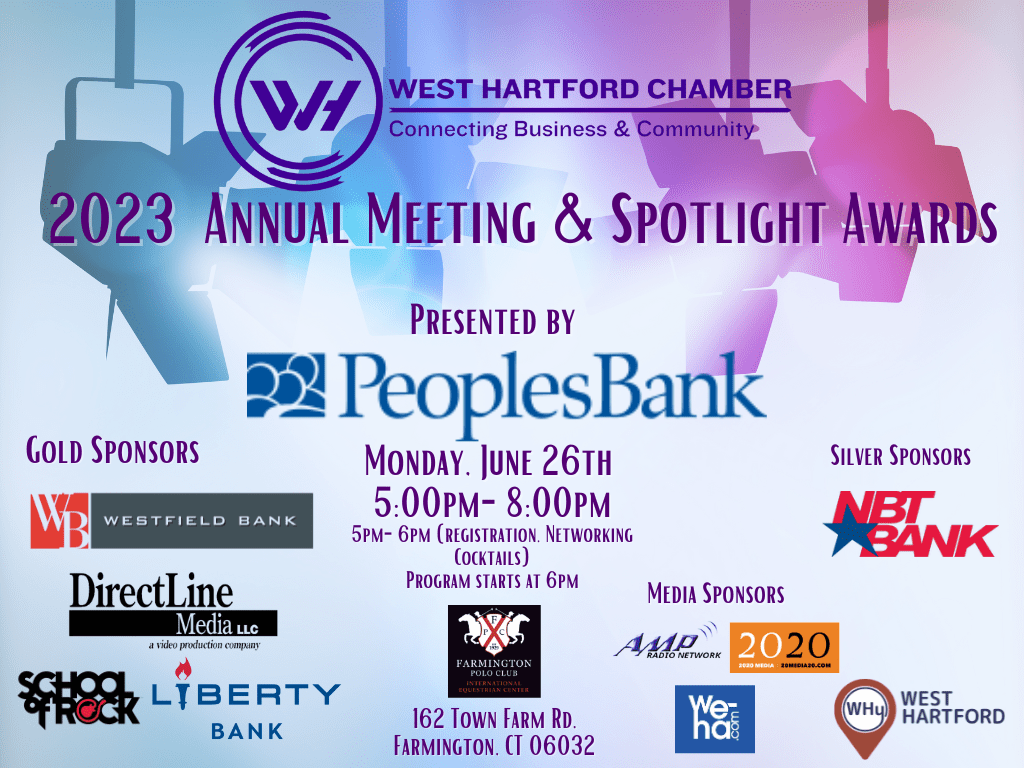 Submitted
The West Hartford Chamber of Commerce is proud to announce their 2023 awards recipients.
The awards will be presented at The Chamber's Annual Meeting & Spotlight Awards on Monday, June 26 from 5-8 p.m. at the Farmington Polo Club. This year's event is honored to have PeoplesBank as Presenting Sponsor. The evening will include a presentation of the awards, the Chamber year-in-review, appointment of new Board of Directors members, as well as dinner and live music.
To create an exciting and memorable evening for the award recipients and attendees, the Chamber has partnered with DirectLine Media and School of Rock West Hartford who will provide live entertainment by hosting the house band from School of Rock.
"We received yet another record of worthy nomination for Spotlight Awards, as well as the Noah Webster Award, and the Elizabeth Gustin Basil Women's Leadership Award," said Chamber President & CEO Chris Conway. "It is an honor for us to recognize so many worthy businesses, organizations, and individuals."
Noah Webster Award
West Hartford Town Historian Tracey Wilson will be the recipient of the 2023 Noah Webster Award which is given each year to the person, persons or organization exemplifying an extraordinary commitment to the West Hartford community. Wilson taught history at Conard High School for nearly 30 years, she also serves on the Mayor's Youth Council and is one of the driving forces behind the town's Juneteenth Celebration and West Hartford Witness Stones project.
"I am so honored to receive this award from the chamber. One thing that distinguishes our town is the civic engagement of so many of its citizens. I hope I am a good representative of all those who joyfully engage to make the town a better place to live, to work, and to play," said Wilson on learning of her being chosen as the 2023 Noah Webster Award recipient.
Elizabeth Gustin Basil Women's Leadership Award
The Elizabeth Gustin Basil Women's Leadership Award was created to honor the legacy of the West Hartford Chamber of Commerce's first woman chairperson. This award recognizes a woman, who through her work, service, and/or philanthropy, has empowered women to advance in business or leadership roles.
This year's honoree is Carrianne Polo, CEO of New Park Creative, a West Hartford-based Digital Marketing Agency. Along with leading her company, she acts as mentor to several young woman professionals.
"I am so proud and excited to receive the Elizabeth Gustin Basil Women's Leadership Award. It's an honor to be recognized alongside the many female leaders within this chamber who have dedicated their lives and careers in service of others," said Polo. I believe all women are leaders – as business people, community members, and especially mothers who give themselves to inspire and uplift us every single day. Thank you for this special recognition!"
Entrepreneur of the Year
Camille Hudson of Warehouse 635 has been chosen as Entrepreneur of the Year. Along with opening her event space Warehouse 635 in the Elmwood neighborhood, she is also a realtor and real estate investor.
"Leaving corporate just a year ago to focus on my entrepreneurial endeavors was the scariest decision I've ever made…but to be recognized by my fellow business professionals through this award is proof that you can't go wrong when you're walking in your purpose," said Hudson, who is also a realtor with Berkshire Hathaway HomeServices New England, as well as a property investor.
New Business of the Year
Nothing Bundt Cakes is the current New Business of the Year. Local owner Traci Halky, who spent many years as an attorney, shifted gears and opened her location in Corbin's Corner last fall.
"I am so deeply honored and touched by the recognition. When I set out on this next chapter of my life, I dreamed that it would fulfill something in me that had been lacking. And, my dreams have more than come true," said Halky. "Being able to establish genuine connections with so many people in and around the West Hartford community has brought me more joy in the last 9 months than I have felt in many years. You have welcomed me with open arms and smiles and pure delight, and I am forever grateful."
Unsung Hero of the Year
This award is given to someone who works toward a better community outside of their regular profession. This year's recipient is Elizabeth Hanlon, a local resident who is "quietly intrepid" in her efforts to support her local community. Some of the highlights of Hanlon's nomination were her work with the immigrant population to improve their English speaking through programs such as "Building Connections Book Club" and "Walk & Talk" at Elizabeth Park.
"I appreciate and am humbled by the honor of receiving the Unsung Hero Award. I believe immigrants in West Hartford are a wealth of untapped knowledge, skills, and friendships. Connecting them to our larger community is a win-win. Our new neighbors gain by being connected to the community, the community gains by the richness they contribute, and I certainly keep learning and having fun with every interaction," said Hanlon. Thank you and the West Hartford Chamber of Commerce and those who nominated me for this award."
Young Professional of the Year
Maura Keating was chosen as Young Professional of the Year. She works at her family's company Keating Agency Insurance. Keating is also the current chairperson of the Chamber's FLOW (Future Leaders of West Hartford) committee. She is also involved in other community organizations such as Junior League of Hartford and Town & County Club.  Maura was the recipient of Leadership Greater Hartford's 2022 Connections Polaris Award.
"I am thrilled to be nominated and recognized as the Young Professional of the Year by the West Hartford Chamber;" said Keating.  "My time on FLOW and with the Chamber has introduced me to so many new people and areas of the community and I would not be where I am today without such an amazing group. I look forward to continuing to build stronger connections and introduce even more people to our wonderful community as the reigning Young Professional!"
Non-Profit of the Year
Rotary Club of West Hartford is this year's Nonprofit of Year in recognition of their many years of service to the local community.
"The Rotary Club of West Hartford is truly honored to be recognized as the Chamber of Commerce nonprofit of the year.  The Rotary motto is 'Service Above Self. ' West Hartford is fortunate to have so many amazing organizations that makes the town such a distinctive community," said club president Kyle Egress. "The Rotary Club is extremely proud to be named as the Chamber's nonprofit of the year."
Legacy Award
The Legacy Award was created in 2020 to recognize a business which has been operating in West Hartford for 25 years or more. A.C. Petersen Farms has been a town institution for several decades. Catherine Denton has been the owner since 2002.
"It has been an honor to serve the West Hartford Community for so many years.  I am grateful to our hardworking staff for all they do to make our business a success.  Our customers span many generations, and they are very loyal.  It is always a pleasure to see the young families, teenagers, and grandparents enjoying their favorite meal or ice cream treat," said Denton.
Economic Driver Award
The Park Road Association will be this year's recipient in recognition of the work they do to promote the Park Road neighborhood as a place to run a business, start a new business, live, or visit. They are also the organizer of the annual Park Road Parade.
"We are incredibly honored to have the Park Road Association (PRA) recognized in this way. Our mission is to improve the quality of life for the Park Road neighborhood by maintaining the aesthetics and safety of the community, bringing people together through events, and improving business promotion on Park Road and the surrounding streets. This has not been any easy feat throughout the pandemic, and we are thankful for the countless volunteers and business owners who have continued to support our Park Road Community through these challenging times. Thank you for shining a spotlight on our little section of Town. We look forward to sharing many new initiatives in the not to distance future," said Park Road Association Co-Presidents Tracy Flater and John Paindiris.
Chamber Volunteer of the Year
Stacy Routhier, director of Marketing and Communications at University of Saint Joseph, is this year's Chamber Volunteer of the Year. This award is presented by the staff of the West Hartford Chamber of Commerce to a Chamber Member who volunteers their time and expertise to further assist the Chamber in fulfilling their mission to be a resource for their members. Along with serving on the Chamber's board of directors, Routhier is an active member of the Chamber's Economic Development Committee, Membership Committee, and Community Engagement Committee.  She has also worked with Chamber staff on marketing initiatives.
"Being a member of the West Hartford Chamber has allowed the University of Saint Joseph to connect with local business owners who can offer our students internships and potential job opportunities after graduation," said Routhier. "I'm so proud to have earned the Volunteer of the Year Award because I've always felt that being an active participant and not just having your name listed on the roster of board members is essential. This may mean taking on leadership roles, spearheading new initiatives, joining committees, rolling up your sleeves, and pitching in wherever help is needed. I enjoyed every opportunity to make a real difference in the community – and had a lot of fun along the way!"
Chamber Partnership Award
This award recognizes a person who is instrumental in assisting the West Hartford Chamber staff in fulfilling the organization's mission to support local businesses and the community. Town of West Hartford Public Relations Specialist Renée B. McCue is this year's honoree. McCue works on a regular basis with many of the Chamber and town's joint initiatives such as Holiday Stroll, WeHa Wellness, Job Fairs.
"I am honored to accept this award on behalf of our partnership between the Town of West Hartford and the Chamber of Commerce. The Chamber offers a variety of free events year-round and the town provides services in support of those events. Our collaboration contributes to our community's vitality, and I am happy to be a part of it," said McCue.
In addition to the awards, the West Hartford Chamber will be adding the following people to the Board of Directors: Melissa Harhay – Juvenile Diabetes Research Foundation, Denisa Kami – M&T Bank, Andreas Kapetanopoulos – NBT Bank, and Melissa Roy – Tecton Architects.
"This is one of the biggest celebrations of businesses, nonprofits and community in the region," said Chamber Director of Programs & Development Kate Kobs. "We look forward to looking back at a phenomenal year for the West Hartford Chamber, and recognizing those who have made this all possible."
Sponsors for the event are: Presenting Sponsor – PeoplesBank; Gold Sponsors are DirectLine Media, Liberty Bank, School of Rock, and Westfield Bank. This year's Silver Sponsors are NBT Bank, and WHy West Hartford. Media Sponsors are 2020 Media, AMP Radio Network, and We-Ha.com.
Tickets can be purchased here.
Sponsorship opportunities are still available. For more information, contact Director of Programs & Development Kate Kobs at 860-558-0785 or email [email protected].
Like what you see here? Click here to subscribe to We-Ha's newsletter so you'll always be in the know about what's happening in West Hartford! Click the blue button below to become a supporter of We-Ha.com and our efforts to continue producing quality journalism.