The West Hartford Chamber of Commerce held its Annual Meeting and Spotlight Awards ceremony on June 26, honoring 2023 award winners.
By Ronni Newton
The West Hartford Chamber of Commerce recognized businesses and individuals who have had a major impact on the community at its annual dinner and awards ceremony, held June 26, 2023 at the Farmington Polo Club.
Several hundred people were in the audience as the Chamber's prestigious Noah Webster Award – given each year to the person, persons, or organization exemplifying an extraordinary commitment to the West Hartford community – was presented to Town Historian Tracey Wilson, and the Elizabeth Gustin Basil Women's Leadership Award was presented for the second time to recipient Carrianne Polo of New Park Creative.
The Noah Webster Award has been given each year since 1989, said Chamber President and CEO Chris Conway, and recipients "make up a West Hartford hall of fame."
The tradition is for the previous year's winner to introduce the next recipient, and Wilson was introduced by 2022 Noah Webster Award winner Christopher Clarke of Merrill Lynch.
Wilson taught at Conard for 36 years, and was passionate about teaching West Hartford history – a way of forging connections – and since 2004 has also served as Town Historian. She is also one of the co-founders and co-leaders of Witness Stones West Hartford which has memorialized 59 former enslaved people in the Old Center Cemetery, and uncovered the histories of more than 100 formerly enslaved individuals through research the organization has developed through partnerships with local students.
In her acceptance speech, Wilson said she was honored to receive the award for her commitment to the town – and commitment, she said, is defined by Webster's Dictionary as "the act of pledging or engaging," – something that has always been important in her family.
"We find ways to question what is, to make a difference and to be in community," she said.
She was among the first women to enroll at Trinity College, where she studied African and African American history. "I definitely felt like an outsider when it came to gender norms and opportunities for girls. These experiences led to questioning institutional barriers to belonging." She has continued to challenge the narrative.
Even after retiring, she continues to inspire youth, working with the Mayor's Youth Council and developing a walking tour of the history of slavery in West Hartford.
"As Town Historian, my commitment to the town is to tell the most accurate story of the past that I can, and to engage community members with that history," Wilson said, including information that some people don't want to hear.
"As an educator and historian, I strive to update and amplify stories that that been missing and this can change the narrative," Wilson said. The Witness Stones tells a more complicated Colonial story, that has never been told.
Adding the name of Prut to the Revolutionary War Memorial, changing the name of Dinah Road, changing the name of the town green to Unity Green, and providing input for the MLK39 mural on the Noah Webster Library are among the projects that have been offshoots of Witness Stones West Hartford.
"This town is special," Wilson said. "West Hartford distinguishes itself with these community efforts that make our town a better place." The Chamber, she said, "is a great example of community connections and engagement."
University of Saint Joseph President Dr. Rhona Free, winner of the inaugural Elizabeth Gustin Basil Award, introduced Polo.
"I don't think we talk about the journey of female leaders enough," Polo said in her acceptance speech. "Sharing stories and passing down wisdom of our feminine power is how we progress," she said.
"You're doing a great job," Polo told the women in the room – even if you feel like you are struggling to balance work and family and can only manage one sip of coffee before a morning Zoom meeting. She urged women not to hold back, to seek mentors, and "don't stop until you own the table, the chairs, and the whole damn building. … Keep doing business like a woman."
Spotlight Award recipients included:
Entrepreneur – Warehouse 635 – Camille Hudson
New Business – Nothing Bundt Cakes – Traci Halkey
Young Professional – Maura Keating – Keating Agency Insurance
Nonprofit – Rotary Club of West Hartford
Economic Driver – Park Road Association
Legacy Award – AC Petersen Farms
Unsung Hero – Elizabeth Hanlon

Chamber

Volunteer – Stacy Routhier – University of Saint Joseph

Chamber

Partnership – Renée McCue – Town of West Hartford
Spotlight winners posed with Chamber Leadership and Mayor Shari Cantor as they accepted their awards.
The Chamber also elected new leadership, and swore in members of the Board of Directors.
Conway, and Director of Programs and Development Kate Kobs, shared some highlights of the past year, noting that in the previous year the Chamber enrolled 88 new members. This year that number grew to 128 – until during the meeting Bard's Clothing Company owner Matt Banever announced that he was joining the Chamber, and new member No. 129 was celebrated with a ribbon cutting on the spot.
School of Rock's house band provided the entertainment for the evening.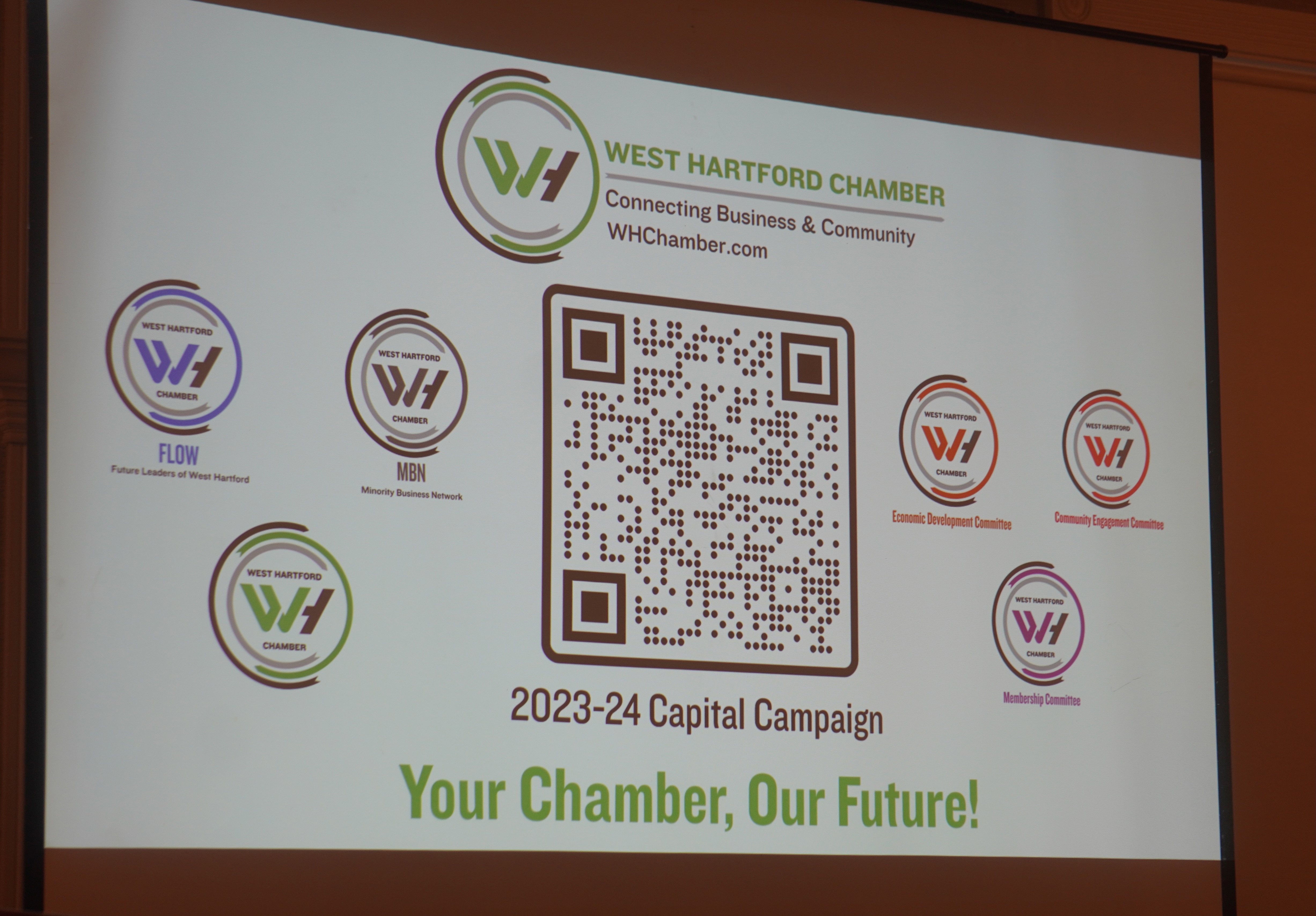 Like what you see here? Click here to subscribe to We-Ha's newsletter so you'll always be in the know about what's happening in West Hartford! Click the blue button below to become a supporter of We-Ha.com and our efforts to continue producing quality journalism.