A comprehensive update on economic development in West Hartford will be held as a virtual event on Thursday, May 27, 2021.
Submitted
The 2021 West Hartford Economic Development Presentation will be held as a virtual event on Thursday, May 27, from noon-1:30 pm via Zoom, Facebook Live, YouTube Live, and West Hartford Community interactive TV.
Kristen Gorski, economic development coordinator for the Town of West Hartford, will give a comprehensive update on economic development in town. New, renewing, and future development projects in town will be reviewed, with questions taken at the conclusion of the presentation.
"The local West Hartford economy is thriving. Despite a tough year with the pandemic, there was a great deal of economic activity that we look forward to celebrating in this year's presentation," says Gorski.
The event is organized by The West Hartford Chamber of Commerce with generous support of this year's Presenting Sponsor People's United Bank.
"The Chamber is proud to facilitate this important community update," says Chamber Executive Director Christopher Conway. "The Chamber and the Town have a long history of collaboration to support our businesses and nonprofit organizations. This event is just one example of this partnership."
Additional support for the event comes from Gold Sponsor Westfield Bank, Silver Sponsors Alca Construction, All Waste, Clifton Larson Allen, Comcast Business, TroutBrook Realty Advisors, and Connecticut Foodbank – Foodshare through the generosity of Robert and Teri Kulakowski. Coursey & Company is Technology Sponsor for the event and 20Media20 is Media Sponsor.
This event will be an engaging and educational opportunity for anyone who lives or does business in West Hartford. Attendance is free and open to the public. Registration is required for the Zoom event:
https://www.whchamber.com/events/details/economic-development-update-2021-6727
It can also be viewed via the Chamber's Facebook Page: https://www.facebook.com/westhartford.chamber
West Hartford Community interactive TV: Comcast Channel 5 and Frontier TV Channel 6098, as well as their YouTube Channel: https://www.youtube.com/user/whctv5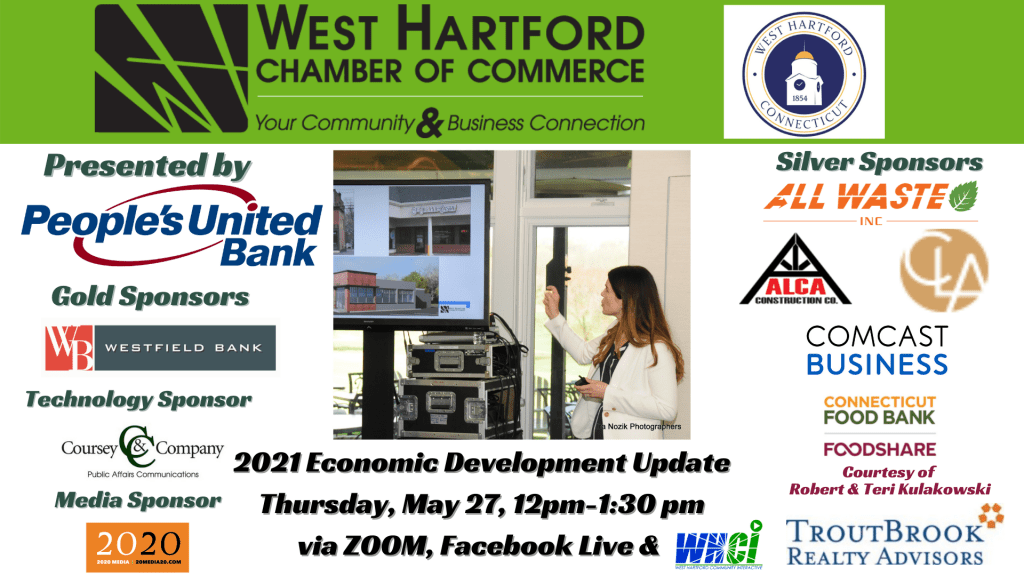 Like what you see here? Click here to subscribe to We-Ha's newsletter so you'll always be in the know about what's happening in West Hartford! Click the blue button below to become a supporter of We-Ha.com and our efforts to continue producing quality journalism.