The West Hartford Chamber of Commerce will honor individuals in the community at its annual meeting and dinner on June 26, 2023.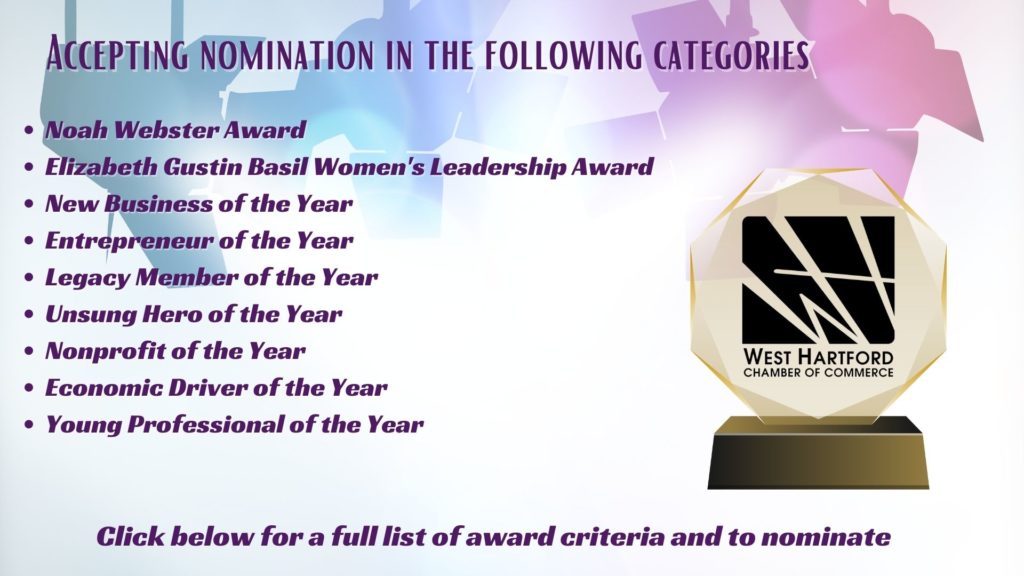 By Ronni Newton
The West Hartford Chamber of Commerce will hold its annual meeting and dinner on June 26, 2023, and at that event will be presenting a variety of awards honoring individuals and businesses that work to make the town special and improve the community.
Nominations for the awards must be made by 11:59 p.m. on Friday, April 28.
"Last year we received a record number of nominations in every category," said West Hartford Chamber of Commerce President and CEO Chris Conway. "We hope to see many individuals, businesses, and organizations nominated for this year's awards."
Conway noted that the two top honors are the Noah Webster Community Award and the Elizabeth Gustin Basil Women's Leadership Award. Named for the late Elizabeth Gustin Basil, who was the Chamber's first female chairperson, the Elizabeth Gustin Basil award, which was presented for the first time in 2022, "will honor a woman in leadership roles who have positively impacted other women professionals. Additionally, the Chamber continues their tradition of the Noah Webster Award, their most prestigious award. This is given to a person or business that has exhibited extraordinary commitment to the Town of West Hartford and its community," said Conway.
Additional award categories include:
New Business of the Year
Legacy Business (25+ years in business)
Economic Driver
Entrepreneur of the Year
Nonprofit of the Year
Young Professional of the Year
Unsung Hero
To nominate an individual or business in any or all of these categories for 2023, and to view the full award criteria, click here.
Like what you see here? Click here to subscribe to We-Ha's newsletter so you'll always be in the know about what's happening in West Hartford! Click the blue button below to become a supporter of We-Ha.com and our efforts to continue producing quality journalism.