The West Hartford Chamber of Commerce will hold the annual Economic Development Lunch, in person, on Oct. 11, 2022.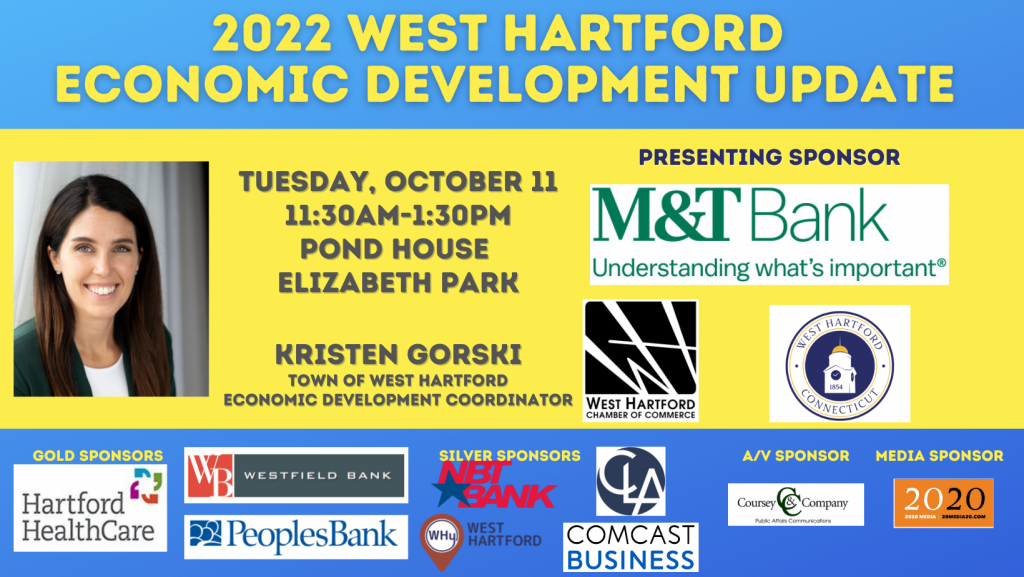 Submitted
The Town of West Hartford Economic Development Luncheon will be held on Tuesday, Oct. 11 from 11:30 a.m.-1:30 p.m. at the Pond House Cafe. This event is returning as an in-person event after being held as a virtual presentation in 2021.
Town of West Hartford Economic Development Coordinator Kristen Gorski will present a comprehensive update on the unprecedented economic development activity at this annual luncheon. The presentation will include completed, in-process, and future developments, new businesses, and infrastructure updates. The event will be both engaging and informative for anyone who lives or does business in West Hartford.
'West Hartford is booming with economic development activity. New construction can be seen in all parts of town," says Gorski. "Infrastructure updates and improvements go hand in hand with this growth. I am excited to update the community on current and future projects and initiatives."
The West Hartford Chamber of Commerce is the facilitator for this popular community update.
"For those interested in West Hartford's future, the Chamber's Annual Economic Development Luncheon is a must-attend event," says Chuck Coursey, who is the second vice chairperson of the West Hartford Chamber and chairperson of their Economic Development Committee. "No one knows more about the development landscape in West Hartford than Kristen. Her presentation will leave attendees with a full understanding of what's happening throughout town. It's definitely my favorite Chamber event of the year."
Questions will be taken at the end of the presentation. The Pond House Cafe will provide lunch and pre-registration is required. Tickets are $50 for West Hartford Chamber of Commerce Members and $60 for non-members.
Sponsorship opportunities are still available. For more information contact Kate Kobs at [email protected].
For those unable to attend, West Hartford Community Interactive TV will broadcast the event  on Comcast Channel 5, Frontier TV 6098, and their YouTube channel.
This year's Presenting Sponsor is M&T Bank. Gold Sponsors include: Hartford HealthCare, PeoplesBank ,and Westfield Bank; Silver Sponsors include CLA (Clifton, Larson, Allen), Comcast Business, NBT Bank, and WHy West Hartford; A/V Sponsor Coursey & Co.; Media Sponsor 2020 Media.
Registration is available via this link. Ticket sales will close on Friday, Oct. 7, at 2 p.m.
Like what you see here? Click here to subscribe to We-Ha's newsletter so you'll always be in the know about what's happening in West Hartford! Click the blue button below to become a supporter of We-Ha.com and our efforts to continue producing quality journalism.