West Hartford Community Interactive (formerly known as West Hartford Community Television) is holding its annual family-friendly walk/run on May 4, 2019.
Submitted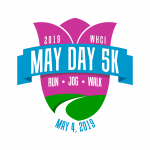 West Hartford Community Interactive (WHCI) will hold the May Day 5K family fun walk/run on Saturday, May 4  (Rain date: Sunday, May, 5) from 9-11 a.m.
The course is a 1.1 mile loop that follows the Center Walking Route and is designed as a family friendly walk/run. Three times around the route, detailed on the map below, will equal a full 5K. There will also be fun surprises along the path including a special video interview lane.
The race fee is $20 per adult and $10 for students. Children 13 and under are free.
WHCI encourages people to register via this link: https://app.mobilecause.com/vf/whci or by texting whci to 71777.  The first 50 people to register will receive a race t-shirt, and 100 people will receive a water bottle.
All participants will special receive race day discounts at local restaurants., including and not limited to Sally & Bob's, Treva, Ávert, and Zohara for after-race celebrations. General donations are welcome in support of participants via this link: https://app.mobilecause.com/form/mwnM1A
Day of Race/Walk check-in and registration will be held at West Hartford Town Hall beginning at 8 a.m. This is a pet-friendly event and leashed dogs are welcome.
Nonprofit organizations in town are encouraged to Walk the Walk and in return WHCI will donate 50 percent of the funds raised by your nonprofit team back to you.
WHCI is happy to do the back end work to set up the team with the online and mobile donation page, or you can do it yourself via this link: http://igfn.us/join/whci/whci. Once a team page is created, you will receive your own unique Text to Give # and fundraising page.
For more information, contact Jennifer Evans, Executive Director at 860-561-7955 or [email protected]
About WHCI:  Our mission is to provide a community hub of interactive communication and innovative, free-flowing ideas. The services we offer include public, education, and government television; technology education; and the use of new media to bring people together. We continue to build upon West Hartford Community Television's 40-plus years of public service.  We are committed to using traditional and modern media tools to encourage free speech, community dialogue, and artistic expression. West Hartford Community Interactive: for the community, by the community. Programs produced by volunteers can be seen on Comcast Channel 5, via the station's website at www.whctv.org , Frontier TV Channel 6098, and our  YouTube Channel.
Like what you see here? Click here to subscribe to We-Ha's newsletter so you'll always be in the know about what's happening in West Hartford!