West Hartford Community Interactive holding the online 'Take 5' 50/50 raffle fundraiser to offset a decrease in revenue caused by declining cable TV subscriptions.  
Submitted
Purchase your ticket online between March 1 and March 31, 2022. Get your numbers via email (click "Full Receipt" to see your numbers sequence). We will split the total cash prize with five lucky winners. An electronic drawing will be held on April 1, 2022 at noon.
Proceeds from the 50/50 raffle presented by West Hartford Community Interactive will support our nonprofit 501(c)(3) community media center with special focus on our streaming and online services. We are dedicated to using media to connect you through coverage of municipal meetings, local sports, and special events. We offer grass-roots production made by and for the people of West Hartford.
"We continue to reach out and connect people to government meetings, local events and sports through streaming.  However, our primary funding source comes from the cable subscriber. As people cut the cord, we hope they will support this fundraiser to help us offset those losses and maybe win big," said Mark Walker, president of the West Hartford Community Interactive Board of Directors.
As a station that is "for the community, by the community," this fundraiser is a win-win and we hope that the community will get into the game.
Purchase tickets here: https://go.rallyup.com/whci or use the QR code below.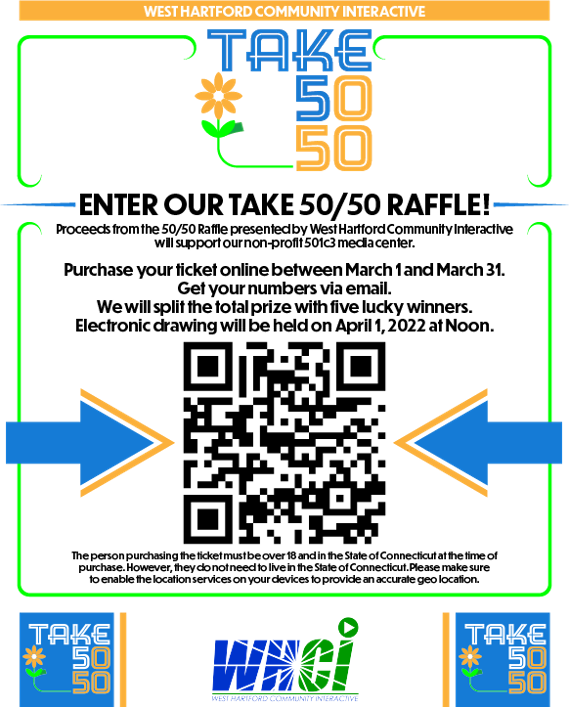 Like what you see here? Click here to subscribe to We-Ha's newsletter so you'll always be in the know about what's happening in West Hartford! Click the blue button below to become a supporter of We-Ha.com and our efforts to continue producing quality journalism.