West Hartford Community Theater is teaming up with Waypoint Spirits Distillery for 'The Still of the Night – A Murder Mystery Evening.'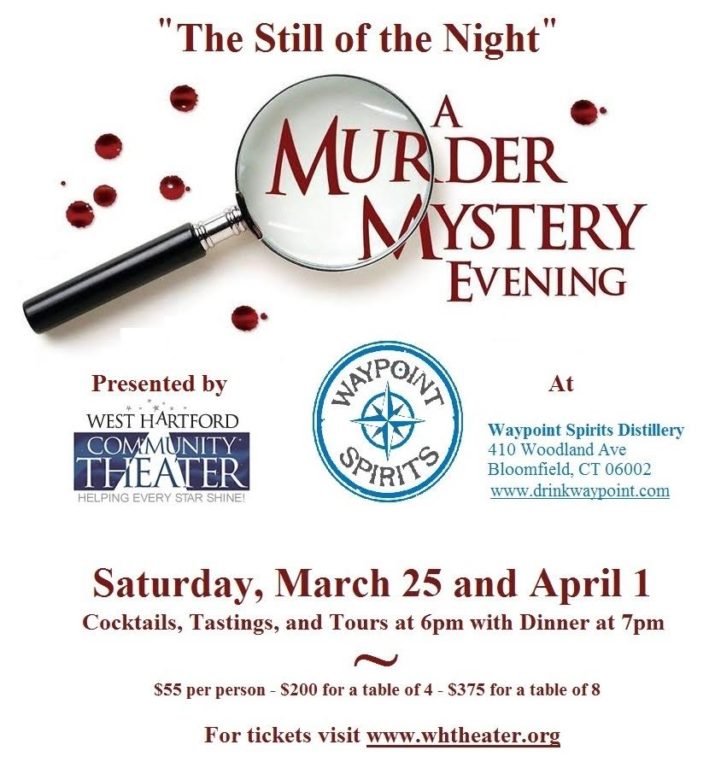 Submitted
West Hartford Community Theater (WHCT) and Bloomfield's Waypoint Spirits Distillery are joining forces to wine, dine and entertain you. Put your sleuthing skills to the test in this delicious and exciting presentation!
The party begins in the Distillery, where you will learn how Waypoint Spirits handcrafts their unique products. Get swept away by the reveries of our piano player extraordinaire while playing a fun game, nibbling on hors d'oeuvres, and mingling with friends.
Then it's time for the main event – which includes a savory dinner and… the Murder!
All those who have seen past WHCT productions know they are in for a theatrical treat – but this one comes with a twist. You won't know who the actors are during the course of the show. Almost anything can and will happen during the course of the evening – and YOU may play the most important part. Solve the mystery and you might just win a prize!
Waypoint Spirits Distillery is located at 410 Woodland Ave. in Bloomfield, CT. There will be two evening performances: Saturday, March 25 and Saturday, April 1. Cocktails and tours begin at 6 p.m. Dinner is at 7 p.m.
Tickets are now on sale and can be purchased online: www.westhartfordtheater.org.
About West Hartford Community Theater:
West Hartford Community Theater (WHCT) opened its doors in 2008 with an eye toward providing the highest quality live musical theater experience for West Hartford residents and the greater Hartford community. WHCT continues to produce quality productions showcasing the unique and richly diverse talent in the community. A 501(c) (3) non-profit dedicated to the development of live theater, WHCT strives to provide an environment where shared goals, performance standards, and common vision guide collaborative creativity. We welcome membership of all ages, specifically encouraging the participation of minority youth, seniors, and the economically disadvantaged. For more information or to make a donation please visit our website at www.westhartfordtheater.org or call 860-992-9428.