The 7th Annual Firefighters' Grill & Beer Tasting, will be held on Saturday.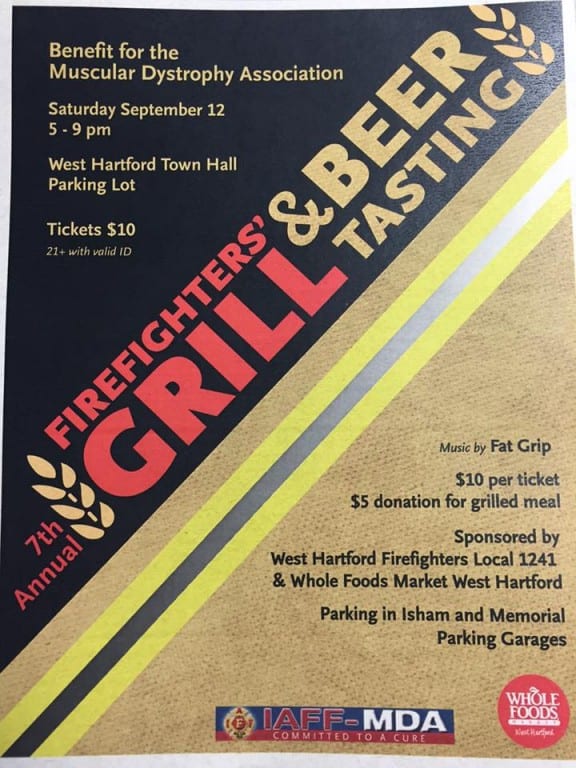 By Ronni Newton
The West Hartford Fire Department has a long history of being a top fundraiser for the Muscular Dystropy Association, and hope to continue that successful run with its upcoming "Grill & Beer Tasting."
"We've been raising money for the MDA for 65 years," said event organizer, West Hartford Fire Department Lt. Kevin Ingraham. "Annually we are one of the top fundraisers in the state, and two years ago we were at the top," he said.
This will be the seventh year that the department has hosted the grill and beer tasting event, and it has become not only the fire department's signature fundraiser for MDA, but also one a great family activity. "It's evolved that a lot of families come, the kids dance to the music. We've got a great band," Ingraham said.
The event has also outgrown its former location in the Whole Foods parking lot on Raymond Road, and this year will be held on the grounds of West Hartford Town Hall, on the South Main Street side where it will also be highly visible to the community.
"It's a community event that really involves the Town of West Hartford. It's important for us to be able to do it not only in the town, but also on town property. We want people to know how much the firefighter's union gives back," said Ingraham.
The beer tasting is the highlight of the event, and for $10 attendees will receive 10 two-ounce samples. There will be a large number of beers from which to choose, with about 100 varieties from all around the world provided by more than 30 distributors. Valid proof of age is required to sample the beer.
In addition, firefighters will be manning the grills – so unwanted flare-ups won't be a danger – and cooking up hamburgers and hot dogs. There is a $5 donation for the grilled dinner, which includes choice of meat as well as chips and water.
The event runs from 5 -9 p.m.
West Hartford-based band Fatgrip will provide live entertainment.
Parking is available in the Town Hall parking lot as well as in the Isham and Memorial Garages. The event is sponsored by the West Hartford Firefighters Local 1241 and Whole Foods Market, West Hartford.
According to a news release about the event, all food and beer are donated and 100 percent of the money raised benefits MDA.
"We are very excited this year," Ingraham said.
Like what you see here? Click here to subscribe to We-Ha's newsletter so you'll always be in the know about what's happening in West Hartford!