The American Association of University Women (AAUW) is hoping to attract girls from throughout the area, including West Hartford, to this dynamic math and science program.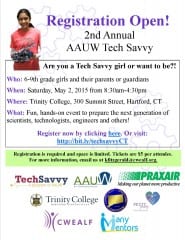 Submitted by AAUW
AAUW CT will host Tech Savvy, a daylong event designed to show girls firsthand how science, technology, engineering, and math (STEM) fields can lead to exciting careers. The conference, part of the AAUW National Tech Savvy Pilot Program, will welcome 200 sixth- to ninth-grade girls and their families to Trinity College in Hartford, CT on Saturday, May 2, 2015 from 8:30 a.m. to 4:30 p.m.
Thanks to the generosity of donors, including AAUW, and Praxair and The Petit Family Foundation, the program costs just $5.00 per student and adult. Click here for registration.
Seeing firsthand the small number of female students in STEM careers at local colleges, the committee of volunteers, mostly educators and former administrators from these local colleges, wanted to encourage more girls to these careers.
"I used to work at a local university and was surprised and dismayed to walk past advanced engineering classes regularly and see maybe one woman in these classes. When the opportunity to host CT Tech Savvy came along, I knew it presented an opportunity to increase the number of women in those future classes. I also knew there were many women and organizations who shared my passion to change the composition of those classes and the STEM field," said Donna Haghighat, CT Tech Savvy Chair.
"We're excited to host Tech Savvy at Trinity and to encourage girls who love science to learn more about pursuing their passion," said Joanne Berger-Sweeney, Trinity College president and professor of neuroscience. "Our faculty and students are looking forward to welcoming the girls and their families to our campus and sharing some of the great work in STEM that we are doing here at Trinity."
Although women fill close to half of all jobs in the U.S. economy, they hold less than 25 percent of STEM jobs. AAUW CT is one of 17 nationwide Tech Savvy sites working to improve those numbers. The local program is funded in part by Praxair, AAUW, CT Space Grant, The Petit Family Foundation and the generosity of individual local donors.
Tech Savvy and similar programs are one way to increase the number of women in the STEM pipeline. Other recommendations, including suggestions for employers, appear in AAUW's new research report, Solving the Equation: The Variables for Women's Success in Engineering and Computing.
"STEM's gender problem is well known," said Kate Farrar, vice president of AAUW Campus Leadership Programs. "We're working with parents, teachers, and employers on solutions like Tech Savvy because attracting and retaining women in STEM fields isn't just the right thing to do; it's the smart thing to do."
Created in 2006 by Tamara Brown, then-president of the AAUW Buffalo (NY) Branch, Tech Savvy has since served more than 3,500 girls. As a result of her work, Brown was honored as a White House Champion of Change.
The American Association of University Women (AAUW) empowers women and girls through advocacy, education, philanthropy, and research. Our nonpartisan, nonprofit organization has more than 170,000 members and supporters across the United States, as well as 1,000 local branches and more than 800 college and university partners. Since AAUW's founding in 1881, our members have examined and taken positions on the fundamental issues of the day — educational, social, economic, and political. Learn more and join us at www.aauw.org.