The West Hartford contingent of the Hartford St. Patrick's Day Parade will be honoring Tom Hickey and Brooke Daly at a fundraising event on Saturday, Jan. 25.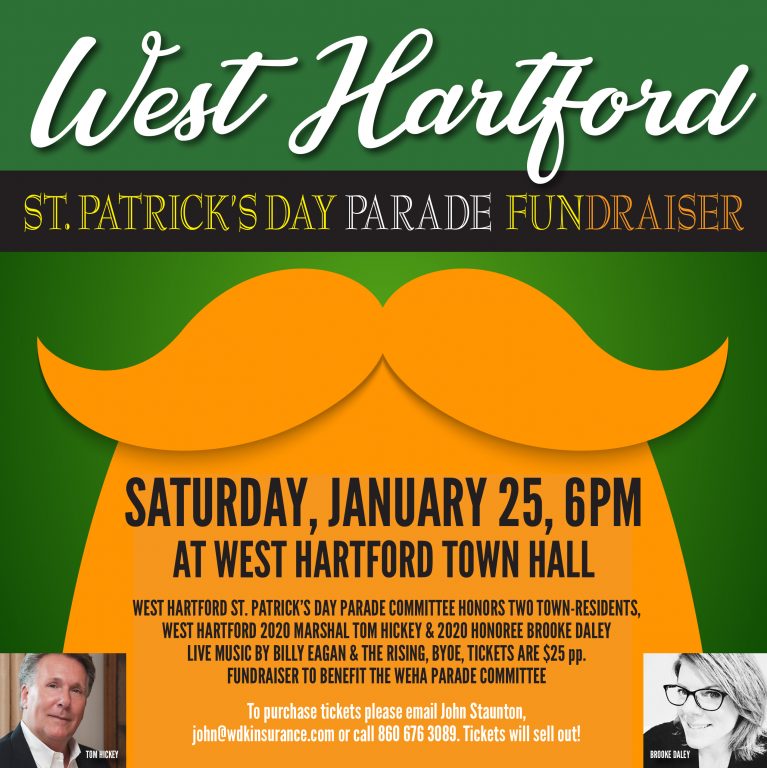 By Ronni Newton
The two West Hartford residents who have been chosen to represent the town at this year's Hartford St. Patrick's Day Parade will be honored at a reception and fundraiser Jan. 25 at West Hartford Town Hall.
Tom Hickey has been chosen as West Hartford marshal for this year's parade, and Brooke Daly is this year's honoree.
The parade will be held on Saturday, March 14, 2020.
Hickey, a lifelong town resident, has had a lengthy career in the communications industry and has been instrumental in promoting all things West Hartford.
"I am so honored to be selected as West Hartford's marshal for the annual St. Patrick's Day Parade," Hickey said. "For my entire life I have watched the parade every year from the sidewalk now I actually get to march in it. I couldn't be more pleased to represent our great Town of West Hartford! Thank you to the Parade Committee. Slainte!"
Hickey's marketing/publishing career began right after college when he went to work for Imprint Inc., at the time the owner of the West Hartford News. When the company was acquired by Capital Cities/ABC, he became regional marketing director.
He later founded Hometown Marketing and WHMedia, and just this month launched 2020MEDIA "Connecting Everyone" via market strategy solutions, events, custom publishing, digital and traditional media, news media and social media influencers.
Hickey is currently publisher of West Hartford Magazine and part of the We-Ha.com and Ledger Publications teams, and previously launched and was publisher of West Hartford's first lifestyle magazine, Living in West Hartford. He has also been responsible for and/or instrumental in launching West Hartford's various "Taste of" events, Best of West Hartford, WeHaHA Comedy Nights, the WeHa Pop Up, and WeHa Wheels.
Daly is a transplant from New York but now a longtime West Hartford who has made many contributions to the town and community.
"I am excited and honored that the West Hartford Parade Committee has chosen me as the honoree this year," Daly said. "This motivates me to hopefully grow and expand my work with Down syndrome and Autism awareness even more going forward. I'm extremely grateful for the recognition."
When her son, Finn, now 7 and in first grade, was born with Down syndrome, Daly left a 14-year career in the insurance industry and has become one of the area's top advocates for the disability community.
She launched a World Down Syndrome Day awareness project in West Hartford's schools five years ago, and "Rock Your Socks" has now spread to all West Hartford Public Schools and beyond.
Daly, a member of the board of directors of the Down Syndrome Association of Connecticut, has testified before the state legislature to promote equity and inclusion for those with intellectual disabilities.
The reception honoring Hickey and Daly will be held on Saturday, Jan. 25, 2020, in the West Hartford Town Hall auditorium, beginning at 6 p.m.
A $25 donation is suggested. Light refreshments, tea, and coffee will be served. The event is BYOB, and attendees are welcome to also bring additional food.
Entertainment will be provided by Billy Eagan and the Rising.
Advance ticket purchase is highly recommended as the event is typically a sell-out. For tickets ,call or email John Staunton at 860-676-3089 or [email protected].
The Hartford St. Patrick's Day Parade will be held on March 14, stepping off at 11 a.m. from the State Capitol. More information is available on the parade website www.irishamericanparade.com.
Like what you see here? Click here to subscribe to We-Ha's newsletter so you'll always be in the know about what's happening in West Hartford!